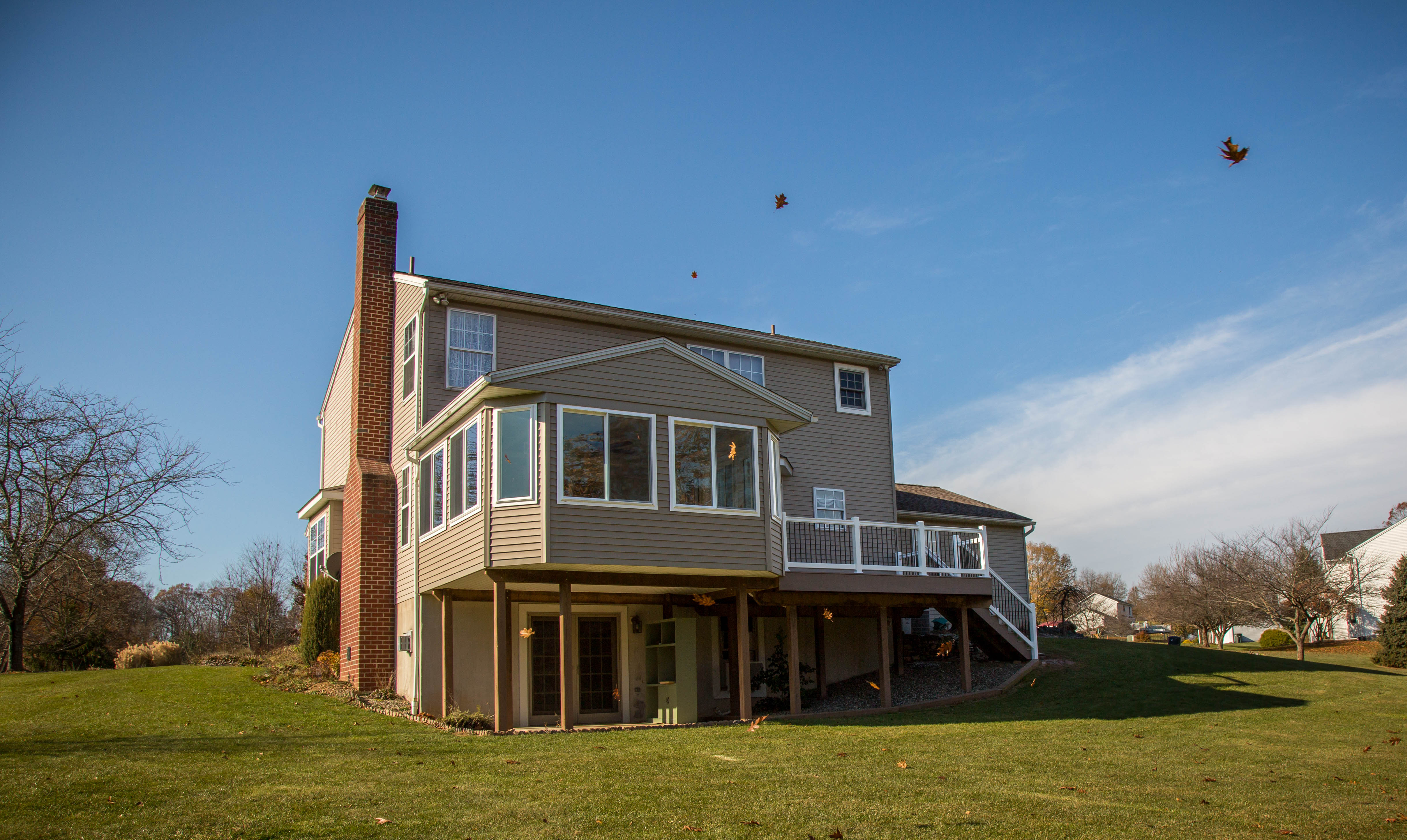 6 Under Deck Ideas to Maximize Outdoor Space
Posted on June 9, 2022
Adding a deck to your home may take up space on your lot, but it also adds outdoor living space you can use and increases your home value. An elevated deck or a second-story deck adds outdoor living space that still has space underneath it. Although there may be some limitations to how you use it, there are ways to use this space to your advantage. If your deck addition will have some space underneath it, here are some under deck ideas to maximize outdoor space:
1. Use it for Storage
Sometimes, it can seem like you never have enough storage space. Even if you have a garage or a storage shed, there are likely still some things you use in your backyard or on your deck that would be convenient to store near those areas.
With the right containers and setup, you can turn your unused under-deck space into the convenient storage you need. This can be particularly useful if you have furniture pads or covers you need to protect when they are not in use or other things you like to use while out on your deck that you don't necessarily leave out all the time.
If you have a pool, storing noodles, floats, pool toys, etc. under the deck can be a great way to keep them out of the way when they're not being used and within easy reach when you want to use them. The same applies to backyard games, gardening supplies, landscaping equipment, etc.
2. Grow a Garden
Not all plants thrive in shady areas. But, depending on your deck plan, positioning, etc., some sun may reach the open area underneath your deck. This can be a great opportunity to store and grow some plants.
The best part is that you don't have to dig a garden plot into the ground or work around your deck's foundation. With container gardening, planters, and more, you can grow vegetables, herbs, flowers, and other plants and turn your under-deck space into an inviting garden retreat.
3. Create More Outdoor Living Space
A second-story deck can be a great deck addition over an existing porch or patio or a space that you want to put in. The space underneath can then be turned into another outdoor living space. Since the deck provides some cover, you have more flexibility with what you can put in this space than you would with an open, uncovered area.
You could even create an outdoor living room, dining room, or another functional space! These are all ways to use a deck, but they can also become ways to use the space underneath your deck too.
If you work with your contractor before building the deck, they can work with you to help build upgrades into the project to create this finished area under the deck. This can help you double your outdoor living space and add even more home value.
4. Add a Patio Swing
If you've always wanted to have a patio swing, adding one under your deck if you have enough space can be a great addition, especially if you're planning to finish the space underneath your deck. Adding an upgrade like this is one of the backyard makeover tips that can elevate your comfort when relaxing in your backyard.
If this is something you want to do, it's important to talk to your home improvement contractor about it. Not planning ahead or providing necessary information that could affect the design of your deck are some of the biggest mistakes to avoid when adding a deck to your home. Depending on the under deck ideas you're considering, there may be certain changes or additions that need to be built into the deck to make sure it can support your plans.
5. Turn it Into an Enclosure or Sunroom
You can turn the space under your deck into a finished outdoor living space with the sides left open or you can turn it into an enclosure or sunroom with the deck space above it. This can be the perfect solution for someone who wants to make the most of their space and both a deck and a sunroom or patio enclosure without giving up the extra lot space required for having two separate structures.
6. Close it Off With a Stylish Base
There are many things to consider when adding a deck to your home, including height. If your deck won't be that elevated and you won't have much functional space available, you can close it off with a stylish base, like skirting or latticework.
Not only does this help prevent animals from accessing the space under a low deck, but it can also help enhance the curb appeal of your home. This is a way to add some style to your home and give your deck addition a more finished look instead of just leaving an empty space.
There are many reasons to add a deck to your home and these are just a few under deck ideas to maximize outdoor space if your deck will be elevated. If you're interested in adding a deck to your home or replacing or upgrading the one you have, contact Zephyr Thomas at 717-399-4708 to start a free quote!