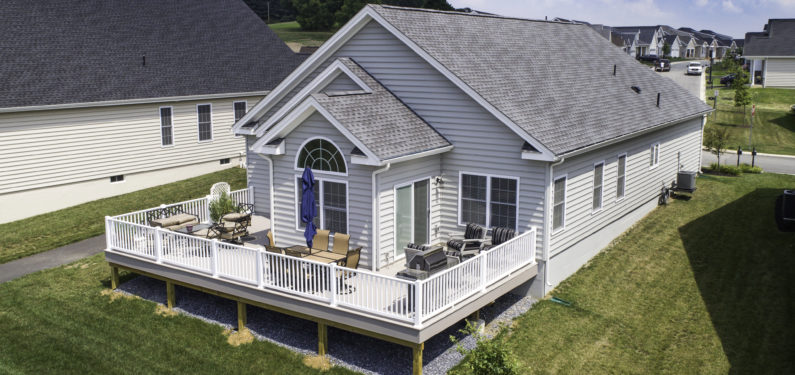 4 Tips for Choosing a Deck Plan
Posted on May 27, 2021
Adding a deck is a great way to add beauty, an entertainment space, and value to your home. The first step to building your dream deck is to create the deck layout. An experienced contractor will be able to look at your home, listen to your wants and needs, and help design a deck that perfectly fits your home. Here are some tips for choosing a deck plan that's right for you:
1. Think About the Size of the Deck
The size of your home, lot, backyard, and local building regulations will have a big effect on how much space you have available for a deck. Outside of that, there are also several questions you should ask yourself before deciding what size your deck should be.
How do you plan to use the deck? How frequently do you entertain guests outdoors? How many people do you typically have over? Do you barbecue on your deck or is there a separate outdoor food preparation area? There are many ways to use a deck and answering these questions will help determine how much space you'll need to be able to use your new deck the way you want to.
2. Consider the Orientation of the Deck
Does the layout of your home or property force you to create a deck of a certain shape? L-shaped decks offer an excellent way to make the most of limited or unusual spaces. You could also build up if you can't build out a lot and opt for a multi-level deck.
Ignoring the orientation of your deck is one of the mistakes to avoid when adding a deck to your home, so it's important to think about it. A reputable and experienced contractor can help you figure out what works best for your home and for your needs. This can help determine the layout and orientation for the deck plan in addition to other things like where the stairs should be.
3. Evaluate How Much Exposure Your Deck Will Get
The material and style of your deck are some of the many things to consider when adding a deck to your home. Although you don't have to worry about moisture damage, rot, or sun damage with a vinyl deck, which are some benefits of vinyl decks, you still want to make sure your deck will be comfortable to use.
Consider Adding Some Cover
How much sunlight does your backyard get, especially during the times you're most likely going to be out on the deck? If it gets a lot of sunshine, you may want to consider including some sort of cover in your deck design.
Thankfully, there are a lot of options to choose from. You can opt to extend the roof over the deck for full coverage. You could go for something like a pergola that provides some coverage while still allowing light through. Another popular option is a retractable awning that allows you to have coverage when you want it and a completely open deck when you don't.
Think About Privacy
You also want to think about the level of privacy you want and need. If you tend to have nosy neighbors or just don't want things to be so open, you can add a fence to your backyard, use some decorative screen panels on your deck, or even strategically place tall plants around your deck to give you some added privacy.
4. Reflect on Your Preferred Deck Style
When it comes to deck styles, there are many to choose from. Choosing a deck plan and the right style for it will vary based on your home, your lot, your backyard, how you want to use the deck, and more.
Platform decks are ground level, raised decks are ideal for sloping yards, and multi-story decks are an option for added entertainment space, which is one of the popular reasons to add a deck to your home.
An experienced home improvement company can help you determine the right style and layout for a deck plan that will meet your needs, fit your home, and also add value to your home. And, if you're opting for an elevated deck, they can help you with some under deck ideas to maximize outdoor space.
There are many benefits of adding a deck to your home and choosing a deck plan that's right for you helps you enjoy all of them. If you're ready to add a deck to your home or want to start another home improvement project, call Zephyr Thomas Home Improvement at 717-399-4708 to start a free quote!
Take a look at the Zephyr Thomas team building a home addition with a deck for this homeowner!