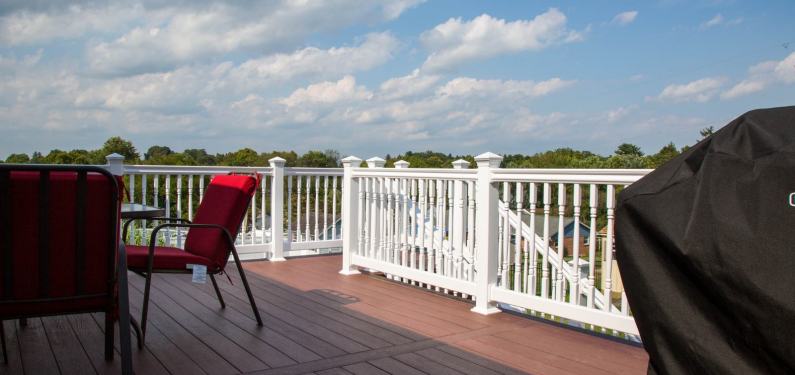 4 Benefits of Vinyl Decks
Posted on July 21, 2022
Are you thinking of replacing your deck or adding one to your home? With any home improvement project, there are many options to consider and choices to make along the way. Choosing the materials you will use is among the most important decisions you will make. The materials you use will determine how long your deck lasts, how much maintenance you need to put into it, and how its looks and structural integrity hold up over time. When it comes to decking material, it's hard to beat vinyl. Here are just a few benefits of vinyl decks:
1. Vinyl Decks Are Durable
One of the biggest benefits of vinyl decks is that they are durable. Unlike wood, vinyl decking does not warp, split, mold, or rot. Also, it's impervious to insects – you don't have to worry about termites or other pests with a vinyl deck. Plus, since vinyl decking won't split or splinter, you don't have to worry about walking barefoot on your deck.
On top of that, vinyl is resistant to scratches and stains. Not only do you not have to worry about weather damage or insect damage, but you also don't have to worry as much about regular wear and tear. Vinyl is extremely durable and long-lasting, so you can eat outside, have outdoor furniture, entertain guests, and more without worrying about damage to your deck.
2. They Are Low Maintenance
There is a lot of maintenance that goes into every aspect of your home. If you have a wood deck, that maintenance also includes cleaning, repainting or restaining, resealing, replacing boards, etc.
On the other hand, vinyl decks are so low maintenance that they are practically maintenance-free. All you have to do is clean it every now and then to keep it looking great.
3. Vinyl Decks Are Customizable
There are a lot of things to consider when adding a deck to your home. The deck plan, layout, color, etc. are all important. One of the benefits of a vinyl deck is that they are highly customizable.
In addition to a wide variety of colors to match any home, vinyl can also be manufactured to look like other materials. This is a great option if you love the look of a wood deck, but hate the maintenance of it. With a vinyl deck, you can get a deck that looks like wood without the hassle.
On top of that, there is a lot of flexibility in sizing with a vinyl deck. Thinking about the size, orientation, and more are all tips for choosing a deck plan that works for your home. With the size, height, length, and width being completely customizable, there are a lot of options and even homes with small yards can have the option of adding a deck.
4. They Add Value to Your Home
Increased comfort and home value are some of the reasons to add a deck to your home and are also benefits of a vinyl deck. The increase in curb appeal is only enhanced by a deck that looks great and is also durable and low maintenance.
These are just a few benefits of vinyl decks to consider as you think about a new deck for your home. If you're interested in adding or replacing a deck, contact Zephyr Thomas at 717-399-4708 to start a free quote!
Take a look at the Zephyr Thomas team building a home addition and a deck for this homeowner!