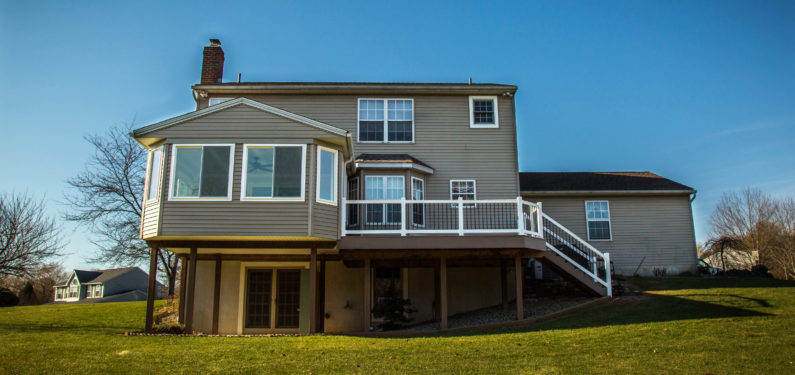 4 Things to Consider When Adding a Deck to Your Home
Posted on November 21, 2019
When planning a new deck for your home, it can be helpful to have a few things in mind when you start the process. Thinking about a few of the most important things to consider when adding a deck to your home will help to ensure that the finalized project will meet or exceed your expectations.
Many homeowners simply do not know where to start when they decide to plan a home improvement project. Going over common considerations for a project and partnering with the right home improvement company will also help you to move from any state of paralysis-by-analysis that you might be experiencing and on to a more directed path of planning and implementation.
Here are a few things to consider when adding a deck to your home:
1. Deck Placement and Positioning
Getting your new deck project right begins with proper planning as to the placement and positioning of the structure. The best way to approach this process is by determining your goals and how you want the deck to function. This will help you decipher how you want the new deck to tie in, and be incorporated with, your home.
Consider the other existing features of the outside of the home such as landscaping, a pool, and even the shape of the yard. Making sure the deck fits in with everything else you already have is one of the many ways to improve your backyard. If you want a deck to function as an entertaining area, there may be unique ways to enhance the functionality of the deck by choosing a layout that increases an efficient utilization of space or offers other custom features.
2. Deck Height
The height of your deck can be determined by several factors. The contour of your property or the height of the home's exit will impact the final height of the deck. However, you do have options when it comes to choosing the height of your new deck.
Some homes with daylight basements may have landscaping that allows for a higher deck. Bi-level homes may also feature patio doors that are well above ground level. Even in these scenarios, the height of a deck can be customized. Decks with multiple tiers offer a unique aesthetic and create a more gradual descent to ground level and reduce the need for a long flight of stairs.
3. Deck Plan
When you are considering a new deck, think about your plans for the structure. Not only will this affect your final decisions on the placement and positioning of the structure, but it will also impact the size and shape of the deck. How much seating do you want or need? How many people will typically utilize the structure at one time? Do you want to use the deck as an eating area for the family?
Thinking about questions like these can help you figure out the overall deck plan and layout that will best suit your needs. By determining the answers to these questions ahead of time, you can help ensure that the end result of the project functions how you intended.
4. Material and Style
When choosing the building materials with which your new deck will be constructed, be sure to think in a long-term context. You will want to choose materials that weather well and can withstand years of abuse from the elements.
There are multiple choices when it comes to deck materials. However, vinyl decking is an option many homeowners are upgrading to because of its superior weather resistance, low maintenance, and overall durability.
There are many benefits of vinyl decks, including durability and customizability. When choosing the type of materials to be used, also consider the style with which you want your deck constructed. Choosing a style of railings and a color that matches your house can help to make the deck look like a seamless addition to the home rather than a rather ostentatious afterthought.
Thinking about these things to consider when adding a deck to your home will help you get started in the planning phase of your brand new deck addition. In addition to working through these considerations, collaborating with an experienced home improvement contractor is a fantastic way to keep your project planning, and implementation, on track.
The right home improvement contractor can provide you with additional ideas, help give you advice, and offer their expertise regarding common mistakes to avoid when adding a deck to your home. If you would like to discuss the many options pertaining to a new deck for your home, give us a call today at (717) 399-4708 or stop by our showroom for some in-person inspiration!