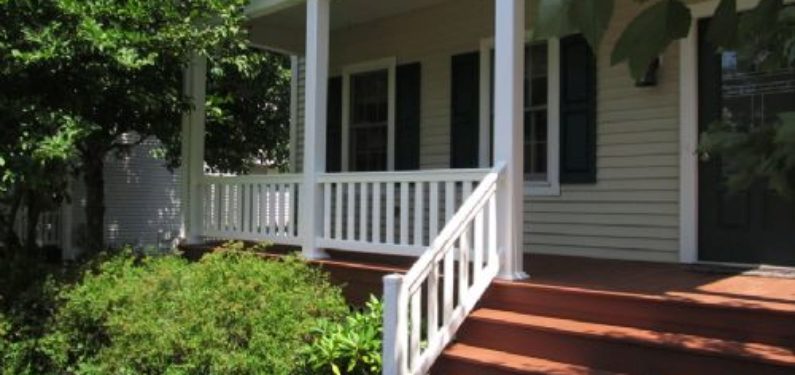 3 Benefits of Vinyl Railing
Posted on April 4, 2017
For safety reasons, having sturdy and durable railings where you need them is important. Whether you need to have railings placed on your deck, your porch, a balcony, or somewhere else, vinyl railings from Zephyr Thomas Home Improvement are the best choice. Our vinyl railings are versatile and will hold strong against the elements. We can also fit railings to your home's structure and design needs. Here are a few benefits of vinyl railing:
1. Versatility
When planning what your railings will look like, you'll have plenty of choices. You can choose between single post, railing styles, or mix the two – whatever will look better! There are actually eight styles to choose from, ranging from simple to more ornate looks. In addition to the different styles, Superior Vinyl Railings can be cut to fit any size, and gates come in all sizes.
2. Quality
Ease of construction and a good deal? Yes. Made with poor-quality materials? No. You won't find any seam lines in your railing posts or columns if you decide to go with Superior Vinyl Railings. The low-maintenance nature of our railings is part of their high quality.
You will not have to deal with the same issues you run into with wooden railings. Vinyl railings will never need to be painted, and vinyl does not rot or crack. These are also benefits of vinyl decks. The surface will not start to peel. You can't get splinters from vinyl railings as you can from wood, so vinyl may be safer for children.
3. A Great Warranty
Our supplier, Superior Plastic Products, is established in the plastics business just as we are established in home improvement in Lancaster. Superior Plastic Products has been in the business for over 20 years.
The warranty from Superior Plastic Products on vinyl railings covers the homeowner as long as they still own the property on which the railings were built. It covers any manufacturing defect one could imagine: the warranty states that if the railing shows any sign of splitting, cracking, surface peeling, changing to a color other than the original color, rot, termite attack, and/or corrosion, and the damage is determined to be a result of improper manufacturing, the company will replace or refund the homeowner the cost of the materials.
These are just a few benefits of vinyl railing and, when you're thinking of replacing old railings or need new railings, whether it's for safety, aesthetics or both, Superior Vinyl Railings will do the trick. Call Zephyr Thomas or stop by our office to learn more about Superior Vinyl Railings. One of our expert installers will be happy to come to your home to show you your options and help you make the necessary decisions.