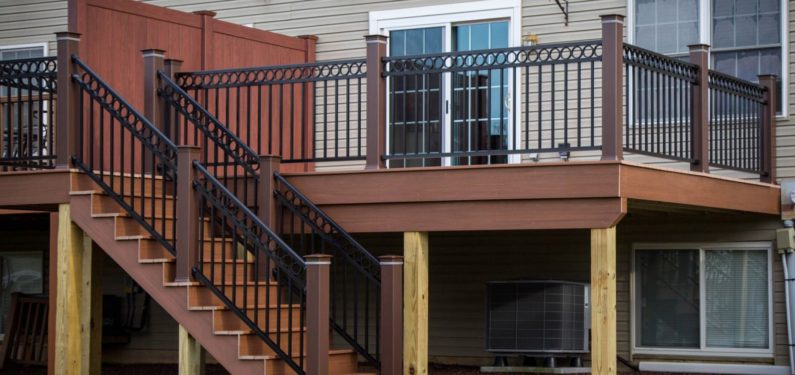 4 Mistakes to Avoid When Adding a Deck to Your Home
Posted on May 9, 2019
A deck is a great place to entertain outdoors when the weather is nice or just to relax and enjoy nature. It also offers many benefits to your home, like increasing curb appeal and more. But, when adding a deck to your home, it needs to be done right in order for it to be a benefit instead of becoming a source of frustration. Here are a few mistakes to avoid when adding a deck to your home:
Mistake #1- Ignoring Deck Location, Size, and Shape Constraints
Ignoring location, size, and shape constraints for your new deck is one of the common mistakes to avoid when adding a deck to your home. Because this mistake usually occurs during the planning process, it's easy to avoid it, especially if you choose the right home improvement contractor who can help you.
Think About the Space Available and Deck Space You Need
Not only do you need to consider how much space you have in your backyard and how much you can actually allocate to your new deck, but you also need to consider how much deck space you need to get the deck you want and use it for what you want.
If the goal for your new deck is to grill and entertain a bunch of people at once, a smaller deck may not have enough space to do that without a lot of added frustration. Considering the size, desired use, orientation, and more are all tips for choosing a deck plan that works for you and your home.
Consider the Shape of Your Home and Lot
You also need to consider the shape of your home and your lot and where the property lines are. In some cases, you have a lot of freedom and several options, including unique deck designs or expansive deck layouts.
But, if your lot and the structure of your home introduce limitations, you need to know what those are and consider them during the planning and design process. These are all things to consider when adding a deck to your home.
Decks can be customized in a lot of different ways, which means they can work in a wide variety of lots and homes. You just need to be able to identify constraints and limitations upfront to be able to plan around them and design a deck that works for your space and still meets your goals.
You could even find that a second-story or elevated deck is the best choice for your home. In this case, you'll want to consider some under-deck ideas during the design process to help make the most of your new outdoor space.
Mistake #2 – Not Considering How You Want to Use a New Deck
Another one of the mistakes to avoid when adding a deck to your home is not considering usage. How do you want to use your new deck? Decisions on the space, shape, layout, etc. of your new deck need to incorporate your home, your lot, and how you plan to use your new deck.
There are many ways to use a deck and how you plan to use it will be a big help in designing a deck that meets your needs while still working well in your space. Do you want to cook outside and entertain large groups of people? Do you want to use the deck for family dinners when the weather is nice? Is your new deck going to provide shade and relaxation for you on a weekend afternoon?
Not only will having an idea of how you want to use the deck be helpful in determining how to plan and design a deck, but it can also help you avoid making common mistakes around new decks.
Mistake #3 – Using the Wrong Decking Material
Traditionally, decks have been associated with wood. But, wood decks can require a lot of maintenance and are susceptible to pests, rot, splitting and more signs it's time to replace your deck. These are also some of the reasons why using the wrong decking material is one of the mistakes to avoid when adding a deck to your home.
Modern decking materials are much more durable and require little to no maintenance. These are some of the benefits of vinyl decks. Plus, vinyl decking can be manufactured to look like wood or other materials, which makes it highly customizable and able to fit seamlessly into any home.
On top of that, since vinyl doesn't weather, split, rot, etc., you don't have to spend a lot of time on maintenance or worry about replacing it when a few years go by. In fact, upgrading your deck to a vinyl deck is even considered one of the ways to save your deck from sun damage.
Mistake #4 – Attempting to DIY a New Deck
Although it may be tempting to try and tackle building a new deck on your own, it is generally a bad idea. There are many benefits of replacing your deck or adding one to your home. However, enjoying those benefits also relies on proper installation, quality materials, and more. More often than not, DIY deck projects fall short on those elements and tend to have permit and building code issues as well.
Attempting DIY projects that really need to be done, legally or otherwise, by professionals is one of the home maintenance mistakes to stop making. Instead of trying to tackle it by yourself or going with the cheapest option you can find, take some time to find a reputable, experienced home improvement contractor for your project.
The right partner will work with you to design the deck you want that meets your needs, handle the permit process, provide high-quality materials and installation, make sure everything is up to code, and more. You don't have to worry; you just get to enjoy your new deck when it's finished.
Work With Zephyr Thomas on Your New Deck
There are many reasons to add a deck to your home. Partnering with a reliable licensed contractor can give you peace of mind and confidence that your new deck will end up being exactly what you want and need.
If you're interested in adding a deck to your home or replacing your existing deck, contact Zephyr Thomas at 717-399-4708 to start a free quote!
Take a look at the Zephyr Thomas team installing the right deck addition for this homeowner!