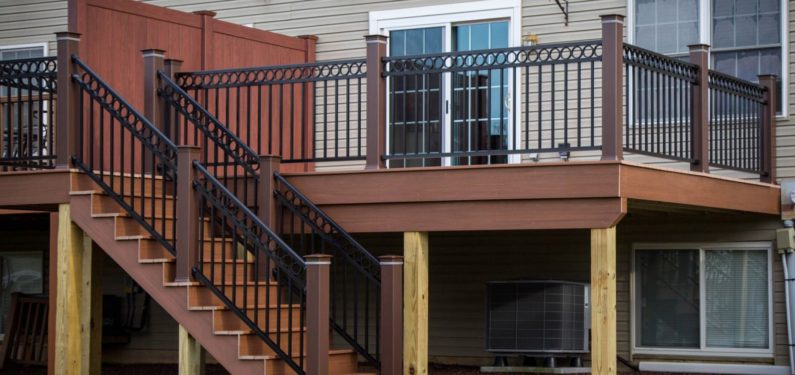 4 Mistakes to Avoid When Adding a Deck to Your Home
Posted on May 9, 2019
A deck is a great place to entertain outdoors when the weather is nice or just to relax and enjoy nature. It also offers many benefits to your home, like increasing curb appeal and more. But, when adding a deck to your home, it needs to be done right in order for it to be a benefit instead of becoming a source of frustration. Here are a few mistakes to avoid when adding a deck to your home:
Mistake #1- Ignoring Location, Size, and Shape Constraints
When homeowners begin to plan out a decking project, one of the most common mistakes occurs during the planning process. Not only do considerations need to be made in regard to how much space is available in a backyard, but homeowners also need to consider how much deck space is needed in order to allow the deck to function in the specific ways that will be beneficial to them.
Custom deck projects can be exciting ways to increase the entertainment possibilities of the backyard of your home, but it is imperative to consider how much space is available as well as how much is needed to accomplish your goals. Likewise, if the shape of the home structure or property lends itself to more unique deck designs or, on the contrary, is limiting in this area, this needs to be accounted for in the planning phases of the project.
For example, decks that are constrained to smaller square footages may not provide room for as many integrated options such as custom seating, multiple tiers, etc., and still maintain their full functionality. However, there are many options for homeowners who face considerations regarding sizing and shape constraints that allow them to creatively utilize their deck's full functionality for maximum enjoyment.
Mistake #2 – Not Considering Usage
Decisions on how big to go with your new deck project, or on the shape of it, should start with considerations about how you will use the deck. If you approach your project from a goal-oriented standpoint, the end result will function how you were intending it to when you began the initial planning phases.
Do you want to entertain large groups of people for work parties or family gatherings? Do you want to use the deck for family dinners on cool summer evenings? Is your deck going to be a place for shade and solace while you read a good book on a Sunday afternoon? How you plan to use your new deck will affect what you expect to receive from your deck and will help you determine how to plan. This can also help you avoid making mistakes related to the size, location, and shape of your deck as well.
Mistake #3 – Using the Wrong Decking Material
For many years, the word "deck" has often come immediately following the word "wood". Wood decks are everywhere. Why? Because for a long time, wood decking was the best option available. Painting wood decks helped to preserve the lifespan of the materials and treated lumber helped to slow rotting and deterioration. The introduction of treated lumber helped to preserve decks. However, even pressure-treated decking will begin to break down, splinter, and warp over time.
When it comes to your new deck, using the wrong decking materials will lead to new headaches over time. The advent of new decking materials, like vinyl decking, have solved these problems for homeowners and helped to create long-lasting and nearly maintenance-free decks. Vinyl decking comes in a variety of colors and patterns, which allows you to customize it to fit your home. Plus, it results in a beautiful deck while providing the benefits of a material that does not deteriorate, discolor, rot, or warp like wooden decks.
Mistake #4 – Attempting to Go-it-Alone
Many homeowners begin a deck project with the intention of planning, buying materials, and installing those materials themselves. Oftentimes, these DIY projects start off as a modest undertaking and evolve into something that becomes an onerous burden on the homeowner.
DIY projects can extend much longer than is necessary because of the homeowners limited time to work on the project. In the case of a deck, it might be a vital component in the use of the back door of your house. Back doors are often several feet above the ground level of the backyard and, without a deck, this means of egress is often rendered useless. Extended DIY projects can keep your home in a state of partial functionality for far too long.
Additionally, it is common for DIY homeowners to over-buy materials and supplies, which only serves to make the project more expensive. Many homeowners may not be familiar with building codes, which help ensure that the structure is installed in a safe and sound manner to specifications that will provide safety in use and peace of mind. Railing requirements, joist spacing, types of materials, and types of components are all things that a quality home improvement contractor will make certain are installed and constructed correctly for the homeowner.
To that point, partnering with a less-than-reputable contractor can be as problematic as taking on a large DIY project that is beyond the scope of the homeowner's abilities. A reputable and reliable contractor will walk a homeowner through each phase of the project, from planning to completion, and provide the homeowner the opportunity to enjoy the excitement of the project and see the end results as quickly as possible.
If you are considering a new deck project, be sure to avoid some of these common mistakes so that your project can go as smoothly and efficiently as possible and the results are exactly what you are looking for. Planning a new project, such as a deck, for your home doesn't have to be a stressful endeavor; by partnering with a reliable, licensed contractor your mind can be put at ease. If you need assistance in the planning and construction of a new deck for your home, contact Zephyr Thomas at 717-399-4708 for a free quote!