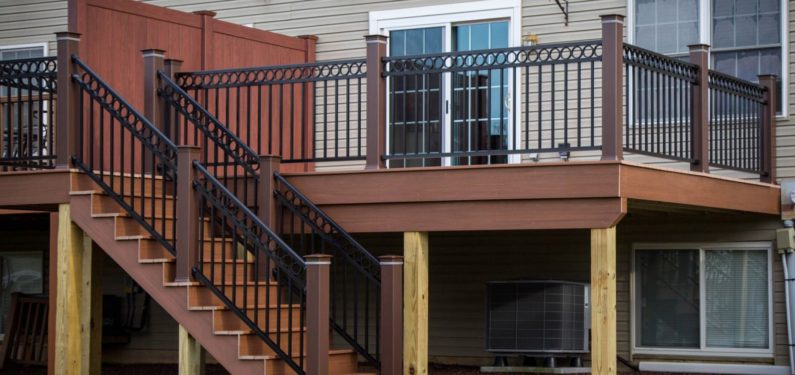 6 Reasons to Add a Deck to Your Home
Posted on February 13, 2020
The value of having a home with some exterior living space can't be overstated. Decks are often a phenomenal addition to your home. They provide many benefits and can transform the backyard area of the property into a more useful and inviting place to relax, have fun, or entertain guests. Here are a few reasons to add a deck to your home:
1. Decks Add a Space to Entertain and to Relax
A new deck is a prime place for entertainment and relaxation. Decks provide a good deal of room to provide an efficient space entertaining and even serving food or dining. For people who entertain large groups during the warmer months of the year, decks create a natural area for people to congregate and socialize outside of the home. Decks also provide homeowners a quiet place to relax and recharge by taking in the outdoors, a good book, or some rays of sunshine.
2. A Deck Adds Value to Your Home
A deck addition can add value to your home. In fact, it's one of the home improvement projects with the highest ROI. By integrating quality home improvements within your property, you will create value and increase the market value of your house.
The same benefits and opportunities that a deck provided to you, will be provided to another person who is looking to buy your home if you list it for sale down the road. Not only will an attractive, professionally-installed deck look great on your home, but it will also serve to catch the attention of more buyers and that often can translate into less time on the market or a high price tag. This is why it's one of the home upgrades that add value.
3. Decks Increase Functional and Livable Space
A deck is one of the best and most economical ways to increase the functional space of your home. When incorporated within the structure in an intelligent and well-thought-out way, a deck can serve as an extension of interior living spaces. Creating a large and open area, such as a deck, that may have seating, tables, or other outdoor furniture provides homeowners and their guests with a outdoor space to enjoy that is comfortable and convenient.
Decks also serve as a great transition area between the house and the yard area of the home. For homes with pools, a deck can be a connection between the back door of the home and the pool area. In general, decks serve to increase the amount of "living space" in a home in addition to helping to make the existing living space in the home more functional.
4. A Deck is Customizable
The fully-customizable nature of a deck is one of the biggest benefits and reasons why these types of home additions are so popular. A deck that meets all of your needs and wants is easily implemented with the help of an experienced home improvement contractor. Customizability is just one of the benefits of vinyl decks.
In fact, the customizable nature of decks, in terms of size, shape, material, and color, etc. will also serve to create a unique exterior aesthetic for your home and enhance its curb appeal. If you will have an elevated deck, you can even use some under deck ideas to get the most out of your new outdoor space.
5. Decks Improve Your Backyard
A deck is one of the ways to improve your backyard. Decks simply make the backyard better; better looking, better functioning, and better utilized. The backyard area of your home will get more use and be more enjoyable to use when a deck is present.
Additionally, decks can add to the general safety of a home. For instance, decks that are incorporated within a pool layout will feature locking gates that meet code regulations and provide restricted access to potentially hazardous areas on the property.
6. A Deck Can be Low-Maintenance
Gone are the days of wondering if the maintenance of a deck is worth the benefits you can receive from one. This is largely due to the fact that new and better building materials are available that look great and are virtually maintenance-free. For example, vinyl decking is impervious to pests, does not rot and deteriorate like wood, does not require frequent painting or staining, and is incredibly easy to clean.
One of the mistakes to avoid when adding a deck to your home is ending up with the wrong material, so this is something to think about. A good home improvement contractor with experience in deck building can help you make sure you get a deck that suits your home and your needs.
A deck addition is one of the best outdoor home improvement projects for spring and these are just a few reasons to add a deck to your home. Ready to start planning your new deck addition? We can help. If you would like to discuss the details of your new renovation ideas, one of our experienced representatives would be happy to chat with you and make your dream a reality. Give us a call at (717) 399-4708 and start a conversation today!