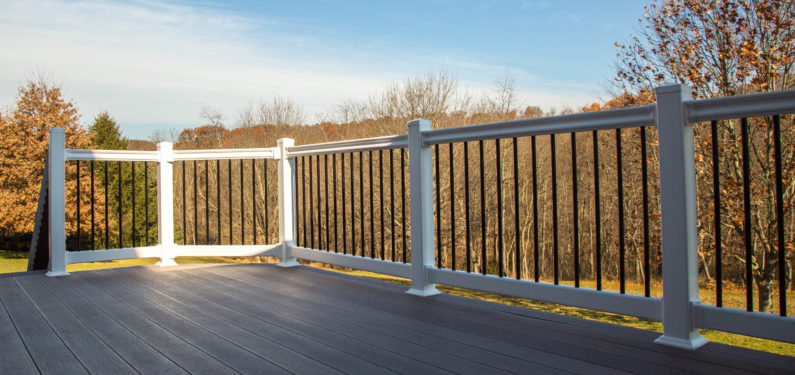 5 Ways to Beat the Heat on Your Patio or Deck
Posted on April 25, 2019
Homeowners who are fortunate enough to have a deck or patio enjoy having a space at their home that is a prime area for hosting get-togethers or great for relaxing on a beautiful summer day. Given the unpredictable nature of weather, a deck or patio can go from the perfect, comfortable destination one day to nature's sauna when the next oppressive heat wave hits, especially if you implement some of the ways to beat the heat on your patio or deck.
It's understandable why homeowners are always looking for ways to make their patio or deck area a more comfortable area to enjoy. There are many ways to enhance both the atmosphere and utility of a patio and deck space, and realistically, the options are only limited to your imagination. Here are a few ways to beat the heat on your patio or deck:
1. Install a Patio Awning or Cover
Patio covers & awnings are a great, effective option for homeowners who are seeking to create some shade and receive some refuge from the midday sun. One of the biggest benefits of awnings is that they are an economical option that can be installed without much invasive construction or renovation processes.
There are several places you could add an awning aside from the patio. Some of the most popular awnings are mounted directly to the dwelling structure and are fully retractable. This allows them to be moved out of the way when they are not needed later in the evenings or when inclement weather that may bring damaging high winds is approaching.
These awnings integrate with the existing layout of the patio or deck area and do not require additional construction or excavation for pouring foundational footers. As such, they can be added quickly at reasonable costs. Other types of patio covers may be designed as stand-alone structures.
Sometimes, these structures feature a wood or metal frame system that is fastened to a deck or patio and a canvas awning is stretched over the structure. Other patio covers may be built onto the dwelling. These are often designed in a style similar to that of a pergola and feature canvas awning material that works with the rafters in order to provide shade and refuge from the beating sun. Regardless of the type, adding some weather protection like this is one of the ways to upgrade a patio.
2. Add a Pergola
Pergolas are another hugely popular option for homeowners who are looking for an especially tasteful and aesthetically pleasing way to create some shade around their patio. Pergolas are open structures, usually made of wood, that feature large posts supporting rafters of treated lumber.
These rafters are commonly spaced anywhere from 12 inches to two feet apart. Many times, ornamental vines are planted so they will grow up the structure and wind themselves around these rafters to create additional shade. This is a particularly popular option for homeowners who enjoy gardening or just want to add another touch of nature to their home.
Pergolas both can create shade and help to beat the heat with or without the help of vegetation because of the way the rafters are oriented. These structures are built so the afternoon sunlight hits it at an angle and each rafter provides enough shade that it becomes as though the structure has a solid roof while still providing vertical airflow.
This leads to an additional advantage of pergolas – they can be described as "open-air" structures that allow for rising hot air to escape through the rafters while people within the pergola are enjoying the benefits of full shade. Pergolas are a beautiful accent and statement piece to add to a backyard area; whether they are designed to be a stand-alone structure or integrated with the house.
3. Consider a High Wall or Vegetation
You can also provide some shade to your patio or deck and also provide some privacy for your backyard by including a high wall or privacy fence. Not only does this help block the sun in some cases and provide some privacy, but it also is available in plenty of different options. A "wall" can be created out of stone, brick, a vinyl fence, or even with vegetation.
Vegetation cover is a great option for gardeners who prefer the natural look and feel of a beautifully landscaped garden wall. Trees are obvious shade providers, but there are plenty of other options too like tall shrubs or bushes. You can even include vines, ivy, or another climbing plant to provide some green cover for an existing wall to create a vertical garden!
When utilizing any kind of vegetation to create shade, it is important to plan ahead and understand the maintenance commitment that is required in order to sustain something such as a high garden wall and the shrub plantings within it. Plus, you want to consider the time it takes for a tree or plant to grow large enough to provide an adequate or effective amount of shade if you're starting with seedlings. Some vegetation will grow faster and larger than others and you want to make sure that whatever you choose will be a good fit for your home years down the road.
4. Think About a Patio Enclosure
One of the ways to beat the heat on your patio or deck is to transform it with a patio enclosure. If the summer heat is keeping you from enjoying your patio area, it may be time to consider a patio enclosure.
Screened-in porches are very popular because they are a relatively simple improvement that creates a lot of benefits for the homeowner. Homeowners desiring to take a patio or deck enclosure to the next level might consider a vertical 4-track room that can be used across three seasons.
One of the biggest benefits of a vertical 4-track patio enclosure is that it has immense amounts of versatility and can be changed from a fully enclosed room to a screened-in porch by simply adjusting the removable window panels. And, if you want to be able to enjoy your patio area year-round, regardless of the season, you can go for a four-season patio enclosure.
5. Use Fans for Better Airflow
Depending on the kind of structure you choose to provide some shade to your patio, you may want to consider incorporating an outdoor ceiling fan within the structure to assist with air movement. A fan will help move hot, stagnant air from under an awning structure, pergola, or screened-in porch.
In many cases, one fan is all that is needed to create adequate air movement that helps to maintain comfortable temperature regulation. You can also add temporary standing fans or misting fans to your patio or deck as needed to help provide more airflow when the temperature spikes.
The patio or deck is a great area to let your creativity thrive and add something special to your home or landscaping. Plus, there are many ways to beat the heat on your patio or deck and improve your experience. On top of that, some of them are also ways to save your deck from sun damage!
If you are feeling inspired to take back your patio or deck from the heat of the summer sun, contact us at 717-399-4708 for a free quote and we can help bring your vision to life!