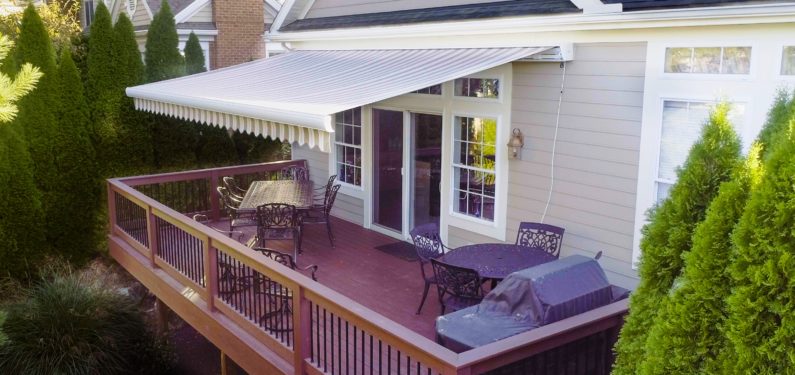 6 Places You Could Add an Awning
Posted on July 13, 2023
During the summer, many people enjoy spending time outside. However, when the sun is too bright, it's nice to be able to sit under a shaded area. If you're looking for a practical solution, an awning might be a good choice. Not only are they good for the summer, but they also are useful throughout the rest of the year as they offer protection from rain and snow. Here are a few places you could add an awning to your home:
1. Over Your Front Door
Having a porch cover or awning over your front door is a practical solution if you have a porch that doesn't have a roof. It's helpful because it will protect you and your guests from rain or bright sun before entering your home. It's just one of the types of porch weather protection available.
Be sure to consider your home and frame before picking an awning. You don't want something that will overwhelm your home too much. Also, you can pick between a retractable, manual, or motorized awning. Or, choose a stationary cover or awning if you don't foresee a reason to retract it.
2. Over the Back Door
Just like your front door, an awning over your back door will offer you protection from the elements. This could be a smaller awning to just offer a bit of protection or, choose a larger one for a bigger area of coverage.
3. Over the Garage
If you want to provide shade over cars that don't get parked in a garage, an awning will offer that protection. This awning can either be mounted to your garage directly or held up by support beams placed on the ground.
4. Over Your Deck or Patio
A deck or patio is a lovely place to spend time outdoors. Installing an awning will allow you to spend more time in the spaces even during rain or bright sun. Adding this coverage is a great way to upgrade a patio.
There are many options and they can be installed above the gutters, under the soffit, or with a wall mount. You'll need to determine how much space you will want to be covered. Measure at different times of the day to figure out how far out you want the awning to reach. Depending on the angle of the sun and the placement of your house, you may not need as big of an awning as you initially think.
Take a look at the time-lapse video below to see the Zephyr Thomas team installing a retractable awning over this homeowner's deck and patio! Awnings can be a great way to beat the heat on your deck or patio!

5. Next to or Over the Pool
Having a shaded area beside your pool is not only practical but visually appealing as well. A pergola is a great option if your pool is farther out from your house as it's a freestanding structure.
However, if your pool is located fairly close to your home, you can install an awning directly onto your home. This makes a great place to relax out of the sun.
6. Onto Your Windows
If your windows let in too much sunlight even with window treatments, installing awnings over your windows might be helpful. Blocking unwanted sun can help keep your home cool in the summer and can offer your windows protection from inclement weather. These are just some of the reasons to get window awnings.
Before installing awnings onto your window, it's important to have a professional check for any rotting around your window frames. Your frames should be nice and secure in order to hold up the awning. If your windows are old, outdated, or damaged, it's important to replace your windows before adding awnings.
Add Awnings to Your Home With Zephyr Thomas
There are many benefits of patio covers and awnings, and these are just a few places you could add an awning to your home. Choosing the right awning can be overwhelming but it's a good investment for your home!
If you are considering patio covers or awnings, contact Zephyr Thomas at 717-399-4708 for more information or to start a free quote on your project!
Check out the video below to see the Zephyr Thomas team completing a patio cover addition for this homeowner!