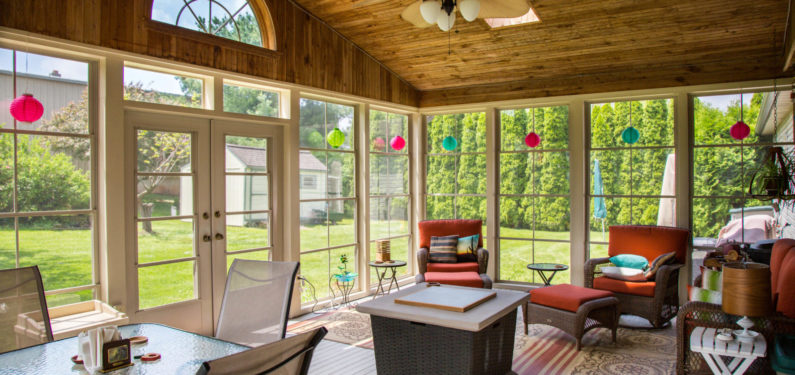 4 Types of Porch Weather Protection
Posted on October 24, 2019
Porches are just better when they come with a bit of protection from the elements. There are many benefits to covered porches and porch enclosures and you can get them for your porch by adding various different components. There are pros and cons to each option and understanding the features of each can help you to determine which will be right for you. Here are some common types of porch weather protection:
1. Retractable Patio Awnings
Retractable patio awnings are a great option for many homeowners. They create the effect of a covered porch without having the same structural requirements as a porch covered by a roof extension or another permanent structure.
Because they are retractable, these awnings allow homeowners to enjoy the flexibility provided by the ability to remove the porch covering when it is not needed. This can be a convenient aspect of this type of porch weather protection. Retractable awnings are generally a simple home improvement project that can fit into just about any budget!
2. Aluminum Patio Covers
Aluminum patio covers are another great option for weather protection on your porch. These types of covers are an affordable option that is more resistant to corrosion than many other conventional building materials such as treated lumber.
Aluminum patio covers are a good, economical option and the style and designs available today can add to the aesthetic appeal of your home's exterior. Not only can you add some weather protection to your porch so you can enjoy it more, but you can also increase the curb appeal of your home too!
3. Roof Extension
A roof extension over your porch or patio is one of the best ways to fully integrate your porch into your home's exterior. This type of porch covering is a bigger project to undergo as the roof of the porch will need to be seamlessly integrated into the existing roofline of the home.
There are multiple ways to accomplish this and an experienced home improvement contractor will be able to show you the options available. The end result of this kind of porch covering is a permanent addition to your home that will flow beautifully with the existing architecture of the dwelling.
4. Upgrade to a Patio Enclosure
If you are looking for a bit more weather protection than can be provided by a simple patio or porch covering, it may be time to upgrade to a three or four-season patio enclosure. A vertical 4-track room is a popular option for a three-season patio enclosure. These highly versatile rooms can function in similar ways to a sunroom while still maintaining the option of using the porch or patio as an "outside" area.
The windows in a 4-track enclosure can be opened wide to offer greater airflow through the porch enclosure similar to a screened-in porch. And, they can provide the patio or porch enclosure with additional protection from wind and precipitation when the windows are closed. These are just some of the benefits of a vertical 4-track patio enclosure.
Protect Your Patio With Zephyr Thomas
Porch and patio coverings and enclosures are great ways to enhance the exterior of your home in terms of both looks and function. They are also great ways to upgrade a patio. There are types of porch weather protection available to fit all budgets and project sizes, so be sure to explore all of them so you end up with the perfect results for your home.
Some homeowners choose to use more than one kind of weather protection for their porch and patio areas to provide additional functionality and a unique aesthetic appeal. Plus, there are several places you could add an awning around your home to help regulate temperature, provide shade, and protect from weather.
Consult with an experienced home improvement contractor to help you weigh all the options and determine the right kind of weather protection options for your home's porch or patio! Call Zephyr Thomas today at (717) 399-4708 to get started with your next exciting home improvement project!