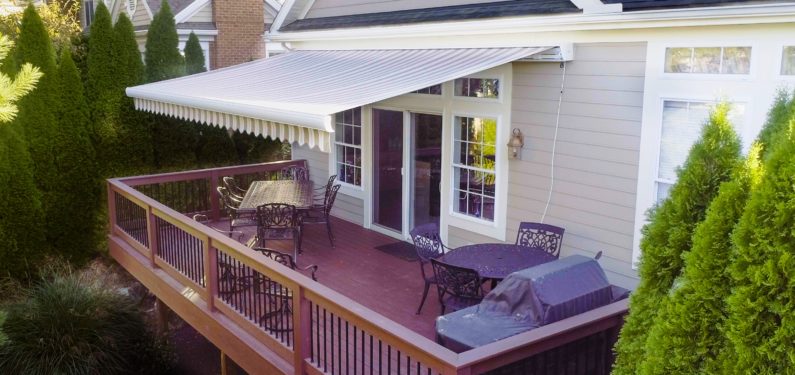 3 Reasons To Get Window Awnings
Posted on July 14, 2016
If the windows are your home's eyes, and the blinds are its eyelids, then your window awnings are the protective eyelashes. When installed properly and built using the right materials, awnings can protect your belongings, reduce your energy consumption and show passersby and potential buyers that your home is well-maintained and well-taken care of.
1. Awnings Protect Your Belongings
Just as patio furniture left outside all year long can become faded by the sun's powerful rays, sunlight coming in from outside can damage the contents of your home, especially in rooms whose windows let in direct sunlight for much of the day.
You may have already noticed this: a deep-green sofa can turn to a duller hue, or a favorite hot-pink lamp may fade to a more dusty shade. Maybe you have a matching set of furniture and the items on the window-facing side of the room are noticeably lighter than the items on the shadier side. Or maybe you've noticed family photographs or artwork fade. Whatever it is you're concerned about protecting from the sun's damaging rays, window awnings will help.
2. Window Awnings Can Increase Curb Appeal
Whether you want to sell your home now or selling is a distant prospect, any realtor will tell you that small touches to improve the look and feel of your home can make a difference in attracting buyers and being able to sell for the price your home is really worth.
Purchasing a house can be a daunting and scary prospect, and attractive awnings on a home can make buyers feel more secure. They show that a home is owned by people who care about it – from the presence of awnings, someone can infer that there won't be any unexpected troubles with the house resulting from inadequate upkeep. You can buy awnings to match your home's color scheme, or they can even provide an accent, if the color scheme is a bit dull.
3. Awnings Can Help Save Energy
Where light goes, heat is present, so awnings don't simply protect your home from sun damage – they also can affect the temperature inside your home. If your house frequently gets too hot in the summer and you find yourself forced to crank up the AC more than you'd prefer, awnings can help keep out the heat. In winter, awnings can keep out the frigid air and shield your windows from rain, snow, and hail – a fact that means less window upkeep.
Get Patio Covers or Awnings For Your Home With Zephyr Thomas
If you feel that patio covers and awnings might be a good addition to your home, don't hesitate to call Zephyr Thomas at 717-399-4708 to start a free estimate. Both our FairLite Aluminum Awnings and our Aurora Stationary Aluminum Awnings are well worth considering if you're looking to give your home more protection from the sun, up attractiveness, and improve temperature stability. Plus, there are several places you could add an awning around your home for some extra shade and weather protection.