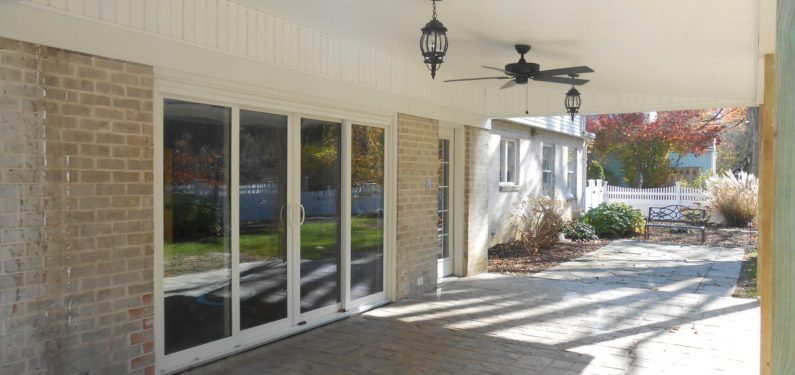 How to Choose the Best Patio Door for Your Home
Posted on February 10, 2022
Just as your front door may have a big effect on the look and feel of the front of your home, your patio door is just as important for the look and feel of your patio and the back or side of your home. There are a lot of options to consider when it comes to a patio door. Here's how to choose the best patio door for your home:
1. Think About Your Wants and Needs
As with any home improvement project, it's important to think about your wants and needs. What is the goal for the project? What is the end result you want? Thinking about these things can help you when it comes to narrowing down patio door options and choosing the best patio door for your home.
2. Consider the Type of Patio Door You Want
From sliding and hinged to folding and more, there are several common types of patio doors to choose from. It's important to consider the type of patio door you want. Issues opening and closing the door is one of the common signs it's time to replace your sliding patio door.
Although there are several benefits of installing sliding glass patio doors, they may not be the best patio door for you if you don't want to slide them open and closed. If you don't want to have to slide a door open, a hinged door or another type of patio door would be a better option for you.
On the other hand, you may not want to give up the floor space to accommodate a swinging door. In this case, a folding door or sliding door may be a better fit. How you want to use your patio and what type of door will be the most convenient for you matters.
3. Take Natural Light and the View Into Account
In addition to the type of patio door, you also need to think about how much glass you want, the type of glass, etc. What view do you want to see out of the patio door? How much natural light do you want? Do you need some privacy because people can see in?
Considering these things can help you determine how much glass to opt for on your patio door, whether you need some type of decorative or frosted glass for more privacy, and more. Depending on the type of glass, how much you want, and where it is located, you may also want to consider special coatings to help increase the energy efficiency of your home.
4. Review Door Materials
Although solid wood doors were a popular material in the past, there are far superior door materials to choose from now that allow you to take advantage of even more benefits of new patio doors. When it comes to versatility, quality, and performance for patio doors, vinyl, steel, and fiberglass are at the top of the list.
Depending on your needs and the options you want, some materials may be better for your project than others. An experienced home improvement contractor can help you work through those details and help you choose the best patio door for your home.
5. Match the Style of Your Home
Some of the biggest benefits of vinyl, steel, or fiberglass patio doors are that they are durable, low maintenance, and versatile. In addition to long-lasting quality, these doors can be manufactured to match any style.
This makes it easy to replace your patio door in a style that matches the style of the rest of your home. Instead of looking like an afterthought, it will look like it was always meant to be part of the original home design.
6. Look Over Additional Upgrades and Options
In addition to details like fixtures and hardware, you also want to look over additional upgrades and options that are available for the patio door you want. Quality matters with patio door installation, and it also matters for your door overall.
On top of quality materials and installation, you can also consider other upgrades and energy-efficient door options for the best patio door for your home and your needs. Between the glass, the frame, extra components for energy efficiency, and more, there are a lot of options available to take your patio door quality to the next level while also better protecting your home.
New patio doors can upgrade a patio or deck. These are just a few tips to help you choose the best patio door for your home. Partnering with an experienced, reputable contractor can help you narrow down the options and ensure you get the patio door you want and need in addition to quality materials and installation.
If you're interested in patio doors for your home, contact Zephyr Thomas at 717-399-4708 to start your free quote or stop by our showroom to see some options.