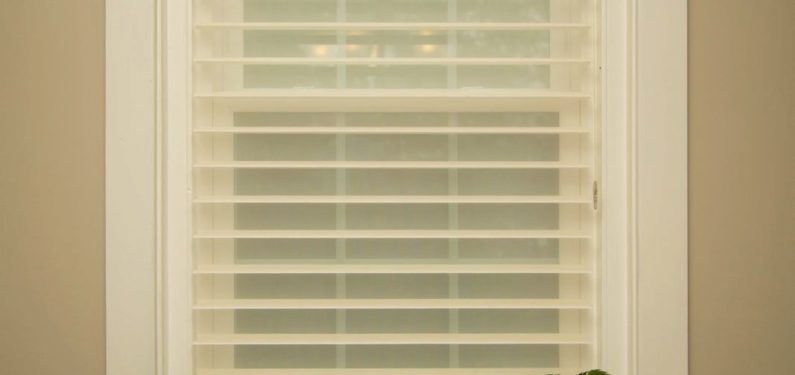 4 Ways to Add Privacy to Your Windows
Posted on December 13, 2018
Just because it's said that windows are the eyes to your home doesn't mean they need to allow anyone else to see into your home. Your home is your safe haven and you should be comfortable inside it. Part of creating a comfortable atmosphere is ensuring you have privacy when you want it. Window treatments are the elements placed on, in, around, or over a window to enhance it, create a certain look, control light, add privacy, and more. Here are a few ways to add privacy to your windows with window treatments:
1. Curtains or Drapes
Curtains or drapes are one of the most common ways to add privacy to your windows. Plus, they're easy to install and change as your design needs change. You can pull them open to let light in and then close them when you want a little more privacy. Although many people consider curtains and drapes to be the same thing, they aren't. Sure, they are both fabric that is used to cover a window, but they are not the same thing.
Curtains
Curtains tend to be made of a lighter fabric. They are also sometimes thin and sheer. Unless they are insulated curtains or thermal curtains, they are not usually lined and do not do much to block out light on their own. They're often used as a more aesthetic cover and are sometimes paired with liners for more coverage. If intended to add privacy, curtains should definitely be used with a liner.
Drapes
Drapes are usually lined and are made of a heavy fabric. Unlike many curtains, drapes can provide privacy on their own. They also tend to be better at blocking out light and insulating against cold and heat. Drapery can add a decorative touch, like curtains, while also providing more function by itself due to the heavier fabric.
2. Blinds or Shutters
Blinds or shutters are another popular way to add some privacy to your window. There are a ton of options available to give you exactly the look you want. Both of these options allow you to control how much light you want to let in, but they function in different ways.
Blinds
Blinds are a little bit more flexible than shutters because you can adjust the angle of the blinds to let a lot, a little, or no light in and you can also use the cord to pull them up entirely. On top of that, they come in a variety of materials and colors.
They are often made of vinyl, wood, bamboo, or aluminum and come in ½-inch, 1-inch, or 2-inch slats. Although most blinds are horizontal for standard windows, there is another version that uses hanging vertical slats. These vertical blinds are commonly used to provide privacy for large sliding windows or sliding patio doors.
Shutters
Shutters are another classic way to add some privacy to windows. When thinking about shutters, the exterior version may be what first comes to mind. However, you can also install shutters on the interior of your window.
They can offer a classic architectural look to your room while also adding some privacy to your windows. You can open the shutters inside when you want to let light in through the windows and then close them when you want total privacy.
3. Shades
Shades are soft fabric panels that cover the window. They can be rolled up or down depending on how much light you want to let in. Because shades are made of fabric, there are a ton of options available in various widths, lengths, materials, and colors.
There are also different types of window shades that operate in different ways. Roman shades, for example, pull up into deep pleats as they are lifted. Shades can be operated using a standard cord lift mechanism or can be completely automated as well.
4. Privacy Glass
Another way to add some privacy to your windows, in addition to covering them, is to use privacy glass in the windows. Textured or tinted glass can add privacy to your window without limiting the amount of light the window provides. This can be a great option if you want to include windows as one of your shower lighting ideas.
Textured or tinted glass paired with another type of window covering can help provide you with the ultimate privacy when you want it. They can also be an option for any window options for entry doors you may include as part of your home's entryway
There are many ways to incorporate windows into your home, but you also want to think about privacy as well as light. The type of window treatment you choose to use may vary depending on the room, your style, and how the window will play into your daily life, but all can be used to add privacy to your windows. Choosing the wrong window treatments is a home decor mistake, and getting them right can make a big difference in a room.
Putting up window treatments is also one of the tips for increasing patio door security because they add some privacy. If your windows have you feeling exposed or are outdated, call Zephyr Thomas at 717-399-4708 to talk about replacement windows, or stop by our showroom to see options in person!