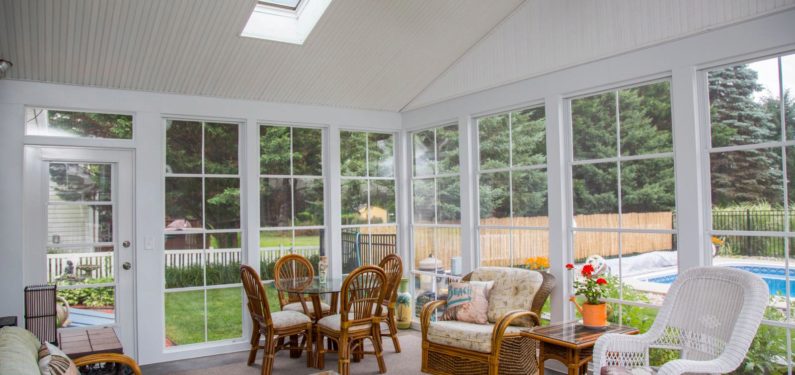 How to Brighten a Dark Room
Posted on October 22, 2020
The amount of lighting in a room can make or break the atmosphere. There is more than one way to brighten a dark room. Usually, a combination of natural and artificial lighting is the right mix. There are also other ways to decorate your living space that will allow you to adjust the lighting in the room depending on the time of day and other considerations. Here are some tips on how to brighten a dark room that will help you get the lighting in your home just right:
1. Add or Expand Windows
There are plenty of benefits to increasing the natural light sources in your home. One of the best ways to add more natural light to your home is to add windows or expand existing windows.
Rooms that have a limited number of windows or that feature smaller windows can be enhanced with larger window options. Bay or bow windows allow an abundance of natural light into your home. They can also help to improve your home's curb appeal while doing so.
Check out the video below of the Zephyr Thomas team installing a custom bow window!

2. Build in Skylights or Sun Tunnels
There are many benefits of skylights and they are a great option for many homes, especially those with vaulted or cathedral ceilings. Not only do they look great, but they are also an efficient means of bringing natural sunlight into a room.
For situations where the installation of a traditional skylight may be inhibited by certain features, sun tunnels present an excellent option. Sun tunnels provide more flexibility for capitalizing on natural sunlight as they can be installed around ventilation ducts or other HVAC components and still reflect natural sunlight into the home.
3. Avoid Heavy Curtains
If you wish to have a better-lit room, avoiding heavy black-out curtains will allow more light into your home. Choosing a style of curtain that still allows some transparency for light to penetrate is a good option to get some privacy while also getting the benefit of additional natural light.
Another option is to opt for window treatments that give you flexibility with how much light you allow in. Curtains can be pulled back as needed while blinds can be opened completely for full light or adjusted for the amount of light you want.
4. Choose a White or Neutral Color Palette
The color scheme you choose for the rooms of your home will have a large impact on the aesthetics of the living area and the atmosphere it creates. It can impact how dark the room is and also how dark it feels.
A lighter room can often look and feel more open and inviting. It tends to reflect light more instead of absorbing it like a darker room tends to do. So, you may want to consider using a lighter white or a more neutral color palette if you are trying to brighten your home's living space.
5. Use the Right Lighting in the Right Places
Incorporating additional artificial lighting in your room is also a viable option when you need to brighten the space. Consider what type and style of lighting and fixtures are right for the room you are decorating.
Make sure that the lighting you choose matches the home's decor and be sure that you place it in the room in a way that will enhance the look and feel of the living area. In addition, consider the temperature of the lighting so that the end result is not too harsh and does not detract from the desired "mood" of the room.
6. Include Mirrors or Reflective Surfaces in the Decor
When choosing your decor items, a good way to brighten a room is to include reflective surfaces, such as mirrors, in your decor. Because mirrors and other reflective surfaces can help bounce light around a space, they can help you capitalize on the existing light available in a room. A strategically placed mirror can enhance your decor while also helping to brighten up a room, especially in spaces where you may not be able to easily add more lighting.
These tips can help you brighten a dark room. Having the right amount of lighting is an important consideration for each room in your home. Sometimes, small updates can be enough to give you the look you want. Other times, bigger updates may be needed. Whether you just need a new window or two or your home needs a bigger overhaul, Zephyr Thomas can help!
If you're ready to start your next home improvement project, give one of the experienced home improvement reps at Zephyr Thomas a call at (717) 399-4708 for a free quote!