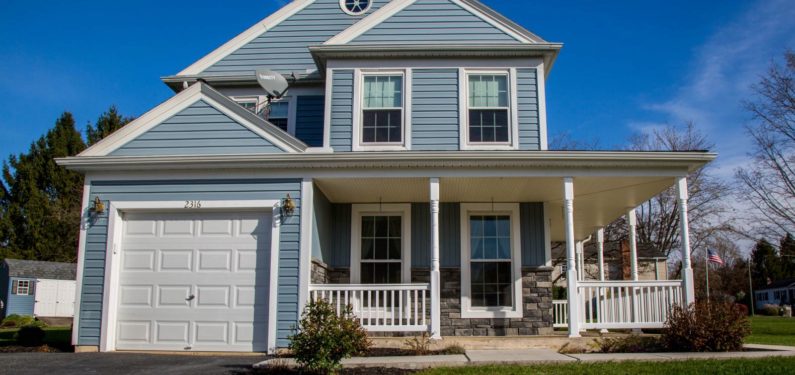 5 Benefits of Vinyl Siding
Posted on November 17, 2022
Does your home need new siding? It may seem like a big undertaking, but working with the right partner can make it a painless process that is well worth your time. Not only does new siding increase your home's curb appeal, but it also increases its value, energy efficiency, and more. When it comes to siding, it's hard to beat vinyl. Here are a few big benefits of vinyl siding:
1. Vinyl Siding is Less Likely to Trap Moisture
As long as it is installed properly, vinyl siding is less likely to trap moisture. Water damage is an insidious problem that can cause thousands upon thousands of dollars in damage to your home. Siding that provides a tight seal and protection is more energy-efficient, insulates your home better, and can help protect your home from water damage.
2. It is Virtually Maintenance-Free
The wrong type, color, etc. of siding are all things that can hurt your home value. When it comes to types of siding, vinyl siding generally comes out on top when compared to wood siding or clapboard and helps increase your home value.
Vinyl and insulated vinyl siding consistently deliver some of the highest returns on investment in remodeling projects. Vinyl takes less time to install than wood does and it also requires less time and money to maintain.
Visible damage is one of the big signs your house needs new siding and a material that is resistant to damage is a good choice. There is no repainting or staining with vinyl siding like there is with wood. Plus, there are no worries about rotting or splitting with vinyl and it never needs caulking or re-pointing either.
Unlike other exterior siding materials, vinyl siding just needs periodic cleaning. Mild soap and a rinse with water from a garden hose are sufficient to clean vinyl siding.
3. Vinyl Siding is Durable and Energy Efficient
Standard lines of vinyl siding can withstand high winds (around 140-160 mph). There is even high-strength vinyl siding that can withstand winds over 220 mph. Vinyl siding also resists the weathering effects of heat, cold, and moisture. It will retain its great looks for years to come. Some sidings offer UV protection to protect the color against harsh elements. Additionally, vinyl siding will not crack, peel, flake, or rot.
Insulated vinyl siding also tends to be more energy efficient, even beyond the increased energy efficiency provided by non-insulated siding. Studs in exterior walls can be a major culprit in reducing your home's energy efficiency. They create "thermal bridging," which occurs when materials with poor insulating properties come together and allow heat or cold to pass through.
Insulated siding covers your home's studs and works like a blanket, reducing thermal bridging. It acts like a barrier, keeping the heat out during the summer and the warmth in during the winter, which reduces the energy needed for heating and cooling.
4. It Benefits From Evolving Technology
Vinyl is produced from the combination of ethylene gas and chlorine. The reaction between these two substances produces vinyl resin, a fine powder. Melting this powder down and mixing it with various additives, leads to a wide variety of results. Vinyl can be turned into many different things, it can be flexible enough to be clothing or shoes or very rigid.
Over the years, manufacturers have vastly improved the product, making advances in chemistry and design, and contractors have improved installation techniques. Vinyl siding tops the list of residential cladding materials, especially in the Middle Atlantic where over 75% of new homes have vinyl siding.
5. Vinyl Siding is Beautiful and Customizable
Style, durability, and more are all things to consider to choose the right siding for your home. With vinyl siding, you can achieve nearly any look, from historic to contemporary, due to the wide selection of styles, shapes, and colors available.
The versatility of vinyl siding can help you bring nearly any house siding ideas and architectural style to life. Plus, new siding that is durable and matches your home's style boosts your curb appeal and increases your home value while also increasing comfort.
Vinyl Siding by Zephyr Thomas
These are just a few of the big benefits of vinyl siding. If you're considering re-siding your home, Zephyr Thomas Home Improvement can help. With vinyl siding, correct and careful installation is crucial in ensuring that new siding will last, and will protect your home from the elements.
Our company has been installing vinyl siding for decades, and we know the proper installation techniques. We also have chosen to work with trusted siding manufacturers that use quality materials and also provide the newest and most innovative designs.
If you're ready to discuss your vinyl siding options, you can stop by our showroom "village" or call us at 717-399-4708 for a free consultation.
Check out this timelapse video to see the Zephyr Thomas team replace the siding on this home!