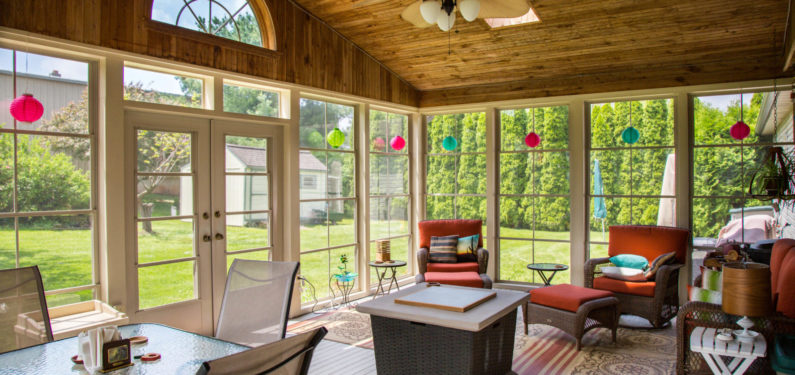 5 Popular Home Renovations to Make During Retirement
Posted on September 12, 2019
Before making the decision to undertake a home improvement project in retirement, there are several important considerations to be made. Between the budget, goal of the home renovation, and all the options available, there are a lot of details to choose from. Getting an idea of the general types of home renovations you want to make and working with an experienced, reputable home improvement company to do it can make a big difference. If you know you want to change some things around your home, but you're not sure where to start, here are a few popular home renovations to make during retirement to help inspire you:
1. Home Addition for a Bonus Room
During life's earlier years, it is often nearly impossible to dedicate time to a beloved hobby. The time that is available for this type of recreation is a luxury. Often, spare room in a home is also at a luxury. However, once homeowners reach the "empty-nest" stage of life and then step into retirement, the time and the space for hobbies is greatly increased.
Some homeowners may choose to completely renovate what was once used as a bedroom and transform it into a space that provides the perfect layout to pursue their hobby. Other times, bedrooms are maintained as guest rooms, which makes it necessary to consider home additions in order to get a room that can serve as a hobby or craft room.
Building onto a home, in order to create a special bonus room, affords the homeowner the opportunity to choose exactly how large the space will be; the layout, design, and shape of the room; and additional custom options. Having a bonus room with plenty of storage and all the right features for your specific hobby will make the hours spent in this area of the home fulfilling, enjoyable, and as stress-free as you always imagined it would be!
2. Sunroom Addition or Patio Enclosure
Retirement should be about relaxing and enjoying the simple things in life. As far as areas of the home are concerned, there is hardly a better place to accomplish this than a sunroom addition or patio enclosure. Not only are sunrooms one of the most popular home renovations to make during retirement, but these rooms also offer a homeowner a place that is one step closer to the serenity of the outdoors while often providing the comforts of a climate-controlled living space.
Sunrooms and patio enclosures are, by nature, out of the beaten path of much of the traffic flow within the home. Due to this fact, they provide a perfect place of quiet relaxation – one where a good book or the morning coffee can be enjoyed without interruption. There are many options when it comes to these types of additions and they prove to be an affordable way to add functional living space to a home.
3. Deck Addition
If your home doesn't already have a deck, consider adding this "must-have" for retirees! A deck is a perfect gathering place for entertaining and many retired homeowners capitalize on their new-found time to enjoy the company of family and friends on a more frequent basis.
It's hard to list all the benefits of adding a deck to your home in regards to entertaining guests during summer and fall evenings. Homes with existing decks that are deteriorating or provide little functionality are also great candidates for an upgrade. Vinyl decking materials withstand the tests of time and they provide retired homeowners with the peace of mind that stems from knowing the new structure will be essentially maintenance-free and will last a lifetime.
Depending on the layout and location of the master bedroom in the home, a great idea for retired homeowners can be to add a deck off the master bedroom suite. Without the need to wake up and immediately head off to work, retirees can use such a deck as a place for morning meditations with that fresh cup of java.
4. Bathroom Upgrades
Another one of the popular home renovations to make during retirement is to upgrade your bathroom. Regardless of the life phase a homeowner is in, a partial bathroom upgrade or a complete renovation is one of the most beneficial and popular home improvement undertakings, which is why they are also home improvement resolutions for the new year. For retired homeowners, the benefits of this kind of renovation are even greater.
Accessibility and safety are key factors later in life. As such, a bathroom remodeling project will be not only immediately beneficial, but will also continue to pay dividends in years to come. A walk-in shower unit is a great option for retired homeowners.
The customizable nature of these bathroom features can help to create a bathroom that is highly functional and will also assist in maintaining a homeowner's independence later in life. Ease of access and designs that reduce the risk of falls are key features of an accessible bathroom remodel.
Retirement is also a great time to treat oneself to a few "luxury" bathroom renovations. When planning to remodel your bathroom, don't be afraid to splurge a little and consider things like a shower steamer unit, a vanity with double sink basins, one of the walk-in types of bathtubs, or even a walk-in shower with multiple shower heads!
5. First-Floor Master Suite
Homes that have bedrooms on the second floor are good candidates for a master suite addition on the main living level of the home. This provides a general convenience factor early on in retirement. Not only can this help you avoid the dreaded activity of hauling laundry up and down the stairs, but it also keeps the majority of the traffic on one level of the house. This helps eliminate as much general mess to clean up throughout the house.
Additionally, later in life, having all amenities on one level will be a safety improvement for elderly homeowners. Some homeowners may become physically prohibited from utilizing stairs. In cases like this, having the master bedroom and bathroom, along with the kitchen and living areas, all on one floor can become a huge asset. Plus, when family and friends visit for extended periods of time, it can be nice to allow them to have access to bedrooms on an entirely different floor in order to preserve a bit of privacy and normalcy of routine after a day of fellowship together.
The home renovations to make during retirement will likely be different than those you may have embarked upon when you had a young family. Practicality and functionality become increasingly important. But, convenience, recreation, and entertainment should certainly still be on the list!
As homeowners approach their twilight years, it becomes important to ensure that life at home is both enjoyable and safe. When it comes to planning your next home renovation, those two things do not have to be mutually exclusive! Careful planning with an experienced contractor will help ensure that you check both of those boxes!
Call us today at (717) 399-4708 to begin the conversation about a home improvement that will make your retirement years everything you dreamt they could be!