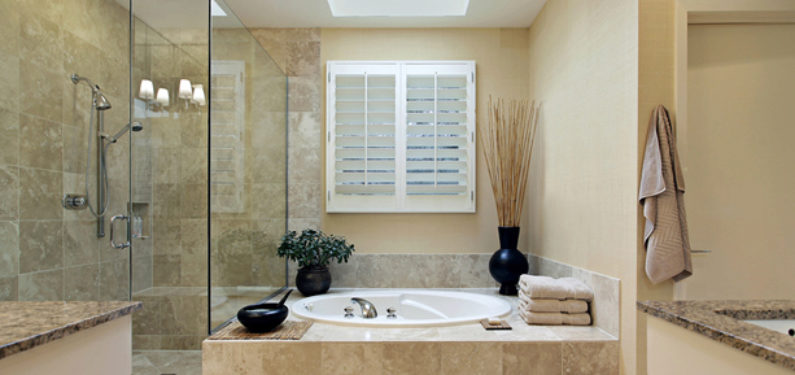 Bathroom Remodel Checklist
Posted on February 6, 2020
When starting on any home remodeling project, it is good to have a checklist to work from to ensure that you are planning and executing tasks in the right order. Partnering with an experienced home improvement contractor will help to keep the work on track once it begins. But, having a checklist for the planning phase of your remodeling project will help you to keep the ball rolling and get your home improvement headed in the right direction right out of the gate! Here is a bathroom remodel checklist to consider if you're planning to remodel one of the bathrooms in your home:
Step 1 – Evaluate Your Current Bathroom
An important step on any bathroom remodel checklist is to evaluate your current bathroom. Take a good look at your current bathroom and decide what things need to change. Think about what is currently working well. Also, consider what is not working well. What are the inconveniences or inefficiencies that you are looking to eliminate or resolve with the remodeling project? What items are priorities and which are of lesser importance?
Take time to evaluate your goals for the area, in terms of both aesthetics and functionality. Having a good handle on your goals for the home improvement project will help to provide valuable insight to the contractor you partner with. This will help keep the project on track and headed toward the desired outcome.
Step 2 – Consider Whether You Are Just Remodeling the Current Space or Expanding It As Well
Before you plan any of the details of your bathroom renovation, you should first consider how much space you will be working with. If you are simply remodeling the current area, your options might be more restricted than if you are planning to also expand the space. There are still plenty of benefits to remodeling even if you don't plan to increase the size of the bathroom.
New components and a more creative use of space will provide you with a better looking, more efficient, and better functioning bathroom. These are just a couple of the top tips for remodeling a small bathroom. In these cases, it is even more important to narrow down your goals and prioritize what is most important, since limited space can determine how you will be able to renovate the area.
Step 3 – Think About What You Want in the Major Areas
Some important initial considerations should be made regarding what you would like to do with the major areas and components of the bathroom. This is another important part of any good bathroom remodel checklist. Essentially, you want to spend some time thinking about the big stuff.
For instance, in regard to the shower area, do you want to implement a walk-in shower? There are many benefits of a walk-in shower, but it's not the only option available. Will you have a shower-tub combo? Or, perhaps, you have some extra space available in a large bathroom and want to incorporate a freestanding tub alongside a customized walk-in shower.
How big will the sink vanity be? How big does it need to be? And, how much space can you allocate to the above items and still meet other needs for the room, such as adequate storage spaces, etc.?
Determining your intentions for these major areas and items will help you to better plan a highly efficient layout and end up with a room that both functions well and looks aesthetically appealing. Plus, when you figure out the big items, then you have a better idea of what to do when it comes to smaller details.
Step 4 – Determine How Much Space You Want to Set Aside for Storage
It's important to consider storage needs during the planning of your new bathroom, which makes it an essential step for a bathroom remodel checklist. This means that you will need to determine not only how much space is needed, but also make some decisions about where the best place for that storage space will be.
Bathrooms that are lacking in storage space end up cluttered and end up costing homeowners extra time to keep clean. So, one of the important decisions that you will make, which often also steers the direction of your remodeling project, is how and where to implement sufficient storage space in your new bathroom.
If your current bathroom already has adequate storage area(s), the remodeling project provides a great time to revamp this space. You can make it more efficient with things like better shelving, a new set of doors, etc.
Step 5 – Settle on a Budget
Determining a budget for your project is an important step and one that should be completed with care. Once you determine a budget, it is equally as important to stick to it. To help plan a project that stays within those budgetary guidelines, it is a good idea to itemize the changes you are looking to make into a list of priorities and needs and a list of wants.
A good way to realistically plan the project within a budget is by seeking out the guidance of an experienced home improvement partner. An experienced and reputable contractor will be able to provide valuable insight on the best way to accomplish your goals while staying within a budget.
They will also be able to advise you about costs that are often overlooked by many homeowners during the planning phase of the project. So, you will end up with a more accurate view of the size, scope, and cost of the remodeling project you are about to embark upon.
Step 6 – Choose the Right Home Improvement Contractor
The right home improvement contractor will be one who is licensed and insured. They should also be able to provide you with references, samples, and examples of prior work performed. Additionally, they should be committed to providing you with a remodeled room or home that meets all of your goals and stayed within the budgetary guidelines you set at the beginning of the project.
It is important that the home improvement contractor that you are considering partnering with exemplifies these traits and makes it apparent that they intend to be a partner on your project. If you aren't getting that feeling when you talk to a contractor, it might be time to pump the brakes and re-evaluate.
Interviewing with potential contractors and covering some important questions to ask a home improvement contractor can help you figure out whether a contractor is a good match for you. The home improvement projects you take on will be with you for far longer than will the contractor, so it is important to find the right partner for your project in order to ensure quality results that meet goals while also staying on budget.
Step 7 – Finalize Plans and Work Through the Details
Once you have chosen the contractor you will work with, you will want to discuss and finalize some general plans. This is when you and your contractor should work through some more intricate details about your bathroom remodeling project.
You need to discuss a timeline for the remodeling job and consider how the work will interfere with your everyday living around the house. Some projects are mare invasive than others, depending upon what part of the house is being renovated. Additionally, some projects are more time consuming than others.
Discuss a timeline with your contractor and, if there are any special considerations that need to be accounted for, this is a good time to bring them to everyone's attention. For example, if your home only has 1 or 1.5 baths, the timing for remodeling specific features that are required for daily living, like the shower, sink, commode, etc., may very well be altered.
These are details you can discuss with your contractor, in addition to other details about the layout, new components, features, and styles that will be incorporated in your new bathroom.
Step 8 – Watch Your New Bathroom Come to Life and Then Enjoy
Perhaps the biggest benefit of partnering with a reputable home improvement contractor is that the project logistics and implementation will be handled for you. This results in a far less stressful project overall and a generally more enjoyable process. So, all you have to do is sit back and watch your new dream bathroom take shape!
If you are considering remodeling a bathroom, but aren't sure where to start, a bathroom remodel checklist like this can help. When it comes to a bathroom renovation or improving any room of your room, talking with an experienced home improvement representative can help. Getting a little guidance or inspiration can often be the first step in making your idea for a home transformation come to life!
If you would like to discuss your next bathroom remodel or home improvement project, give us a call at (717) 399-4708 or stop by our showroom for some in-person inspiration.