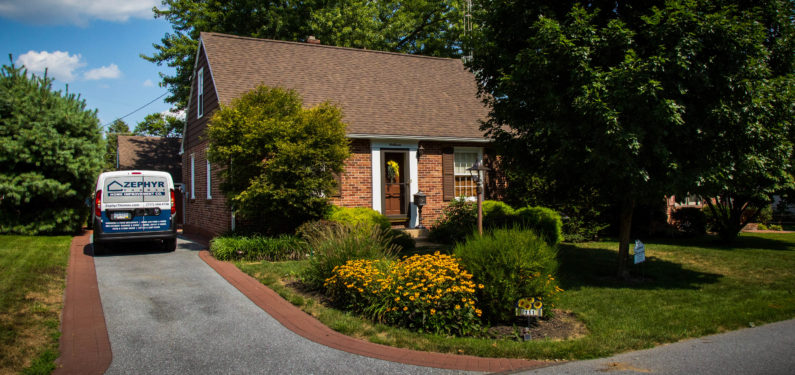 10 Popular Fall Home Improvement Projects
Posted on August 6, 2020
Summer is a great time to start planning for some beneficial fall home improvement projects. With cooler temperatures and winter coming soon, fall is a fantastic season to complete many types of home improvements. Here are a few popular fall home improvement projects:
1. Replace Windows & Doors
Replacing doors and windows is one of the best investments you can make in your home at any time of the year. Not only can this enhance the curb appeal of your home, but it will also increase your home's energy efficiency.
In this way, choosing to replace windows and doors can add value to your home while also saving you money on your utility bills, which allows you to receive a good return on your investment.
Replacing windows and doors that are no longer sealing properly or have other performance issues is a great idea, especially before the cold of winter sets in.
Check out the time-lapse video below to see Zephyr Thomas installing new windows for this homeowner!

2. Repair or Replace the Roof
A roof repair or replacement can also help your home's energy efficiency. Fall is a great opportunity to have your contractor evaluate your roof to make sure it is in good condition and has proper roof ventilation. A solid roof with good ventilation is essential to protecting your home and ensuring it is better able to regulate temperature.
Repairing or replacing a roof that is old or damaged will also protect the rest of your home from the elements and keep other structural components from experiencing decay and deterioration. These are just a few benefits of a new roof.
Poorly ventilated or leaky roofs can lead to structural problems with the roof. This can create a significant concern, especially in geographic areas that have the potential for heavy snow loads in winter.
Take a look at the video below to see the Zephyr Thomas team replacing this homeowner's roof!

3. Clean or Replace the Gutters
Cleaning or replacing your gutters is a simple and cost-effective way to enhance the exterior of your home, protect it, and also preserve your valuable landscaping. Gutters that are clogged with leaves and sediment should be cleared so that rainwater can be dispersed via the downspouts.
When gutters are obstructed, they overflow and the high volume of rainwater from the home's roof ends up running into the ground around the home's foundation. This can damage landscaping, but more concerning is the potential for water to damage the foundation of the home or enter the basement and damage its interior. This is why maintaining your gutters and replacing them when needed can protect your home from water damage.
If you notice that you've cleared your gutter and it is still overflowing, it may be because of faulty installation and indicate the need for replacement. Likewise, if your downspouts have been damaged or have come off the side of the home at some point in the past, be sure to address the problem in the fall and replace the damaged or missing portion. Making sure your gutters are properly installed and in good condition is one of the ways to prevent winter roof & gutter damage.
4. Repair, Replace, or Remodel the Fireplace
Fall is a great time to repair, replace, or remodel your fireplace so it's ready for use when winter comes. Not only does this improve the safety of your home, but it also improves the look and function of your fireplace too.
Fall is also a great time to have your chimney cleaned and inspected if it has not been done yet. Adding a fireplace if you don't have one or remodeling the one you have are also interior design trends.
5. Enclose the Patio or Add an Addition
If you are looking to add more space to your home or increase the use of your patio, adding a home addition or enclosing your patio can be a great way to do it. Fall is a great time to complete a patio enclosure or an addition just in time for you to enjoy using it during the winter.
With colder and more inclement weather pending, it is likely that you and your family will be spending more time indoors. Adding some type of home addition this fall is an excellent way to create more living space in your home for your family, recreational activities or entertaining guests over the holiday.
Check out the video below to see Zephyr Thomas remodeling this homeowner's patio enclosure!

6. Repair Your Home's Exterior
Over the years, wear and tear can age your home's exterior. If this is the case with your home, it might be time to repaint. Fall is a great time for this project because it can help prepare your home for winter.
A fresh coat of good, exterior home paint will help seal your home from harsh winter weather, like snow and wind. Be sure your wood trim is also sealed to protect it from the elements. If you see visible signs of damage, it is one of the signs your house needs new siding.
Vinyl siding is a great option to protect your home from the elements. Plus, it can be manufactured to look like various materials and to match any style. On top of that, another one of the benefits of vinyl siding is that it is virtually maintenance-free.
So, if you're tired of maintaining the siding on your home, upgrading to vinyl siding can save you a lot of time while also increasing your home value. This is also one of the tips to make your home more energy efficient.
Take a look at the time-lapse video below to see the Zephyr Thomas team installing new vinyl siding and trim for this homeowner!

7. Restore or Replace Your Carpet
Carpet gets a lot of wear, especially in high-traffic areas. Taking the time to do a full deep clean and restore can add much life to your carpet. Regular vacuuming is recommended, but home vacuum cleaners cant deliver the same results as professional equipment.
Professional equipment can penetrate the carpet much more effectively and remove dirt, odors, and stains. This will help improve air quality in your home, and of course, refresh your indoors. It's a great living room remodel idea that pays off, too.
8. Seal Any Attic Leaks
Ensuring your attic is properly sealed is important in keeping your home warm during the cold months. These leaks can be sealed with foam insulation to keep cold and warm air out.
Make sure you don't seal air vents, however. Those are important for humid air to escape during the summertime. Not properly venting your attic is a common attic renovation mistake to avoid.
9. Change Your Ceiling Fan Direction
Did you know you can change the direction of your ceiling fan? You can, and it's something you should be doing every fall and every spring. In the fall, change your ceiling fan's direction to clockwise rather than counterclockwise.
Changing your ceiling fan to turn clockwise will push warm air back down into the room, making your home warmer. This is a winter energy-efficiency tip that can help save on heating costs and will help make your heating system more efficient.
10. Update Your HVAC System
If you're running an older HVAC system in your home, it might be time to replace it. It's also a great way to make your home more comfortable. Newer HVAC systems are much more energy efficient, saving you money in the long run. HVAC technology changes pretty fast, and federal standards on efficiency change yearly as well.
If your energy costs are higher than normal, have an HVAC expert examine your current system. An outdated HVAC system could be one of the ways you might be losing money on your energy bills. It's possible you can have a few parts replaced to benefit from some energy efficiency. But if your furnace is 15 to 20 years old, replacing it might be a good idea.
Work With Zephyr Thomas on Your Next Home Improvement Project
These are just a few popular fall home improvement projects. They're a good choice for any time of the year, but completing them before winter sets in can offer some extra benefits. If you would like to discuss some fall home improvement projects that will enhance your home or preserve and protect it from the winter elements, give one of the experienced home improvement reps at Zephyr Thomas a call at (717) 399-4708 and start a free quote.