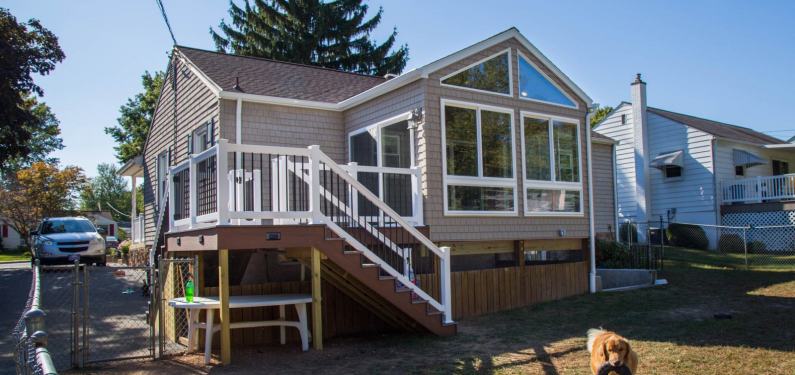 6 Popular Summer Home Improvement Projects
Posted on April 29, 2021
Although you can tackle home improvement projects year-round, especially with a good contractor, there are some projects that tend to be popular in the warmer months. Here are a few popular summer home improvement projects to consider for your home:
1. Replace and Upgrade Doors
Summer is a great time to update the exterior of your home, which is why replacing and upgrading doors is one of the most popular summer home improvement projects. A new entry door can add curb appeal to your home and give your entryway a fresh look while also improving energy efficiency.
Another option is to add a storm door. There are many benefits of installing storm doors. Some of the biggest include extra protection for your entry door, another layer of insulation for your home, and more. You can also replace and upgrade your patio door for a new look and increased efficiency. Plus, there are plenty of patio door options available to help you get exactly what you want.
Check out our team replacing a door for this homeowner!
2. Upgrade Windows
In addition to doors, summer is also a great time to replace your windows and to upgrade them. Checking in on your doors and windows is one of the top summer home maintenance tips. Outdated or damaged windows need to be replaced and summer provides a great opportunity to replace your old or damaged windows with newer, more energy-efficient versions.
You can also upgrade the windows to something bigger. Depending on the look and feel you want in a room, you may want to consider upgrading a standard window to a picture, bow, or bay window. This is a great way to add more natural light to your home while also adding value to your home.
Here's a video of the Zephyr Thomas team installing a picture window!
3. Add a Patio or Deck
As the weather warms up, you may be spending more time outside and enjoying your yard. Adding a patio or deck is one of the popular summer home improvement projects that can improve your backyard and increase your enjoyment of it.
There are many reasons to add a deck or patio to your home. Not only does it help increase the value of your home and the enjoyment you can get from it, but it also is a highly customizable project that adds functional space to your home.
In the video below, the Zephyr Thomas team remodels a deck and extends the roof over it!
4. Enclose Your Patio or Add a Sunroom
If you already have a patio, but want to get more use out of it throughout the year, a patio enclosure is a great home improvement project. Enclosing your current patio gives you some weather protection, so you can enjoy a sense of outdoor living with more freedom and comfort. Plus, you can choose to opt for a four-season patio enclosure instead of a three-season enclosure to enjoy using this space all year.
Another option to consider is a sunroom addition. Not only does a sunroom add more space to your home, but you can also use it for a variety of things. As with patio enclosures, you can choose between a three-season or four-season sunroom. A four-season sunroom addition offers all of the benefits of a sunroom plus heating and cooling for year-round use.
Check out the Zephyr Thomas team building a patio enclosure for this homeowner!
5. Replace Your Roof
Another one of the popular summer home improvement projects is to replace your roof. Your roof is the first line of protection for your home and it plays a big role in the energy-efficiency of your home. A roof that is 20 or 30 years old may not be functioning as well as it should. Even if you don't see any obvious damage, it's a good idea to get it looked over and consider replacing it.
Regularly monitoring your roof is one of the important roof maintenance tips. It's a good idea to check in on it after harsh winter weather and heavy spring rains to make sure it's still protecting your home. Missing shingles, water damage, and curling or buckling shingles are all signs your roof needs to be replaced. Getting a new roof ensures your home is protected, prevents further damage, and increases energy-efficiency.
In the video below, the Zephyr Thomas team replaces a roof!
6. Repair or Add Walkways
Summer is also a great time to take stock of your landscaping, which includes your driveway, walkways, steps, and more. You should be able to move around your property easily and efficiently.
If current concrete walkways or steps have cracks or damage, it's a good idea to replace them. You can also replace, upgrade, or add railings for increased safety and ease of use. If you don't have convenient walkways around your home, you can add them.
Concrete is a great choice for walkways and stamped concrete can mimic other materials for a durable, low-maintenance walkway that looks exactly how you want it. Whether you want a walkway that looks like brick, tile, flagstone, or something else, stamped concrete can help you get the look.
Check out how the Zephyr Thomas team helped this homeowner update their steps!
These are just a few popular summer home improvement projects to consider for your home. If you have a lot of projects you want to do and don't know where to start, making a list can help you start to prioritize home remodeling projects.
You can also talk to a reputable, experienced contractor. Not only will this help you figure out what to tackle first, but it can also help you consolidate projects and get the benefits of doing multiple home improvement projects at the same time.
If you're ready to get started on your next home improvement project, contact Zephyr Thomas at 717-399-4708 to start the conversation and get a free estimate!