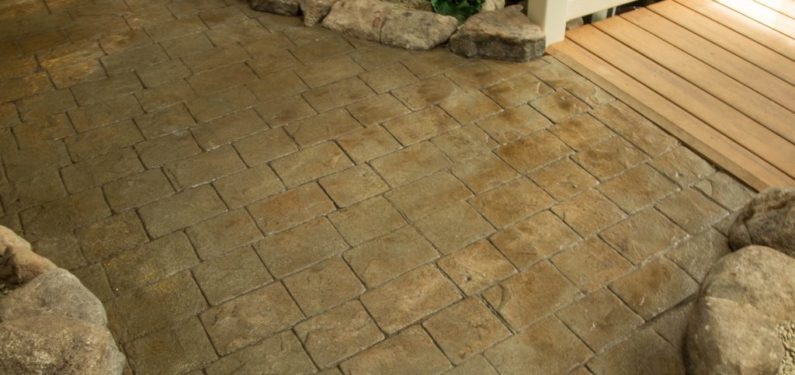 Why Choose Stamped Concrete?
Posted on March 23, 2017
Stamped concrete, also called textured or imprinted concrete, is a type of concrete that mimics or replicates the appearance of stones, like slate, flagstone, brick, or even tile and wood. With the various styles and colors available, stamped concrete is a popular and affordable outdoor paving option. Here are four more reasons to choose stamped concrete:
1. Value
Stamped concrete is beautiful and durable. This means it will last for many years with proper maintenance and can add value and curb appeal to your home. While installing stamped concrete can be a longer process, it is well worth the work because it will save you time and strife in the long run.
Once the concrete is poured, a latex mold is placed over the wet concrete to create the desired look of brick, wood, or other material. After that, a dry hardener is applied to the concrete to help harden the material and color the concrete to the desired shade. Once the concrete is hardened and finished, it only takes regular cleanings to keep it looking new and beautiful.
2. Versatility
When it comes to color, texture, design, you name it – the options available with imprinted concrete are pretty amazing. While you can create beautiful custom designs with it, you can also decide to use many previously made textures and colors so you can have the stamped concrete work with your home.
The versatility of the technique allows you to match the concrete surface with its surroundings so well that it will fit perfectly. Coordinate the color and design with the color of your house, your patio furniture, or any other element of the landscape you want it to match.
3. Added value
Installing a stamped concrete surface is a great way to add value and aesthetic appeal to your property. Plus, it's easy to clean, easy to maintain, and looks great for years to come.
4. Low-maintenance and durable
Stamped concrete is low-maintenance when contrasted with other types of surfacing. It should be swept regularly and resealed every other year in order to keep it nice – so that it won't chip or crack or lose its color. Stamped concrete is also highly durable. Better than other surfaces, it will hold up to high amounts of traffic and severe weather conditions.
These are just a few reasons to choose stamped concrete. If you are considering getting stamped concrete installed on your property, call Zephyr Thomas Home Improvement or stop by our office to speak with staff and see examples of our work. Our expert and experienced staff will assist you with every step of the process, from the brainstorming and design phase through the project's completion.