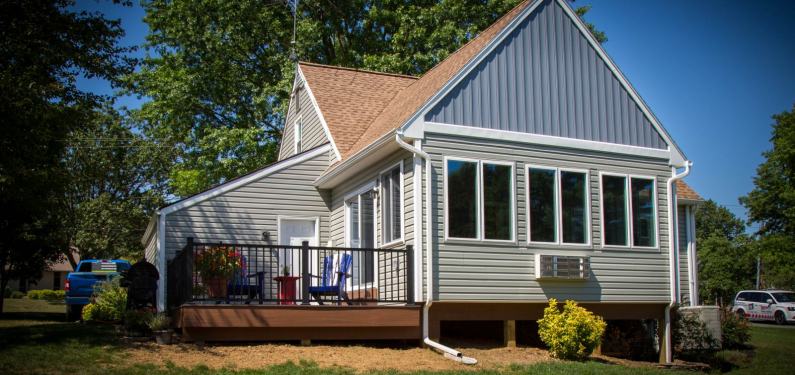 11 Popular Spring Home Improvement Projects
Posted on February 11, 2021
Spring is certainly one of the most popular seasons of the year for home improvement projects. After being cooped up all winter, homeowners are ready to do some spring cleaning and spend a little time outside in the warmer weather. There are many popular spring home improvement projects that are great choices for this time of year.
They range from tasks related to property maintenance to larger building projects that might take a bit more planning. Here are some of the most popular spring home improvement projects to consider as the days begin to lengthen and the weather begins to change:
1. Stain Your Deck
Spring is a great time to stain your deck. As the seasons change and the weather is more favorable for outside eating, entertaining, and relaxing, your deck will likely be getting a lot more use in the coming months.
If you have a wood deck, staining and resealing should be high on your priority list this spring to help preserve your deck, increase its lifespan, and keep it looking great. Staining your deck can be a time-consuming task or something that creates an annual maintenance expense if you hire a contractor to do it.
If you've had enough of the constant maintenance that often comes with a wooden deck, you might want to consider upgrading to a vinyl deck. Vinyl decking has a longer lifespan than its wood counterpart and it provides numerous other benefits over wooden decks as well.
Not only do vinyl decks look great, but they are also virtually maintenance-free. This results in a significantly lower cost in terms of both the time and money that is required to maintain them. In this way, a vinyl deck can more than pay for itself over time.
Take a look at this timelapse of the Zephyr Thomas team completing a home addition with a deck!

2. Update Your Porch Railings
If your front or back porch has railings, give them a good once over as the winter season is coming to an end. If they are showing signs of rot, if they are loose or no longer stable, or if they have weathered to the point of affecting your home's curb appeal, you should consider updating them.
These are all signs it's time to replace porch railings. Additionally, new porch railings could be just the detail that is needed to refresh the exterior of your home and give it a needed "facelift". Plus, if you opt for vinyl railings, then you won't need to worry about rot or weathering.
3. Add a Backyard Fence
There are many reasons to add a vinyl fence to your backyard and privacy and safety are usually at the top of the list. If you have pets or young children, or even if you desire a bit more privacy from your neighbors, another great spring home improvement project to conduct is the installation of a backyard fence.
There are many options in terms of materials, height, and even color. This means your backyard fence will incorporate with your home seamlessly and create an aesthetic enhancement to the exterior of your home while providing you with a great deal of other benefits.
In the video below, the Zephyr Thomas team completes a deck addition with a fence.
4. Enclose Your Patio
If you are looking to add some additional living space to your home, enclosing your patio and creating a sunroom, a screened-in patio, or a vertical-track room might be the perfect spring project to choose. In fact, this is one of the best outdoor home improvements projects for spring.
Patio enclosures can be built to be three-season or four-season rooms. Both options are versatile spaces that will provide you and your family with a great deal of benefits for years to come.
5. Repair or Replace Your Roof
If your roof is in need of repair, any season is a good season to schedule this home improvement project. Not only is spring a good time to go revisit some basic roof maintenance, but spring is an especially favorable time for a new roof project because winter snow and ice can often delay or postpone the start and/or completion of it.
A new roof can help create better energy efficiency in your home. On top of savings on your energy bills, it could even save you some money on your annual home insurance bill. These are just a few of the benefits of a new roof.
Check out the Zephyr Thomas team replacing a roof in the video below!
6. Update Siding
If your siding is old and damaged, or even if your home is older and the current siding style or color is beginning to look outdated, you should consider replacing your siding and updating it.
Like your home's roof, its siding is an essential part of its first line of defense against the elements and has a big effect on your home's energy efficiency. Take a look at the Zephyr Thomas team installing new siding in the timelapse video below!
7. Install Skylights
Skylights are a great way to bring natural sunlight into the interior of your home. An abundance of natural lighting is a great way to enhance your quality of life. If a skylight doesn't work where you need the light, you might want to consider a sun tunnel instead.
Since sun tunnels can provide more flexibility with where they are placed on the roof and reflect light through the tunnel, they can often provide natural light in areas where traditional skylights cannot. If you are already planning to have a new roof installed this spring, there is hardly a better time to choose to add some skylights or sun tunnels to your home.
Check out the Zephyr Thomas team installing skylights for this homeowner!
8. Get a New Mailbox
If you are looking for a rather simple home improvement project that will enhance the exterior of your home without a large expenditure, consider updating your mailbox. Pick a style and color that will complement and coordinate with your home. You will be amazed at how a small project can make such a big difference when it comes to your home's curb appeal.
9. Build a Fire Pit
Looking for a way to enhance your outdoor area? Planning to do some entertaining this summer or maybe you are just looking for a way to create a special place for the family to enjoy and gather together?
If any of that sounds good to you, then installing a fire pit might be just the ticket. A fire pit is a great way to supplement and enhance the outdoor living spaces around your home, and it will be sure to be popular with the whole family.
10. Add or Upgrade a Garden
If you have a green thumb, or have been considering taking up some form of horticulture as a hobby, spring is certainly the optimal time to begin planning and installing your garden. Upgrading your landscaping in this way is one of the ways to improve your backyard.
What you decide to plant should be planned out ahead of time. And, you should give consideration to the ongoing maintenance required for the garden you want to cultivate and for the types of plants you intend to grow.
11. Clean and/or Replace Your Gutters
A good gutter cleaning is an important spring maintenance project. Spring rain showers can come in with gusto and dump a lot of precipitation in a short amount of time. Gutters that are still clogged with fall leaves, or other debris that may have collected over the winter months, are susceptible to overflow.
Overflowing gutters can lead to the erosion of flowerbeds and lawns. Furthermore, excessive amounts of water going into the ground along your home's foundation can lead to damage and flooded basements. So, it's important to maintain your gutters and regularly clean them out.
If they are damaged or loose, it may be time to replace your gutters entirely to keep protecting your roof and your home. Gutter guards are a great option to help keep your gutters free and clear of debris and moving water away from your home as they should. This makes replacing or upgrading your gutters one of the popular spring home improvement projects.
During the last months and weeks of winter, take the time to make a list of the spring home improvement projects you would like to accomplish this year. Having a list written up will help you to prioritize home remodeling projects. If you have larger projects in mind, forming a list will also help you determine which to accomplish first.
Talking to a reputable, experienced contractor can also help you prioritize projects and determine which projects on your list can be completed at the same time. If you would like to discuss the next home improvement project that is on your radar, give Zephyr Thomas a call at (717) 399-4708!