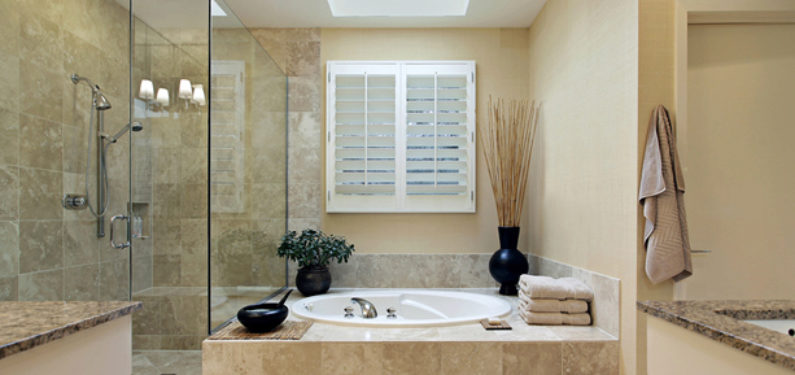 How Bathroom Renovations Put Money Back In Your Pocket
Posted on June 10, 2015
Bathroom renovations are among the top home improvements that can pay off when you go to resell your home. Still, there are a few things that can impact the amount you'll get back from your investment that you should consider: your home's value, your neighborhood's value, the housing market in Lancaster County, how soon you sell after remodeling, and the quality of the bathroom renovation.
When a prospective buyer opens that bathroom door, are they going to want to close it immediately, or are they going to want to walk inside and admire the additional value that room brings to the house? If your remodeling is done correctly, and if you use the right home improvement contractor, then you can increase your property value and see a nice return on your bathroom remodeling investment.
Options, Options, Options!
As a homeowner, you may find that the biggest challenge with bathroom remodeling is deciding where to begin! Should you renovate your entire bathroom, or should you simply make a few changes? A new bathroom can evolve from something as simple as redoing the walls with new wallpaper, or it can be as exciting as giving the room a complete makeover.
Does the bathroom look like an afterthought in a very hectic household? A room you can't wait to exit? Or, does the bathroom look like a relaxing and inviting spa? Cheery colors, decorative fixtures, designer toilets, sinks, and showers – all perfected to make life so much more pleasing for you, the homeowner. Isn't it time to treat yourself?
As one of the top construction companies Lancaster, PA has to offer, let Zephyr Thomas give you an overview of your bathroom remodeling options and the effects that they can have on increasing the value of your home.
Small Bathroom Renovations
One of the biggest misconceptions about bathroom remodeling is that you have to completely gut a bathroom to see a difference. Nothing could be farther from the truth.
Simple cosmetic updates, like a fresh coat of paint, replacing the floor, installing new light fixtures, faucets, and hardware can all improve your bathroom on a very stringent budget. Other functional updates can be made, like changing out electrical sockets and improving the air circulation in the bathroom. Zephyr Thomas can completely change the way your bathroom looks and feels without breaking the bank.
It's always best to hire experienced bathroom contractors to perform even minor renovations. You'll save money in the long run by making sure everything is properly done the first time, rather than having to pay double for mistakes caused by do-it-yourself updates.
Let Zephyr Thomas provide you with a bathroom you can stand back and view with complete satisfaction and excitement. You won't have to worry about the messy details of construction, and you'll have peace of mind knowing that everything was truly done correctly.
Bigger and Better Bathroom Remodeling
Another mistaken belief among homeowners is that bathroom renovations cost a fortune. While some renovations can cost more, because they require the skills of a carpenter, plumber, electrician, and sometimes even HVAC experts, a proper bathroom renovation is the kind of investment that should always bring favorable returns.
This is where bathroom remodelers like Zephyr Thomas enter the picture. We can create your perfect bathroom, the one you really wanted in the first place, and we can give you design tips along the way. For example, large walk-in showers are popular and are replacing whirlpool tubs as the premier choice. It doesn't make sense to waste all that square footage on a tub that people rarely use.
One great bit of advice –  don't sink your money into a bathroom remodel if you only have one bathroom in your home. Your money is better spent adding a second bath because it will increase the sale price of your home.
Are You Ready to Remodel?
When you're ready to renovate your bathroom, the first thing you should consider is contacting Zephyr Thomas. As a full-service contractor, we can perform everything from minor to major renovations with the due diligence only experts can provide.
The great news is that Zephyr Thomas will give you top-of-the-line work with estimates that remain competitive. Choose us as your Lancaster general contractors for all your renovation needs. We promise to meet and exceed your expectations!