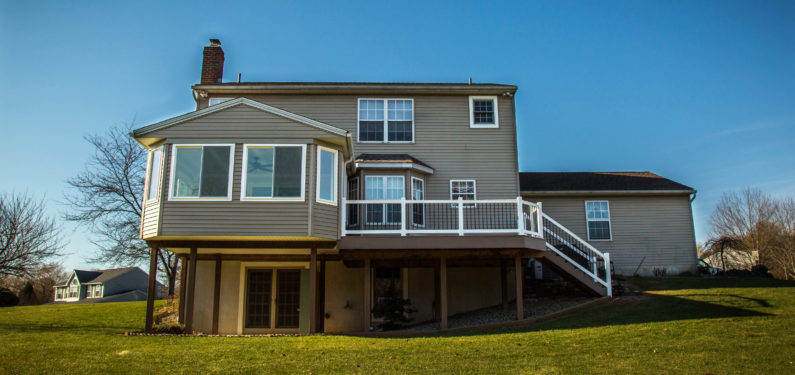 What to Consider Before Building a Home Addition
Posted on August 11, 2017
Maybe you need more space to accommodate a growing family. Maybe you'd like to build onto your house to make quarters for in-laws, or a game room, or a studio. Here are some tips for expanding your space:
Home Additions are an Important Undertaking
Whatever the addition will be, it will also affect the next owner of your home. Depending on the look and quality, an addition can increase or decrease the value of your home. There are a few important aspects to an addition that should be considered. For example, it needs to look good, blend well, and match the neighborhood's aesthetic. Last, but not least, your addition should follow any Homeowners' Association (HOA) design requirements.
When building an addition, it's also very important that you gain the approval of local authorities. You, or your contractor, should acquire the necessary building permits from your municipal government before construction begins.
Hire an Experienced Company with a Reputation for Excellence
Once you have determined how you want your addition to function, you'll need to hire a company to build it. If you go with Zephyr Thomas, you'll see results that will add value to your home.
We offer completely customized additions to our clients, and you can check out this photo gallery for samples of our completed projects. Our portfolio includes additions like garages, second-story rooms, year-round sunrooms, kitchens, bedrooms, and bathrooms.
We have lots of experience working with clients to build their dream home additions. If you can dream it, we can make it happen! We can include wall-to-wall windows, sliding glass doors, and dozens of other great features.
Take a look at our team in action as they build a home addition!
Simplify the Process with a One-Stop Shop
Not only do we offer excellent quality and versatility, but we're a one-stop shop!
You won't need to hire multiple contractors to deal with different aspects of the construction. We can act as your liaison with the local government and your neighborhood association. We will secure a building permit, and take care of the logistics for you in order to move the project forward.
Since we have decades of experience in Lancaster, we know the drill. We know who to call and which paperwork to file.
If you are interested in building an addition onto your home, call Zephyr Thomas Home Improvement or stop by our office during business hours. Our friendly and knowledgeable staff will discuss your options with you. We will be with you through every step of the process, from the brainstorming stage to the finished product.