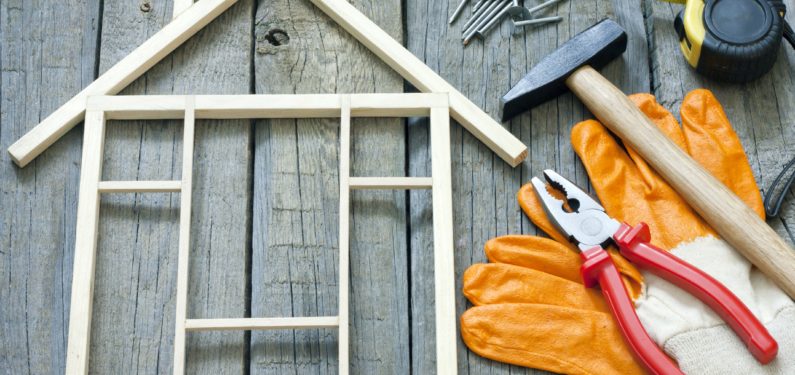 4 Spring Home Maintenance Tips
Posted on April 16, 2015
In the spring, April showers bring green grass, May flowers, budding trees, and home repairs! Yes, that is right, your house may require some work after the cold winter months to return to a pre-winter condition. Freezing cold, snow, and ice can cause the house's exterior to suffer wear and tear. The melting and freezing of water cause expansion and contraction that wreaks havoc from the rooftops to the foundation. This usually means there is some spring home maintenance to take care of.
April is the month in which you need to examine your home closely for this type of damage, as you may need some home improvements to rejuvenate it. Armed with some preventive maintenance tips on what to look for and professional advice can be helpful in tackling spring home maintenance. Here are some spring maintenance tips to help you care for and maintain your house:
Spring Home Maintenance Tips
1. Examine Your Vinyl Siding for Issues
Snow, ice, hail, freezing temperatures, and wind can take a toll on the siding of your home. Holes or cracks can develop, or pieces of it can totally blow off the house. We have many different vinyl siding colors, so matching your existing siding color and installing the missing or damaged pieces is no problem for Zephyr Thomas.
2. Check the Condition of the Gutter System
Check your gutter system now that warmer weather is upon us. The gutters will need to be cleaned for one thing, but also could be loose since wood contracts and expands throughout the cold months. Our experienced installers can install an entirely new gutter system if the damage is too severe in nature. Zephyr Thomas also offers gutter guards that can be installed at this time and can prevent your gutters from clogging and eliminate many future cleanings.
3. Inspect Floors and Surfaces
Perform an inspection of your home's surfaces. Is the wood on the deck pitted, cracked, or structurally suffering? Has the concrete been chipped away? What about the status of your flooring near the entrances of the home where shoes have tread damaging salt and water inside your home? Keep careful notes on what needs to be attended to and give us a call.
4. How Are Your Windows and Doors?
The cold weather can damage seals around your windows and doors, resulting in leaks. If it's time for replacement windows or doors, we're here to help. We install the highest quality replacement windows Lancaster, PA has to offer and our selection of replacement doors is vast and includes entry doors, storm doors, and sliding patio doors. Because they are so important to energy efficiency, checking these areas is also one of the big summer home maintenance tips.
Zephyr Thomas is Ready to Start Your Home Improvements
We have the experience and expertise to address any home maintenance or remodeling need. For over fifty years, we have been working hand in hand with homeowners all over Lancaster County and the nearby areas. Start your home's path from winter recovery by calling Zephyr Thomas at 717-399-4708!