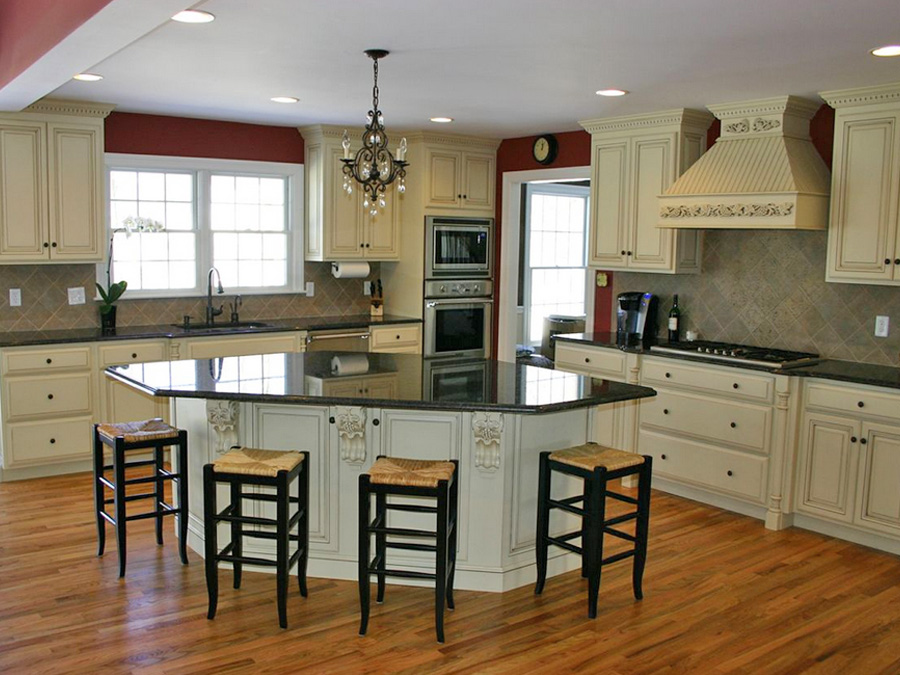 7 Kitchen Home Improvement Ideas
Posted on January 9, 2020
If you are thinking about updating your kitchen, there are a few ideas you will want to be sure to consider! Even if you don't plan to renovate your entire kitchen area, you can implement several different kitchen home improvement ideas and still end up with a refreshed space that functions more efficiently. Whether you are doing a complete kitchen remodel or just focusing on a specific area, here are a few kitchen home improvement ideas to inspire you:
1. Upgrade Kitchen Countertops
Kitchen countertops can take a lot of wear and tear. Due to this fact, they are often one of the things that need to be replaced or upgraded in a kitchen. New countertops can revive an old kitchen and make it look new again. They also give you the opportunity to choose a new color scheme for this area of your home.
There are many options for kitchen countertops and you may choose to replace your old ones with the same type of material or use the opportunity for an upgrade. Materials like granite or quartz often provide a more durable finish than other types of countertops and can add value to your home by seriously upgrading the look of your kitchen.
2. Pick a Different Sink
The type and style of the sink you choose can help your kitchen function more efficiently. For example, a deeper sink basin may add convenience for hand washing dishes or soaking larger pots and pans. Improved function and efficiency are some of the benefits of kitchen remodeling. Sometimes, changing the sink makes a big difference in both efficiency and function. The material and color you choose for your new sink should also be carefully considered.
Stainless steel sinks have long been a durable standard, but other types of sinks can provide the same level of utility while providing a different aesthetic to your kitchen. Lastly, the sink fixtures you choose also have the ability to complement the rest of your décor and provide a finishing touch to the design theme of your renovated kitchen area.
3. Update Windows and Add Window Screens
Consider updating the windows in your kitchen. Kitchens with ample natural light tend to have a warm atmosphere and there are many styles of windows you can choose from. Awning or casement windows are often a great option for over the kitchen sink area as are double-hung windows or even a small bay window with a shelf.
If your current windows don't have screens, consider adding them. Updated windows and window screens can transform a kitchen space by allowing you to open windows while cooking to let heat out of the room or simply air out the area with a pleasant breeze on a fresh spring day.
4. Refresh Cabinet Hardware
A great way to spruce up your kitchen cabinetry when you don't need to replace it completely is to update the hardware components on existing cabinets. This is often a quick and easy job and can update the look and feel of your kitchen.
Choosing hardware that matches the rest of the theme and décor of your kitchen can help ensure a consistent look and feel throughout the room. If your cabinets are still in great shape and you want a bigger change, you can also paint or refinish your cabinets in addition to updating the pulls, handles, and knobs.
5. Get Creative with Lighting
Because the kitchen space should be well-lit, lighting is one of the things to consider when remodeling a kitchen. You can accomplish this by getting a little creative with your lighting choices. For instance, consider implementing task lighting underneath overhead cabinets. This makes for a well-lit work and food-prep area.
You can also consider upgrading your ceiling fixtures. Unique track lighting options or pendant lights work great above islands and provide an abundance of light. Additionally, you can supplement fixtures with recessed lighting. This is a great way to add a lot of lights without the ceiling of your kitchen looking cluttered or having fixtures taking up too much space.
6. Expand the Kitchen to Add More Room
If you are finding that you've simply outgrown your existing kitchen, it might be time to expand it. In fact, not having enough space is one of the top signs your kitchen needs to be remodeled. This can be done by converting some of the other space of your home into additional kitchen space or by adding a new addition to the home.
An experienced home improvement contractor can help you find creative ways to utilize or convert existing space. They can also help you plan out a home addition that will blend seamlessly into the existing structure and give you the new space you need.
7. Increase Kitchen Storage
Some older kitchen cabinets simply do not provide enough storage. And, sometimes, the storage they provide is not very efficient. More storage space can often be gained by upgrading cabinets and choosing cabinet units that offer more space and is also organized more efficiently.
If your kitchen is lacking certain types of cabinets, a kitchen remodeling project is a great opportunity to perfect the type and number of cabinets you have in your kitchen. Considering storage needs and figuring out how to get enough storage in your new kitchen are some essential kitchen remodeling tips.
For example, a large pantry can be highly beneficial and provide more storage space than base cabinets and wall cabinet units combined. Likewise, if space allows, a kitchen island is another upgrade that can be considered. Not only do the base cabinets in an island provide additional storage space, but the island also increases the functionality of the kitchen by providing a greater amount of counter space and, often, a seating area for quick meals too.
These are just a few kitchen home improvement ideas to consider, but each kitchen renovation is unique in scope and scale. Determining your needs and goals for your kitchen is a logical first step in the process and is also one of the first things to do on any kitchen remodel checklist. Plus, it will go a long way to direct you regarding what types of improvements you should lean toward.
Working with a reputable home improvement contractor often makes the process easier, as their experience and expertise can help you avoid some of the common kitchen remodeling mistakes that can plague DIY-ers. If you would like to begin the discussion about kitchen remodeling or just upgrading parts of it, one of our reps would be happy to speak with you about the options available to you. Give us a call at (717) 399-4708 today to start the conversation!