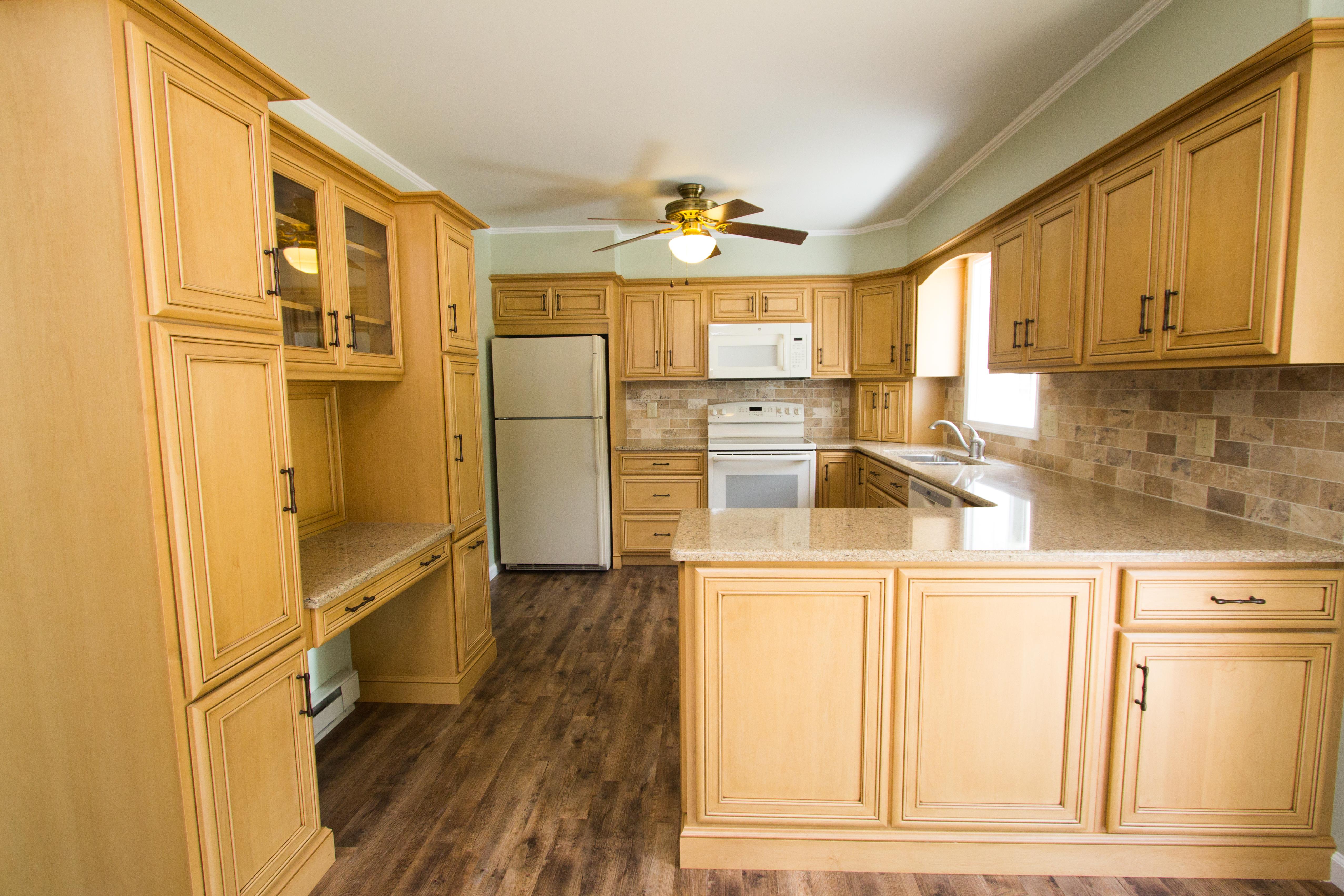 Kitchen Remodel Checklist
Posted on December 19, 2019
Kitchen remodeling projects require a special amount of planning and careful consideration. The kitchen is one of the most frequently used rooms and it is difficult to replicate this space, even for a short time. When remodeling a living room or bedroom, furniture can be moved and other areas of the home can be used for recreation, relaxation, or sleep. The same cannot be said for a kitchen, so planning ahead and laying out the entire project timeline becomes a necessary component of this type of project. If your kitchen needs to be remodeled, use this kitchen remodel checklist to prepare, find the right partner, and ensure each phase of the home improvement is as seamless and as efficient as possible:
1. Spend Some Time Planning Ahead
It is important that a kitchen remodeling project is carefully planned. This is true from a timing standpoint, but it is also important so that the end result provides you with the improvements you were looking for. It also ensures that the project ends up being a good use of money and time. This is why taking time to plan ahead is one of the kitchen remodeling tips. The best way to begin the planning of a new kitchen is to break the process down into two categories of things you need to consider – your goals and any obvious fixes.
Determine the Goals for the Kitchen Remodel
Your goals should be your first consideration. Take some time to determine what your main goals for a kitchen remodel will be. How do you want this space to function and what advantages over the previous design do you wish to achieve? Are you looking for a kitchen with more space, more storage, something that is a more open concept, etc.?
Identify What Needs to be Updated
The second aspect to consider that can also help nail down goals for your kitchen remodel is to think about your needs. Identifying any obvious fixes and things that are bothering you about your current kitchen will help you narrow in on what this remodeling project absolutely needs to address. This is where you will make a list of items that will be needed in order to achieve the end result and meet the goals you laid out for your new kitchen.
For instance, if one of your goals is for your kitchen to allow for better traffic flow in order to entertain larger family or friend groups, an island may be needed to act as a serving line, or provide enough counter space for food preparation for larger groups. Having your goals and needs figured out can also help you better communicate what you're looking for to the company you hire for the project.
2. Consider Budget
Considering and developing a realistic budget is a necessary step in the process of planning a new kitchen project. An experienced and reputable home improvement contractor can assist you with this part of the process. Be sure to factor in a buffer to account for changes to your plan or unforeseen expenses that can arise, such as fixing existing hidden damage that is uncovered during the renovation process.
Prioritize Wants and Needs
As you consider your budget, it's also a good idea to prioritize your wants versus the things that you need. For example, if your refrigerator is on its last leg, you may need to allocate resources to a new appliance rather than springing for granite countertops. This can also help keep both you and your home improvement contractor focused on your goals as you start working through details.
3. Find and Partner with the Right Home Contractor for Your Needs
The value of partnering with an experienced and reputable home improvement contractor cannot be overstated, which is why this is an important item on a kitchen remodel checklist. Not only will a reputable contractor stand behind their work, but you can also be assured that they will be honest with you at every phase as you partner together on your project.
In addition to performing the work necessary to complete the project, a contractor provides assistance in many other areas as well. An experienced home improvement company and one that can help you with all aspects of the project is invaluable. Oftentimes, they can help you with design, details, options, permits, and more.
Choosing Design Style and Color Palette
When you are overhauling your kitchen, choosing a color palette and design style for it is usually part of the process. Working with a home improvement company that can help you every step of the way can also help you manage all the details. They can show you options available, narrow things down based on what you want, and provide guidance when needed so you end up with a kitchen you love.
Determining the Best Materials and Appliance Options
The same applies to the materials used in your kitchen remodeling project as well as new options for appliances. Oftentimes, homeowners are remodeling an outdated kitchen in order to make it more efficient for them and this tends to include appliances. Between various appliances and materials for cabinets, countertops, flooring, handles, pulls, and more, there is a lot to consider. A good home improvement company can help you through it.
Obtaining the Proper Permits
With any project, it's important to obtain the right permits and to ensure everything you're doing is up to current building codes. This process is much easier, and less stressful for you, with a home improvement company that handles getting the right permits for you.
Keeping the Project on Time and on Budget
The right partner will also be invaluable when it comes to keeping your project on time and on budget. It's also one of the many reasons to use a whole-home improvement contractor. Instead of having to manage multiple contractors from different businesses, it's all handled with one company, which helps keep things running as smoothly as possible for you.
4. Plan Logistics
Once you have the right partner, the next step in a kitchen remodel checklist is to plan the logistics of your project. Your home improvement partner will handle a lot of this, but you still want to make sure you're involved and informed about what's going on.
Create a Timeline
The project timeline needs to be carefully considered so that the logistics can be ironed out before the work begins. Since this is an area of the home that needs to be utilized during the project, there may need to be special arrangements made or expected for various phases of the project.
For example, if a new floor will be installed over the period of a couple of days, the kitchen might not be able to be used during that time. When this occurs, it might be necessary for the family to eat out at restaurants or make other arrangements while certain work is performed in their home kitchen.
Depending on the size and scope of the kitchen remodel, this can be an additional expenditure and inconvenience that should be factored into the overall project budget and timeline. At the very least, your home improvement partner should keep you informed about the timeline as well as any downtime for that area and also work with you to minimize it.
Anticipate Potential Obstacles
Another thing to consider as you and your home improvement partner work through the details of your project is any potential obstacles. An experienced home improvement company will ask some questions to anticipate potential obstacles and can work with you on any unknowns you may have.
Part of planning a budget and a project is thinking about things like where your energy sources are, where electrical outlets will need to be in the new design, existing wiring, the fit of any new appliances, and more. A good home improvement partner will help you work through these things and include considerations like these in the design of your new kitchen.
5. Enjoy the Journey and Your New Kitchen
The last step in any good kitchen remodel checklist is to enjoy the process and then your new kitchen. Even with the best project partner, a kitchen remodel is still a process. However, make sure that you remember to embrace and enjoy the journey. This will keep you engaged in the progress and make the entire experience less stressful. And once it's all done, you will have the kitchen you've always dreamed of! Then, all that's left is to enjoy your new kitchen.
Approaching any remodeling project can be daunting. Hopefully, this kitchen remodel checklist will be a helpful aid when planning your new kitchen remodeling project. But, any checklist is only as good as your commitment to it and to the eventual project. So, be sure to stay committed and involved in the entire process. This ensures the end result will meet your goals and provide you with some notable improvements.
An important element of any home improvement project is partnering with a reputable contractor. At Zephyr Thomas, we are proud to be helping homeowners in and around Lancaster County transform their houses into their dream homes for over 60 years and counting! Give us a call today at (717) 399-4708 to talk about your next kitchen remodeling or other home improvement project.