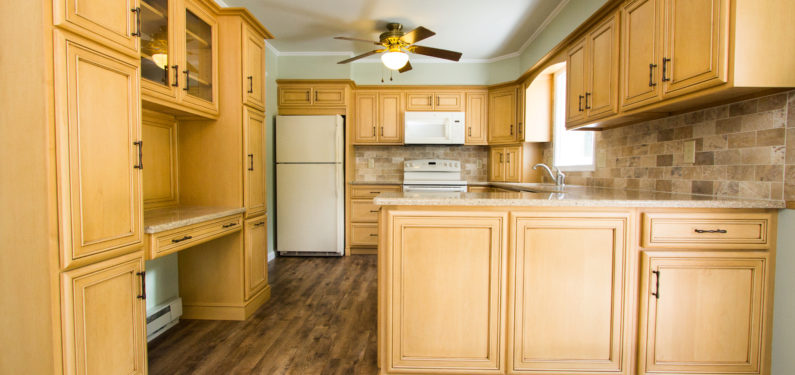 6 Things to Consider When Remodeling a Kitchen
Posted on November 28, 2019
A kitchen remodel is a home improvement project that justifies an extra amount of thought and attention to detail. A new, thoughtfully planned-out kitchen offers many benefits and improvements to the general quality of life in the home. Efficiently functioning kitchens that are easy to clean and maintain make meal preparation easier and less of a burden. Here are a few things to consider when remodeling a kitchen:
1. Lighting
The need for adequate lighting in a kitchen cannot be overstated. In fact, getting lighting wrong or overlooking it is one of the common kitchen remodeling mistakes to avoid, so it is one of the important things to consider when remodeling a kitchen.
Be sure that light fixtures, and enough of them, are installed in such a way as to provide light to the entire room. This is an essential kitchen remodeling tip. Recessed lighting in a kitchen is a good way to provide ample lighting without multiple light fixtures hanging from the ceiling. They can also supplement a main decorative light fixture.
Also, make sure to include adequate lighting above the sink and stove areas as these are places that will receive a majority of your time in the kitchen area and can easily be shadowed by cabinets. You might also consider installing kitchen lighting that is compatible with a dimmer switch or lights on multiple switches. When the area is not being used for food preparation or clean-up, some of the lighting can be toned down.
2. Countertop Material
The material used for your kitchen countertops is important. Some types of materials are more economical in nature, but they may not provide as many benefits. Laminate countertops are easy to clean, but they are more susceptible to damage from heat and scratches than surfaces made from stone, tile or granite.
If budgetary constraints restrict you from installing an entire kitchen of granite countertops, you may still be able to incorporate a small section of this material in your kitchen so that you can still receive some of its benefits while staying within your project's budget.
3. Kitchen Island
Another one of the things to consider when remodeling a kitchen is whether or not you want a kitchen island. Not every kitchen layout is made for an island, but they can prove to be a big benefit in terms of additional cabinet and counter space. Some islands can also serve as an eating area that is less formal than a dining room table. It's also a more convenient proximity to the sink and dishwasher, which can make clean-up a lot easier.
Before deciding for or against the inclusion of a kitchen island, consider the space you have available and how you want the island to function. Some kitchens that do not have quite enough room for an island may be perfect candidates for a breakfast bar, which is essentially an extension of the kitchen's countertop. Whichever option you choose, make sure that it enhances the function of the kitchen and does not negatively restrict traffic flow or the area's overall efficiency.
4. Type of Sink
There are many options when it comes to kitchen sinks, both in material and in shape. When you remodel your kitchen, it provides a great time for a sink upgrade. Stainless steel sinks are a popular and timeless option, but other materials such as composite sinks that provide a stone finish can add a look of luxury to a kitchen design.
Consider the size and shape of the sink as well. Deeper sink basins can be convenient when washing larger cooking utensils, pots or pans. You should also take into consideration what type of sink fixture you would like to incorporate into your new kitchen design. Not only can sink fixtures go a long way to complement the style and aesthetic of the kitchen, but they can also provide more functionality to this room in your house.
Fixtures with detachable sprayers make hand-washing dishes much easier and many sinks are now designed to incorporate drinking water faucets that are connected to water filtration systems installed beneath the sink basin. All of these are great options to take into consideration when you're remodeling the kitchen.
5. Cabinets
When choosing cabinets, consider the style you are going for with your new kitchen. The cabinets will be one of the first things people see when they enter the room and, as such, they are a big statement piece. The color, finish, and material are all important, but the layout and design of the cabinets is also something to consider.
You want your cabinets to look great, but you also want to make sure that you include enough cabinet space in your remodeled kitchen. Ample cabinet space helps to keep your kitchen area clutter-free, so plan for more, rather than less. When possible, incorporate a large pantry and utilize corner cabinets such as lazy-susans so as to efficiently maximize the available space in the kitchen.
Lastly, you might want to consider upgrading your cabinets to feature those with self-closing drawers which keep them from slamming shut and can help reduce wear-and-tear damage over time.
6. Appliances
When remodeling your kitchen, it is often a good time to go about upgrading your appliances. Older appliances can be substituted for newer, more energy-efficient models which will save you money in the long run. This is just one of the many benefits of kitchen remodeling.
Depending on the layout, you may also be able to choose appliances that can be placed in different spaces in your kitchen, which can lead to better efficiency and functionality of the room. For example, some remodeled kitchens will feature a new island that has a sink and dishwasher placed within it.
This can serve to keep countertop space around the stove and food preparation areas available, while also creating more room for lower cabinets. Having an island with an eating area as well as a sink and dishwasher makes cleaning up after dinner a breeze. When remodeling your kitchen, think about the options that are made available with new appliances – they can have a bigger impact than you might think!
Kitchen remodeling projects can be a very rewarding type of home improvement for a homeowner. In fact, it's one of the home improvement projects with the highest ROI! These are just a few things to consider when remodeling a kitchen. There are definitely several aspects to consider, but that creates an opportunity to uniquely customize this space in your home and to make it function exactly how you want it to.
If you are looking for some great ideas and inspiration for your new kitchen, give us a call at (717) 399-4708 or stop by our showroom and talk to one of our experienced representatives!