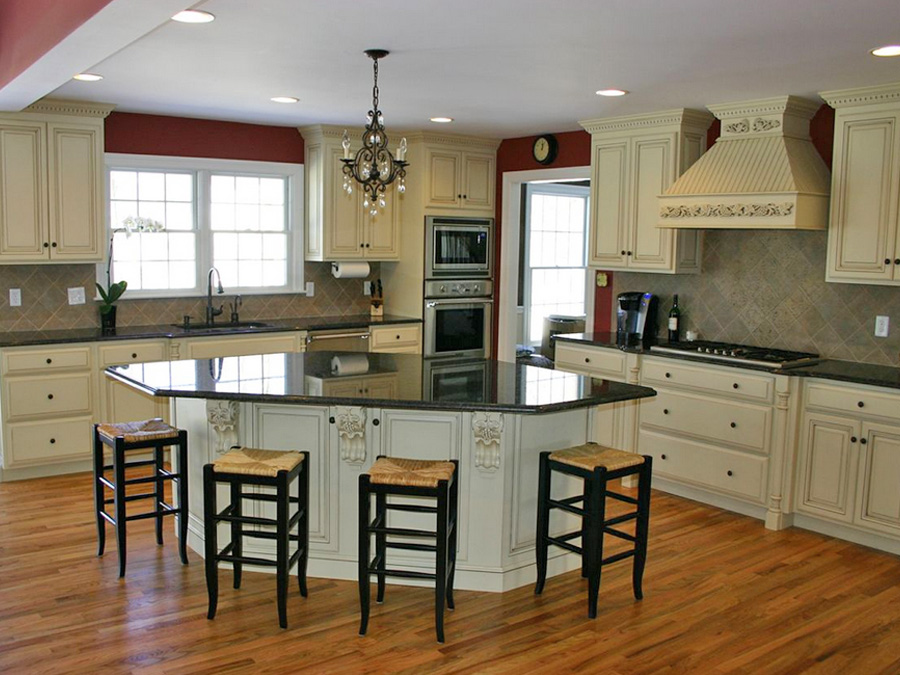 6 Best Ways to Update Your Kitchen
Posted on July 23, 2020
When choosing a home improvement project, it is hard to go wrong with a kitchen remodel. Not only does remodeling your kitchen increase the value of your home, but the project can also be customized to meet your unique requirements. Here are a few of the best ways to update your kitchen:
1. Replace the Flooring
Replacing the flooring of a kitchen is a fast way to reinvigorate the space. Flooring becomes outdated and floors with excess wear in high-traffic areas are good candidates for an update.
There are many beautiful flooring options for your kitchen that will revive the room. Since the kitchen is a place that is susceptible to moisture or other spills on the floor, consider a durable and waterproof flooring option.
Premium vinyl plank flooring is a great choice for kitchens and comes in numerous colors and textures to match your cabinets and room design. Additionally, it can be installed quickly without any excessively invasive construction activity.
2. Upgrade the Countertops
A countertop update or upgrade can turn an ordinary kitchen into a luxury kitchen. Counter updates give you the opportunity to change the color scheme within the kitchen and give it an entirely new look.
Additionally, the type of material you choose for your kitchen countertops will affect both the aesthetic appeal of the kitchen and how it functions. Upgraded materials such as stone or granite provide a high quality and durable countertop option that will stand out as a statement piece in the kitchen.
3. Get a New Kitchen Sink
A new kitchen sink is a great update to choose for your kitchen. Not only will a new sink come with benefits in terms of efficiency and kitchen cleanliness, depending on the style you choose, but a new sink will also create a high-quality, customized look and feel in your remodeled kitchen.
There are many sink options available, including styles, configurations, and materials. The type of sink you choose will be impacted by the style of design within your home as well as your individual needs in your kitchen space.
If you do a lot of cooking with larger pots and pans, you might benefit from a larger and deeper sink basin that makes hand washing dishes or cooking utensils an easier task.
You might also want to add a secondary bar or prep sink to your kitchen area. These are convenient features that complement the main kitchen sink and increase the kitchen's efficiency.
4. Update the Cabinets
Another popular kitchen remodeling option that creates a big impact is updating your cabinetry. Cabinets are one of the main components of a kitchen and outdated cabinets can make your entire kitchen look outdated.
Older, lower quality cabinets or damaged cabinets should be considered as candidates for replacement. Updating the cabinets in your kitchen can also be a great way to improve the storage space you have available. Improving the overall function of your kitchen in this way is just one of the many benefits of kitchen remodeling.
5. Update and Upgrade the Appliances
An attractively designed and remodeled kitchen can't function at its best without high-quality and energy-efficient appliances. This is why outdated appliances are one of the signs your kitchen needs to be remodeled.
Remodeling your kitchen creates a great opportunity to explore new and better appliance options. There is a wide spectrum of appliances, in terms of both type and quality. If you are remodeling your kitchen cabinetry, it is an especially good time to consider upgrading appliances.
For instance, a new custom cabinet layout might provide the opportunity to incorporate a larger refrigerator in your kitchen, a built-in oven unit, or an island stovetop. New appliances that have higher energy efficiency ratings will also help to save money on utility bills, so this type of kitchen upgrade becomes a good investment in the long term.
6. Put in New Fixtures
The finishing touches for your remodeled kitchen are the fixtures you choose for the room. Lighting fixtures, faucets, and other details are all things to consider when remodeling a kitchen and they help to bring the whole project together.
The main lighting fixture can serve as an accent item or focal point in the room while recessed lighting and task lighting can be installed to provide additional lighting where and when you need it. Overlooking your lighting needs is one of the common kitchen remodeling mistakes to avoid, so it's important to work with your contractor to make sure you have the right lighting where you need it.
These are just a few of the best ways to update your kitchen. A kitchen remodel is one of the home improvement projects with the highest ROI and including some of these items in yours can help you get the most value from your project.
If you're thinking about kitchen remodeling or another home improvement, give Zephyr Thomas a call at (717) 399-4708 to start the conversation and get a free quote for your project!