Zephyr Thomas is the foremost vinyl siding company Lancaster, PA has to offer. We give you the freedom of choice in siding materials, profiles, and colors. Vinyl siding beats all other types of siding as far as endurance goes. It is impervious to rain, cold, salt, and snow. This siding won't rot, dent, peel, or scratch. Zephyr Thomas uses products by well-known manufacturers such as CertainTeed and Mastic. Re-siding a home is among the top ten remodeling projects in terms of overall payback. And, if you re-side with vinyl, you can often recoup 100% or more of your investment. If you need siding in Lancaster, PA, call us!
Vinyl Siding Options from Zephyr Thomas
CertainTeed MainStreet
CertainTeed Monogram
Mastic Quest
CertainTeed MainStreet Siding
MainStreet™ siding offers consistent quality, good looks and is the ideal choice for homeowners looking for value with the benefits of a premium panel.
Rigidform™ Technology
RigidForm 160 (rolled-over nail hem) technology stiffens siding for a straighter-on-the-wall appearance and has been tested to withstand wind load pressure up to 160 mph.
DuraLock®
This lock features an oversized rigid tear-drop shape which is substantially larger than many competitors' locks, providing secure installation. The angular locking leg creates a secure, snap-fit installation, allowing for necessary expansion and contraction.
Available Colors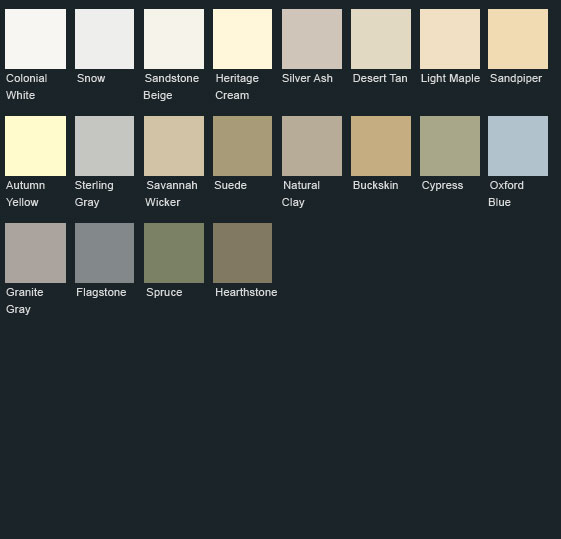 Download the MainStreet brochure
CertainTeed Monogram 46 Siding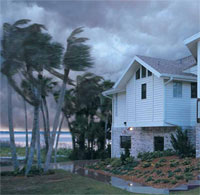 Monogram is designed to perform in the harshest weather conditions. Many competitive products, even premium thickness panels, do not have the strength in the nail hem area that CertainTeed RigidForm sidings offer, or the added security of a proprietary locking system. Without these design innovations, chances of blow off and weather related problems can be very real possibilities.
Monogram 46 has a long list of features:
Three Classic Styles
Double 4″ Rough Cedar Clapboard
Double 5″ Rough Cedar Clapboard
Double 5″ Rough Cedar Dutchlap
Heavy-Duty .046″ Thickness
TrueTexture™ rough cedar finish molded from real cedar boards
Patented STUDfinder™ is designed for accurate and secure installation
RigidForm™ 220 technology has been tested to withstand wind load pressure up to 220 mph
CertiLock™ self-aligning, post-formed positive lock
31 low-gloss colors with a wide variety of coordinating trim
Virtually maintenance-free, never needs painting
Class 1(A) fire rating
Lifetime limited warranty
Available Colors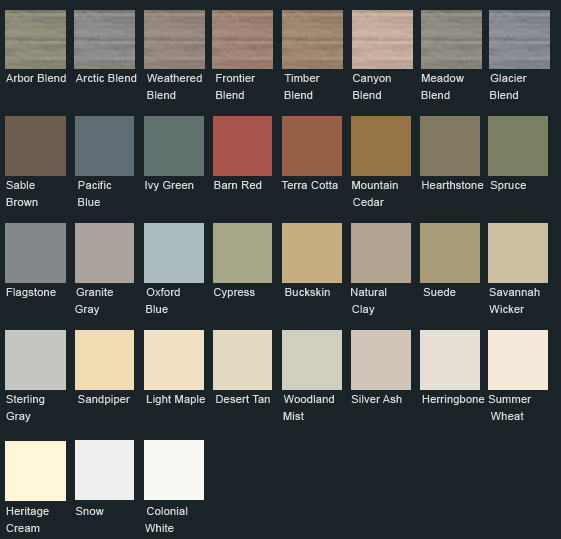 Download the Monogram 46 brochure
Mastic Quest Siding
No paint. No stain. No hassles. A premium vinyl siding with the classic look of authentic wood siding. Solid and tough. A tornado-tough, double-thick nail hem that keeps siding firmly in position, even during high winds. Patented T3-Lok® panel locking system eases installation and increases strength. Quest. Incomparable beauty. Unmatched performance.
Available Colors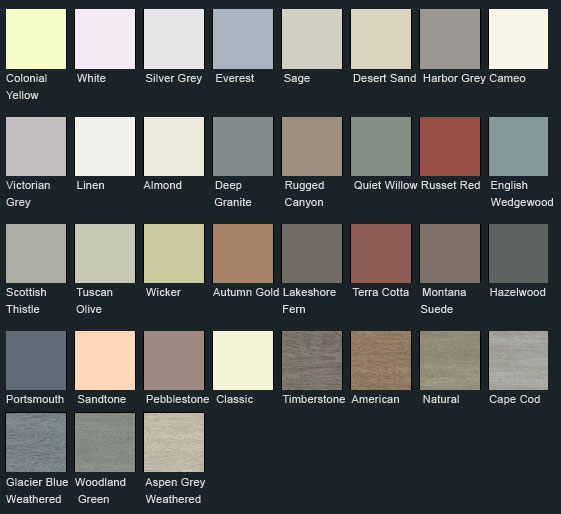 Download the Quest brochure
Click the right and left arrows to scroll through before & after sets. Click on the images to see the full-size version.