Zephyr Thomas builds the most magnificent four season and three season sunrooms Lancaster, PA has to offer! Live the dream in your own four season or three season room addition. A sunroom addition elegantly expands your living space and allows you to embrace the comfortable manner of living you have always imagined. We will help design the addition you envision for your home. Everything can be customized to your liking, from the roof line to the color and style of siding to the kind of windows and more will be chosen to match the characteristics of your home.
Get A
Free Estimate

Today!

Get one step closer to the gorgeous sunroom addition of your dreams! Zephyr Thomas is a Pennsylvania licensed contractor (PA HIC#5465). Our service areas include Lancaster, Lebanon, York, and Berks Counties as well as surrounding areas.

Stick Built Sunroom
The term "stick built" refers to the construction of the sunroom itself. Stick built rooms are comprised of traditional construction materials, such as lumber, roof rafters, vinyl siding, and insulation and are framed similarly to how a house is framed. A stick built sunroom can be a three season or four season room.
Our three season stick built sunrooms most often include Eze-Breeze vertical 4-track windows and cabana doors. These are a great option if you are looking for some protection from bugs and the elements but don't need or want a year round sunroom. Vertical 4-track sunrooms offer an option between a screened in porch and a four season sunroom.
Our stick built four season sunrooms most often include vinyl sliding windows and patio doors. Other options can also include double hung vinyl windows, casement windows, picture windows and steel or fiberglass entry doors. These windows and doors have insulated glass packages and are designed to be energy efficient. These sunrooms usually include a PTAC heat/AC unit to allow for the room to be heated and cooled separately from the main house.
Grandview Sunroom
Our four-season Grandview sunrooms are another wonderful option if you are looking to add a sunroom onto your home. Manufactured in Erie, Pennsylvania, these rooms include structural extrusions that have a thermal barrier and foam filled insulation and insulated roof panels to allow this room to be a year-round extension of your home.
The Grandview room typically includes vinyl sliding windows, picture windows and patio or swing doors. A PTAC Heat/AC unit allows the Grandview room to be heated and cooled for comfort in any season.
Zephyr Thomas will help design the addition you are imagining for your home. Everything from the roofline, to the color and style of siding, to the kind of windows will be chosen to match the characteristics of your home as close as possible.
Three & Four Season Sunroom Additions
Zephyr Thomas builds the most magnificent three & four season sunrooms in Pennsylvania! Now, you can live the dream in your own three or four season sunroom addition customized to your exact standards. A gracious, unhurried lifestyle is waiting for you. Before your eyes, your living space expands to embrace the comfortable manner of living you have always imagined. Your personal vacation spot, your home away from home, to relax and get away from the busy responsibilities of your day. Not all home improvement companies will give you the same quality of workmanship Central Pennsylvania has come to expect from Zephyr Thomas over the past 60 years. So, when you're considering a sunroom addition, call Zephyr Thomas and get peace of mind that your job will be done right.
How Can You Use Your New Sunroom?
Exercise Room
Recreational Game Room
Spa Room
Quiet Getaway Retreat
Entertainment/Party Room
Home Office
Children's Play Room
TV Room
Hobbies/Craft Room
Use your imagination – Bring your dreams to life!
Click the right and left arrows to scroll through before & after sets. Click on the images to see the full-size version.
Why GrandView?
Quick Installation
1. Insulated Composite Roof System with Batten System Construction offers additional energy efficiency & strength. Even the weight of 6′ of snow won't damage the roof panels.
2. GrandView's windows & doors have a unique contoured exterior design to enhance the classic elegance of any home. Windows & doors are fully fusion welded at all corners for maximized strength, prevention of drafts, and protection against water leakage.
3. GrandView four season rooms use the highest quality windows available, constructed with energy efficient, triple weather-stripping, heavy duty window locks & vent latches for added security for children and pets. Triple interlocks at the meeting rail, header, and sill provide unsurpassed protection against forced entry and a strong tight seal.
4. Thermally Improved Extrusions – All heavy duty GrandView aluminum sunroom components are thermally improved with a nonconductive external element barrier, isolating the interior of the room from the cold winter and hot summer temperatures. Hollow air spaces are fully filled with foam insulation for maximized energy efficiency.
5. Foam Filled Corner Post & Corner Cover- Creates a well-insulated, sturdy support while augmenting the style of the room with its sleek contour design.
6. Optional High-Efficiency Heat Pump Air Conditioning Units – Provide increased year-round comfort.
7. Optional Glass Kneewalls & Trapezoids – Enjoy a maximized viewing area of your property & the outdoors.
8. Standard Dent Resistant Wall Panels – 3-1/4" thick insultherm, high impact wall panels provide support, energy efficiency, keep your room quiet, and reduce the chance of denting on the facade of your room.
9. High Strength 6005 Aluminum & Thermal Enhancement Technology – Twice the strength of commercial aluminum, allowing for superior structural integrity and a true thermal barrier.
10. TemperHigh-Performance Glass Package with Warm Edge Spacer Technology – Protects & provides a thermally efficient barrier from elements for energy efficient living.
11. All GrandView sunroom windows are tested to NFRC standards & are Energy Star qualified in all 50 states.
Zephyr Thomas can install a new concrete pad, stamped concrete pad, or deck as the support foundation for your new Grandview Sunroom/4 season room.
Most Sunrooms are installed in less than a week. Zephyr Thomas handles any excavation
of your room.
Zephyr Thomas is careful and respectful of your home during our installation process. When we leave your home you will barely know we were doing construction!
Our installers are fully trained sunroom contractors in Lancaster PA that pay close attention to detail on your project.
Unlike competitors, Zephyr Thomas will handle your project from A-Z. You don't have to worry about different aspects of your project being subcontracted out to several companies.
You can rest assured that when you sign a contract with Zephyr Thomas, we have all of the necessities to construct your room in its entirety covered. There are no hidden fees. No up charges after you sign a contract. No selling gimmicks that leave out half of your projects completion requirements.
We work one on one with our customers to ensure they are completely satisfied with their home improvement project!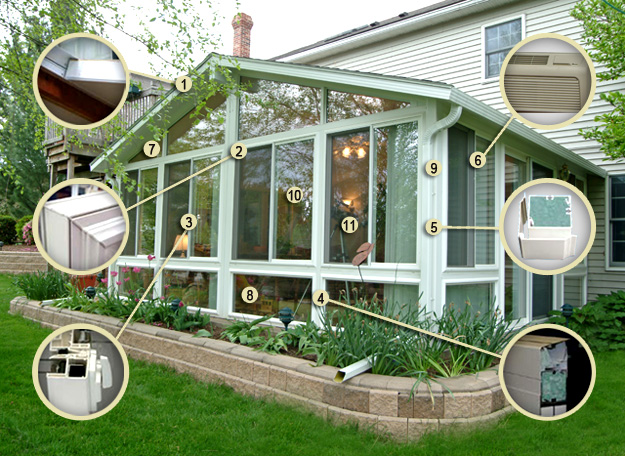 Testimonials About Three & Four Season Sunroom Additions
Sunroom, Siding, Roof, & Garage Doors
Sunrooms, Windows, Barn Roof & Siding, Feed Lot, & Pole Barn
Windows, Deck, & 3-Season Room
I would recommend Zephyr Thomas for all your building and remodeling needs. We used them several years ago for window replacements at our house and office and have been exceedingly happy with the job they did. When we decided to replace our deck and sun room, they were the first place we called and we went with them immediately. They were very courteous and conscientious, did a wonderful job, and gave five-star customer service. Plus they brought the job in on time with a tight deadline.
- Margaret Kay