Zephyr Thomas Home Improvement Company custom builds all of our home addition projects to our client's exact needs. We have completed a multitude of projects ranging from garage addition, second story room additions, year-round sunroom additions, kitchen additions, and bedroom and bathroom additions. Zephyr Thomas can help you with any project idea you may have. We will walk you through your entire project, step-by-step. From first concept, to design, to build, making your new room addition an easy and enjoyable experience.
Get A
Free Estimate

Today!

Get one step closer to the spacious home addition of your dreams! Zephyr Thomas is a Pennsylvania licensed contractor (PA HIC#5465). Our service areas include Lancaster, Lebanon, York, and Berks Counties as well as surrounding areas.

Room Additions with Zephyr Thomas
Zephyr Thomas handles room additions projects from A to Z. We deal with all of the hassles including obtaining your township's permits and inspections. Think of it as bundling all aspects of your project into one, and forget all the worries of contracting separate companies to complete your one job. We have our own employees construct your foundation, build your room, and take care of any plumbing or electrical needs. Want wall to wall windows for a beautiful view of the outdoors? Or maybe slider windows with large patio doors for some interior wall space? Choose from dozens of options and let us help you with design ideas, or create your own personal vision of your room and we will take it from there! We can make your dreams a reality! If you're interested in 4 season sunroom additions, check out our options!
An addition can offer a large amount of opportunity for storage, entertainment, and beauty in your home. Home additions can become space for: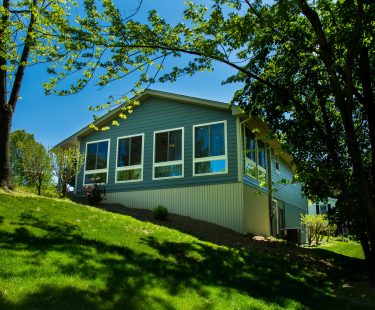 A personal gym
Greenhouse/indoor garden
Spa room
Reading nook
In-home movie theatre/ TV room
Hobby or craft room
Children's playroom
Rumpus room
Meditation room
Mudroom
Or anything else you can imagine!
Click the right and left arrows to scroll through before & after sets. Click on the images to see the full-size version.
Testimonials About Home Additions
4-Season Room & Deck Addition
Our Zephyr Thomas Experience, We couldn't have been happier- from the minute we walked in your beautiful showroom and met with Daryel until our beautiful porch was completed. We truly appreciate the special attention we received from Coy and his family. We really can't say enough Bill, Hank & Patrick. What a great team. They did their job with such professionalism and expertise. VERY IMPRESSIVE! Thanks to all of you we love our room.
- Walter & Joan
Walkway, Patio Addition, Bathroom Renovation, Bathroom Addition, Room Remodel with Fireplace Addition, Finished Room, & Kitchen Remodel
Hi Everyone, Just wanted to wish you all a happy new year and to let you know we have not forgotten you. We show off our room every chance we get. We tell every new person in the community how you helped us get what we wanted done to our home and how you helped us win our fight. Where we lived in Staten Island got hit very hard by Sandy. Since we live right by the water a lot of homes were destroyed and boats and docks came crashing into homes. We were very lucky our home stood up to the storm and very little damage, it is now for sale. We had enough of water. We are here to stay. Before we knew id we had a lot or a little damage we said to each other we will never find anyone like Zephyr Thomas on Staten Island to fix our house.
- Arnie & Agnes Pack