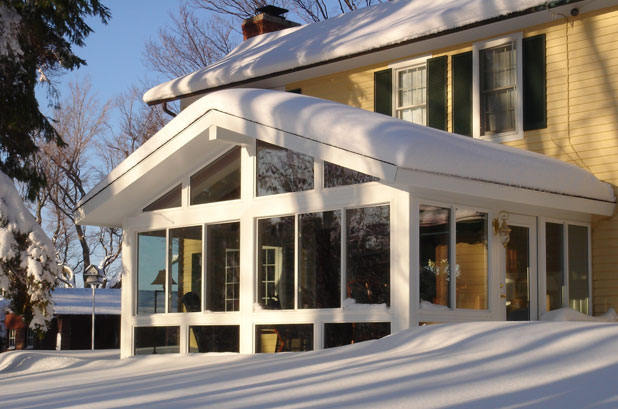 8 Winter Home Maintenance Tips
Posted on December 17, 2020
Seasonal maintenance for your home is a good way to ensure the longevity of the structure and avoid larger repair and maintenance bills down the road. Different seasons produce different challenges for home maintenance and upkeep. Sometimes, winter can be the harshest in terms of extreme temperatures and weather. Winter maintenance is an important part of homeownership. Here are a few winter home maintenance tips to help you preserve and protect your home from the elements, and also potentially help save you money on your energy bills:
1. Weatherproof Your Windows and Doors
Old doors and windows are often the number one culprit of drafts and energy loss during the winter months. Cold drafts are often a sign of other problems and they result in higher energy costs to combat them.
Take some time before the coldest weather sets in to make sure that your doors and windows are sealed properly. Check the weather stripping on your exterior doors. If any is damaged or missing, be sure to replace it.
Also, be aware that older wooden doors and window sashes are susceptible to warping over time, and they will no longer seal properly when this occurs. If your doors or windows are not properly sealed, are damaged, or are outdated, it is a good idea to consider replacing windows & doors before winter weather sets in.
Check out the timelapse video of our team replacing windows below!

2. Get Your Roof and Chimney Inspected
Any missing or damaged shingles should be replaced immediately. If there are any leaks present, be sure that they are addressed as well. If they are left unaddressed, these things can lead to much larger issues in the interior of your home and create more costly damage and larger repair bills. Because the roof is so essential, this is one of the most important summer home maintenance tips too.
If you have someone out to inspect your roof and they find that it needs to be replaced, contact a home improvement contractor to discuss scheduling and budgeting for this project as soon as possible. Likewise, it is a good idea to have your home's chimney inspected if you have a fireplace or stove that will be used during the winter.
Chimneys can become blocked from nesting animals and birds, but they can also accumulate soot and tar which can be a safety hazard as it leads to chimney fires. Also, damage to the chimney stack can pose a risk to your roof. Even something small, like a falling brick, can damage your roof.
In this video, the Zephyr Thomas team tackles a roof replacement!

3. Check and Clear Your Gutters
Check your gutters to make sure they are secure, in good shape, and working as intended. Also, clean them out so there are no blockages after fall. This ensures that they are primed to help prevent water damage throughout the winter and is one of the ways to prevent winter roof & gutter damage.
Loose or damaged gutters can easily be torn off the home during a windy winter storm or under the weight of snow and ice, which leads to more extensive damage. If your gutters are filled with leaves, excess water caused by snow, melting ice, or rain can overflow the gutters and drain down along the foundation of your home.
The extra moisture alone can be damaging and cause issues. And, the freezing and thawing of this moisture during the winter months add another complication that can create damage to your home's foundation.
4. Evaluate the Trees in Your Yard
If you have trees in your yard, it's important to take a critical look at them. Damage from tree limbs or falling trees can be extensive, so check out the trees in your yard. Trim back branches on trees that are closest to your home. Have large dead branches or dying trees removed by a tree surgeon as these are especially susceptible to breaking when the ice load of freezing rains covers your trees.
Likewise, trees that are overdue for trimming are more susceptible to damage from the weight of winter snow and ice. Breaking limbs can cause structural damage to the tree, or worse, to your home if they are hanging over it. So, if any trees are dying or are in danger of falling on your home or a neighbor's home, get them removed immediately.
5. Insulate Pipes and Check the Sump Pump
Another one of the important winter home maintenance tips is to make sure your pipes are in good condition and are properly insulated to keep them from bursting when temperatures drop. Also, check your sump pump if your home has one. Test it regularly and make sure the mechanism is clean and moves freely. Be sure to also check the basin to make sure nothing will clog the valve or discharge pipe.
6. Check Batteries in Smoke and Carbon Monoxide Detectors
All homeowners should regularly check the batteries on smoke and carbon monoxide detectors throughout the year. However, it is especially imperative that you do so during the winter season, and even more so if you have a wood or coal-burning fireplace or stove.
7. Protect Your Floors
Protect the floors in your home by placing weatherproof mats both outside and inside your exterior doorways. A boot tray inside entryways is a great way to prevent snow, ice, mud, and salt from damaging the entryways and flooring inside the home. Mats and boot trays will also help to keep your home generally cleaner during the winter months.
8. Go Over Walkways, Steps, and Railings
Winter can get slippery. Repetitive freezing and thawing can make cracked walkways get worse and produce a greater tripping hazard during this time of year. Broken steps are another common issue, as are loose railings.
These can all increase the risk of falls and injuries to the residents of your home or your guests. So, make sure you go over these areas and replace or repair them where needed. Be sure to keep salt or ice-melt on hand to ensure that your walkways and porch steps are free of ice and slippery snow.
These are just a few home maintenance tips to help prepare your home for winter that can also help protect your home from water damage. Making sure that your home maintenance is up to par is a great way to reduce stress when inclement weather hits. It allows you to enjoy the season for all of the great things that it offers.
Be sure to take the proper steps to protect your home and loved ones and start the new year off on the right foot this winter season. If you find things you need to replace as you conduct winter home maintenance, give Zephyr Thomas a call at 717-399-4708!