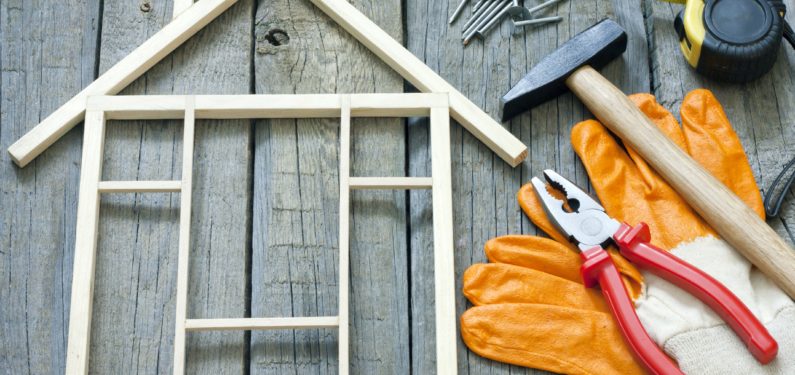 New Year Home Maintenance Checklist
Posted on January 4, 2018
It's another new year, and for most homeowners, that means another year of home maintenance. If you're having trouble remaining on a maintenance schedule, don't worry! Our short new year home maintenance checklist will highlight some major issues to keep an eye out for. As the saying goes, "An ounce of prevention is worth a pound of cure".
1. Make Sure Windows and Doors Are in Good Shape
Temperature transfer occurs most frequently at doors and windows. So by making sure your doors and windows and are in good shape, you'll safeguard your heating and cooling efforts. Check entry doors for proper sealing, and make sure there are no gaps around the edges.
Windows can degrade over time and after enough exposure, so checking them regularly is key. A more obvious sign that your windows are losing their oomph is the pane cracking – if your windows are cracked, they'll need to be replaced. Even hairline cracks can cause major temperature transference. Minor signs of wear include improper seals or cracking seals, which can leave windows less efficient.
2. Look Over Decks and Railings
Wooden decks look classic when they're polished and new, but over time, they can show tremendous wear. For the areas of your home that have exposed wood, check for peeling finishes, rotting wood, or other loose materials. These are all signs that your deck might be due for a refinishing.
Railings suffer a great deal from withstanding constant weight – especially on their bracing points. Having loose fittings on a railing can cause that irritating wobble whenever pressure is applied. The longer it takes to have them tightened or replaced, the more dangerous the railing becomes. Having an unstable railing isn't something to ignore.
If it's time to refinish your wooden deck and railings, consider replacing them with a vinyl deck and vinyl railings instead. With a vinyl deck, you don't have to worry about refinishing because they are durable and virtually maintenance-free. On top of that, they're impervious to most weather and you won't need to worry about rot or damage from pests either.
3. Examine and Clean Gutters and Drainage
You might need to get up on a ladder for this one, but making sure your gutters are in tip-top shape can save you time and money this new year. Check for holes, debris, and instability in your drainage system. Do what you can for clearing out debris, but leave the rest to professionals if you find issues. After all, having a malfunctioning gutter can cause improper drainage and improper drainage leads to water damage. If your gutters are loose or damaged, they may need to be replaced. You can also consider adding gutter guards to help protect your gutters and prevent the buildup of debris that can cause blockages.
4. Check Your Siding
Look for gaps or warping in your siding and make note of anything you see. It's important to maintain a solid barrier between your home and the elements, and proper siding goes a long way. The last thing you want is an ugly water stain and unwelcome mold, or worse! Looking over your siding and your roof are some summer home maintenance tips as well.
Found a Problem?
If you've found issues in any of these areas while going through your new year home maintenance checklist, contact us online or give us a call at 717-399-4708 today! Our professional and friendly team will answer any questions, and our expert contractors will repair your home good as new.