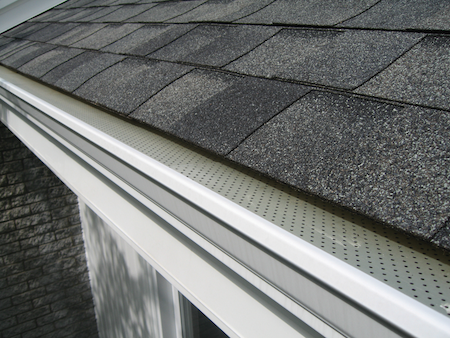 5 Benefits of Gutter Guards
Posted on October 12, 2017
Gutters are not usually the first things about your home that come to mind, unless they are blocked or if you have trees near your home that drop leaves on your roof and fill your gutters. Whether you clean your gutters yourself or hire someone a few times a year, you know that gutter maintenance can be a bit of a hassle. If you're interested in taking some home maintenance off of your list, installing gutter guards can be a good option. Here's what to know about gutter guards and some benefits of gutter guards in case you are thinking about them for your home:
What is a Gutter Guard?
Gutter guards, also sometimes called gutter covers or gutter grates, are features of gutter protection systems that act like filters to help keep debris out of gutters and prevent gutters from getting clogged. Depending on the design, these structures fit inside your gutters or over them to provide protection and the filtering function.
2 Common Gutter Protection Systems
Zephyr Thomas offers two types of gutter guards.
1. Leaf Relief
Leaf Relief, made by Ply Gem, is built to be completely weather- and pest-resistant. It's manufactured in 5-inch and 6-inch sizes to fit standard gutters. This means that the experienced workers at Zephyr Thomas can install Leaf Relief over your existing gutters, and it will also fit over new ones if your gutters need to be replaced.
The Leaf Relief gutter protection system comes in copper as well, It is perforated to keep water flowing as it resists the wind and keeps out other meddling factors like leaves, twigs, and pine needles.
2. LeaFree
LeaFree gutter guards have a slightly different design. Instead of being perforated, LeaFree gutter guards have a slit near where the gutter guard meets the roof, a flat surface on top, and they dip down sharply, angling inward on the outside and featuring more openings for rain and wind to enter.
This design keeps debris out and lets the water flow well while also protecting the gutters from the wind. LeaFree gutter guards come in many different neutral shades as well as bright colors; you can consult with a salesperson at Zephyr Thomas to decide what options are right for your home.
5 Benefits of Gutter Guards
Here are a few big benefits of installing gutter guards to keep your gutters in tip-top shape:
1. Gutter Guards Allow Your Gutters to Function Well
A gutter's job is to route water away from your home. This is one of the biggest reasons why gutters and downspouts are important. When gutters don't do their job, water damage can take place, which leads to serious consequences for your home.
When water is allowed to seep into your home, it can cause rot and mold. Though mold can be odorless, hidden, and generally difficult to detect, its spores can spread and cause health issues for many individuals. Mold is particularly harmful to the very young, the elderly, and those with respiratory problems.
Rot and rust may compromise the safety and structural integrity of your home. If your gutters are not routing and draining water properly, it can lead to complex problems that are expensive to fix. These are all damages that clean gutters help you avoid.
2. They Reduce the Need for Gutter Maintenance
Depending on the number, and type, of trees that surround your home, you should clean your gutters at least two to four times a year. A regular cleaning and maintenance schedule is just one of the simple gutter cleaning tips to make things easier.
Another way to make gutter maintenance easier is to install gutter guards. With our Leaf Relief and LeaFree gutter protection systems, you will no longer need to clean out your gutters to prevent them from becoming clogged. However, you should still remove debris that sits on top of the gutter guards.
Whether you are not as mobile as you once were, or are simply busy with work and family life, not having to worry about gutter maintenance sets your mind at ease. Not only do you get peace of mind and more time, but gutter guards also help protect your home from water damage.
3. Gutter Guards Help Prevent Issues With Pests
In addition to protecting your home from water damage, gutter guards can also help prevent issues with pests. Not only do gutter guards prevent stagnant water and block debris, but they also block insects and other pests from being able to use your gutters. They also help prevent rodents from being able to use your gutters as a way to get behind your soffit and fascia to get access into your roof or home.
4. They Help Prevent Ice Dams in the Winter
Blocked or clogged gutters can cause water to trickle slowly or get stuck and freeze during the winter. This can build up and cause ice dams in your gutter and on your roof. Ice dams can also be a sign you don't have proper roof ventilation. Although clogged gutters aren't the only way ice dams can occur, gutter guards can help reduce ice buildup in the winter.
5. Gutter Guards Are an Investment in Your Home's Future
Our virtually invisible Leaf Relief Gutter Guards lie flat on top of your gutters. Our LeaFree Gutter Guards rise up in a rounded design slightly over the top of your gutters with slats on either side to let water in. Each style can be custom-fitted to your roof.
No matter which design you choose, gutter guards are barely noticeable. Also, by ensuring the function and long life of your gutters, they will pay for themselves. Clean, sound gutters are one of the roof maintenance tips to help extend the life of your roof as well.
Because of this, keeping your gutters clear and in good shape goes a long way in protecting multiple parts of your home. Installing gutter guards is one simple improvement you can make to your home that will increase its value and, down the road, let potential buyers know it is both well-maintained and well-cared for.
Get Gutter Guards For Your Home With Zephyr Thomas
These are just a few benefits of gutter guards. Installing gutter guards on your home will reduce the need for maintenance, and keep your gutters functioning well. If you're interested in gutter guards for your home or need to replace your gutters, contact Zephyr Thomas at 717-399-4708 to start a free quote!
Take a look at the video testimonial below to hear from these homeowners about the work Zephyr Thomas did on their home's windows, doors, gutters, and more!