More space, more comfort, more year-round livability. It's almost like adding another room to your home – at a fraction of the cost. With PGT® Eze-Breeze® Sliding Panels, you can really start to enjoy your outdoor space, often the least-used areas of your home: your porch, your outdoor deck, pool, or gazebo. Whether you're replacing an existing screen enclosure or adding it for the first time, you can turn those neglected spaces into year-round gathering places.
Click the right and left arrows to scroll through before & after sets. Click on the images to see the full-size version.
Vertical 4-Track Patio Enclosure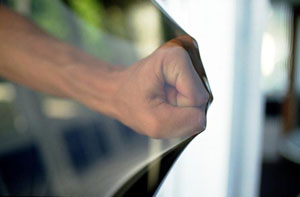 Zephyr Thomas Home Improvement Company offers the best custom-built vertical 4-track window patio enclosures Lancaster, PA has to offer! All of our room additions and patio enclosures are custom built to our customer's exact needs including space and budget limitations.
Vertical 4-track windows create a 3-season living space. This option enables our customers to enjoy a new space to their home while keeping out the elements such as rain and wind. The vertical 4-track windows are versatile. They can be opened to the top or bottom of the window tract. This makes it possible for the patio enclosure to have a floor-to-ceiling view if desired.
The flexible vinyl material creates a shield to block out the weather while giving the airy open space and feel of a screened in porch. Our vertical 4-track windows are custom ordered from our PGT manufacturer. There they will custom design and build each piece of your patio enclosure. Afterward, we will work efficiently and quickly to install your enclosure to your exact needs. Zephyr Thomas will custom build your patio enclosure or room addition you desire and install your new vertical 4-track windows to create a comfortable outdoor living space.