Game Room, Office, Kids' Play Room, Entertainment Room, Home Theater – the Possibilities Are Endless!
There are so many ways to use that old drab unfinished basement. Expand your living space to add a whole new room to your house! Add value and beauty to your home and have your friends and family talking about your gorgeous new space by choosing Zephyr Thomas!
Zephyr Thomas will send our professional sales consultant to your home to assess your basement needs. Our exceptional installation crew will then install sealer, insulation, drywall, lights, and electrical outlets. They'll construct walls, box-out beams, install trim and molding, and handle any other needs you may require to turn your basement into a sanctuary for you and your family!
Get A
Free Estimate

Today!

Get another step closer to a finished basement that adds a gorgeous new space to your home! Zephyr Thomas is a Pennsylvania licensed contractor (PA HIC#5465). Our service areas include Lancaster, Lebanon, York, and Berks Counties as well as surrounding areas.

Click the right and left arrows to scroll through before & after sets. Click on the images to see the full-size version.
Finished Basements
Finished Basement Ideas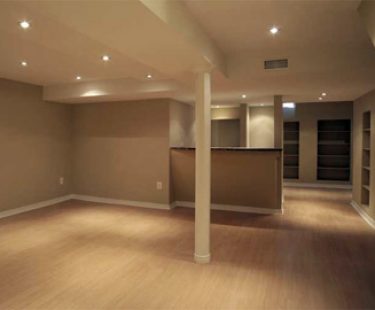 What can you do with your finished basement?
Personal library
Storage space
Craft room
Personal gym
Recording studio
In-home bar and party space
Wine cellar
Laundry room
Home spa
Guest room
Zephyr Thomas has also installed laundry rooms, bathrooms, home office cabinetry, craft and tool rooms, and bars in our customers' basements.
We only use the highest quality materials for our home improvement projects. You can rest assured that you will be completely satisfied with our entire expert team to take care of you and your home! We take extra care to treat our customers' homes as if they were our own.
Our company stands behind our products, our warranties, our installation, and our service! Be comforted knowing you will have a professional team in your home, and know that we're here to answer any questions or service you may need. So, if you're looking for general contractors in Lancaster, PA, call Zephyr Thomas Home Improvement!
"At Zephyr Thomas We Keep Our Promise…To Make Your House Your Home!"
Testimonials About Finished Basements