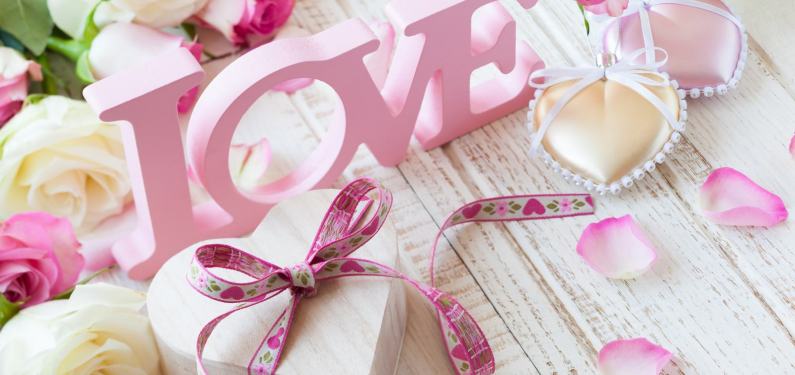 6 Easy Valentine's Day Decor Ideas
Posted on February 4, 2021
One of the best ways to celebrate Valentine's Day and capture the essence of the holiday is to spruce up the interior of your home with some Valentine's Day decor. Feel like you need a little inspiration to get your creativity flowing? Here are a few Valentine's Day decor ideas to inspire you:
1. Make a Valentine's Day Wreath
Some greens, plus some flowers, along with some hearts and red and/or pink ribbon is an easy way to make a Valentine's Day wreath. You could also create a centerpiece. Another easy wreath option is to simply arrange some flowers or ribbon into a heart shape. Red, white, and pink pom-poms can also be used to create a heart-shaped wreath.
You can even repurpose Christmas pine cones by painting them red, pink, white, etc., and gluing them into a heart shape. This is one of the winter decorating ideas you can re-use for spring. A Valentine's Day wreath is a great way to accent the front door of your home leading up to the holiday. It makes for a great decoration option inside as well.
2. Add Some Flowers
Be sure to add a few bouquets of flowers around your home when decorating for Valentine's Day. Roses are a classic choice, but any red, white, or pink flowers will do the trick. Bouquets can be used as centerpieces on the dining room table, or as an accent on a mantel.
Wall-mounted vases can offer something unique that allows you to display flowers in a different way and can also give some color to your home's interior walls. If you're feeling a little extra crafty and creative, you can use flowers to give some depth and texture to a home-made canvas Valentine's painting. This provides a unique piece of 3-D wall art to incorporate into your home decor.
3. Create a Lovely Mantel
If you have a fireplace mantel in your home, you have a perfect place that naturally lends itself to seasonal decorating. Don't miss the opportunity to spruce up your mantel with Valentine's-themed decorations.
Mantels provide a great place to organize a creative display of numerous items that are themed for specific holidays. Just like decorating the fireplace mantel is one of the Christmas home decor ideas, you can give the same attention to it for Valentine's Day!
Consider incorporating items like letters or cards, art prints, heart-themed garlands, and even Valentine's banners in your display. You can create a collage of colors, shapes, and textures that will grab attention and beautifully accent the rest of your home decor.
4. Make L-O-V-E Wall Art
If you are looking for something easy that will still set the mood of the season, you can consider placing some L-O-V-E wall art around your home. Hanging letters or decorations featuring the word "love" is simple and easy.
Large letters from a craft or home decor store made of wood or plastic will create some depth to an otherwise plain-looking wall. You can also make your own signage and personalize it by using photos of special people in your life to create the letters or arranging pictures in the shape of a heart.
5. Opt for Red or Pink Glassware and Drinkware
When you are trying to set the tone for a special Valentine's Day with some holiday-specific home decor, it can be easy to use too many of the same kinds of decorations.
Sometimes subtlety is just what is needed. A great way to accomplish this is by swapping out your usual drinkware and plates for dishes that are red or pink or have these colors as accents.
6. Update Throw Pillows and Blankets
Throw pillows and blankets are a good way to round out a successful Valentine's Day decor project. The great thing about these items is that you will have a great deal of flexibility in what is available.
There is something to suit everyone in this department, from the subtlety of a blanket with red or pink trim to throw pillows with Happy Valentine's Day wording screened or embroidered onto them. Whether you want something obvious or something more subtle, you're bound to find options to help you create the look you want.
These are just a few Valentine's Day decor ideas to inspire you. Adding some holiday-themed decor to the common areas of your home can help make your Valentine's Day a little more special.
Decorating your home with the reds, whites, and pinks that are so quintessential to Valentine's Day will get you excited for February 14th and help to keep that special someone in the forefront of your mind leading up to the big day.
As you decorate, you may find areas of your home that just aren't working for you anymore or areas that need to be updated. These are great options for your next home improvement project.
If you would like to start a conversation about your next exciting home improvement project, give Zephyr Thomas a call at (717) 399-4708!