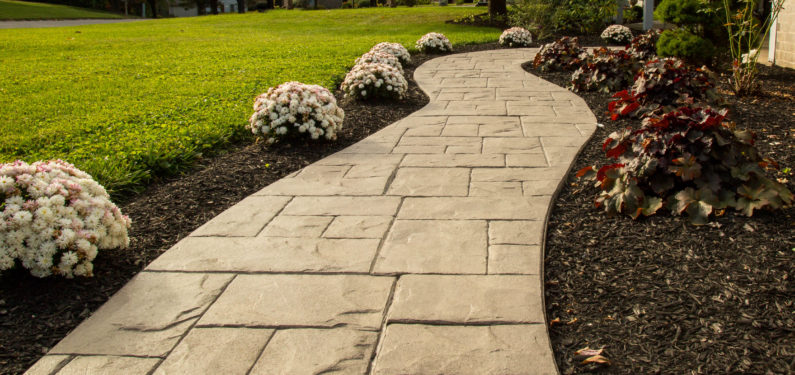 4 Ways Stamped Concrete Adds Beauty & Value to Your Home
Posted on August 5, 2014
Stamped concrete is designed to resemble brick, slate, flagstone, stone, tile or even wood textures. Patterns are imprinted on freshly poured concrete to achieve a high-end look. It can be used to beautify pool decks, driveways, entries, patios, and more. Homeowners who invest in it enjoy the durability of regular concrete with a decorative and eye-appealing touch. Here are some ways stamped concrete adds beauty & value to your home:
1. Reduced Long-Term Maintenance and Care
Over time, other surface materials, such as pavers, can become loose, settled, or broken, resulting in tripping hazards and more frequent replacement of the materials. Stamped concrete will last much longer and be more durable with the right care.
It also requires minimal maintenance compared to most other paving materials, which can add up to big savings over the surface's lifetime. A good cleaning every once in a while and a sealer applied every few years will keep it looking great.
2. Less Labor Intensive Than Other Surface Materials
It is more economical to pour concrete and apply a pattern than to haul and place individual paving stones by hand. This results in lower costs since fewer man-hours are required. Pair that with the design possibilities, and it's easy to see why stamped concrete is popular.
3. Increased Longevity
Your initial investment in this type of decorative concrete is only part of the total equation. Concrete lasts longer than other materials, is durable in nearly every type of environment, and holds up better to traffic and wear.
4. Increased Resale Value of Property
Stamped concrete adds instant curb appeal and aesthetic value to a property. You can maximize the return on your investment by choosing it over plain concrete.
These are just a few of the ways stamped concrete adds beauty & value to your home. Compared to other paving materials, we have the best stamped concrete Lancaster, PA has to offer in terms of availability of patterns, colors, and customization. For more information on stamped concrete, visit our showroom or call us at 717-399-4708!