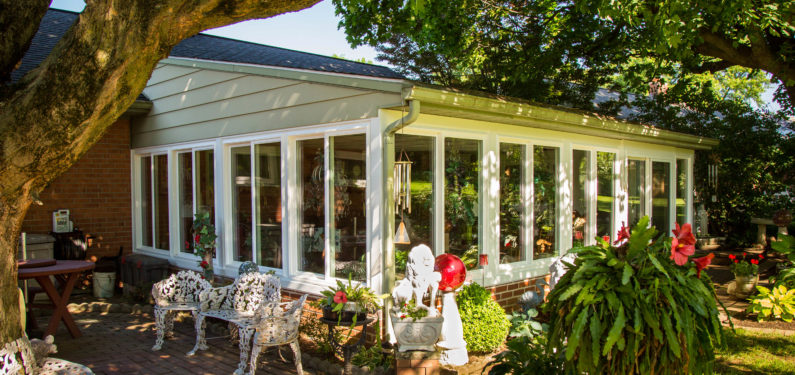 3 Benefits of Three and Four Season Sunrooms
Posted on May 2, 2017
There are many reasons you may want to add three or four season sunrooms to your home. Maybe you want an extra room for the kids to play in, a light-filled art studio, a greenhouse area to relax and nurture all of your houseplants, a dreamy dining room, or just a place to kick back and relax. Whatever you plan to use it for, a three or four-season sunroom is a mini-vacation spot. It has a variety of possible uses and can add value to your home.
Here are some of the benefits of hiring Zephyr Thomas Home Improvement to build a sunroom in your home.
1. No-Fuss Installation
Zephyr Thomas will work with you to make the entire process worry-free and efficient. We will be with you every step of the way. From the brainstorming phase to planning, getting necessary permits from your municipality, and creation. We will do all we can to ensure a beautiful and well-done job!
And when it comes to the actual construction we will be quick and orderly. We will go through the entire project with you, so there won't be multiple contractors involved that may cause confusion. We can install a new concrete pad, a stamped concrete pad, or a deck to be the foundation of your sunroom. While installing the sunroom, we are careful and respectful of your home and family, so there will be minimal disruption to your life.
Zephyr Thomas will do all we can to tell you about all expenses from the project up-front, this will make surprise expenses less likely and the entire process will run smoothly without hassle. Since we have been working with clients to create their dream homes for decades, we are able to eliminate stress and surprises when doing work for our clients.
2. Energy Efficiency
We design our sunrooms for maximal energy efficiency. They are very well-insulated and contain a plethora of design features that are there to serve as barriers to the elements, and to the cold in winter and the heat in summer. Our high-efficiency heat pump air-conditioning units keep you comfortable year-round.
3. A Beautiful, Bright New Space
Visit our website to see pictures and read about how we build our sunrooms and the high-quality materials we use.
This is not your typical screened-in porch: when you decide to purchase a sunroom from Zephyr Thomas, you are getting a wonderful, permanent addition to your home. It has many potential uses and can add to the value of your home.
Call Zephyr Thomas or stop by our office to learn more about three and four season sunrooms. We even have a model sunroom right in the atrium of our office, complete with a setting of foliage and a pond, to help you imagine what your own sunroom will look and feel like. One of our expert estimators is happy to come to your home to show you your options and help you to envision the sunroom you want.