Imagine a bucket with a hole in it. What happens when you put water in the bucket? The water runs out. How do you stop the water? Plug the hole. Your old, inefficient entry door is doing the same thing with your heat and air conditioning. It is allowing your hard earned money right out of your home. At Zephyr Thomas, we can help you stop the loss through your old drafty, inefficient door by replacing it with one of our energy efficient ProVia entry doors. ProVia entry doors are manufactured to the highest quality standards, which is why we here at Zephyr Thomas, choose them for our valued customers. Most entry door options are Energy Star qualified, which will save you money on heating and cooling bills and improve the quality and comfort of your home.
Get A
Free Estimate

Today!

Get one step closer to sturdy, high-quality, and beautiful doors! Zephyr Thomas is a Pennsylvania licensed contractor (PA HIC#5465). Our service areas include Lancaster, Lebanon, York, and Berks Counties as well as surrounding areas.

Replacement Doors
ProVia Entry Doors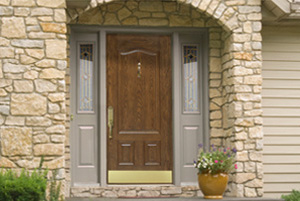 ProVia Door is committed to making entry doors the professional way. Our entry doors are energy efficient, built to the highest quality standards. All ProVia front entry doors qualify for the ENERGY STAR® program. ENERGY STAR was created by the U.S. EPA and Department of Energy to help consumers identify products that save energy and money and protect the environment. Installing these energy efficient doors will save you money on heating and cooling costs, improve interior comfort, and increase the value of your home.
ProVia's professional class doors are made from the highest quality materials, starting with 20-gauge galvanized steel that gives you 49% more steel than a consumer-grade door. This exceptional durability is endorsed as "the door preferred by America's top remodelers" and is backed by a lifetime limited transferable warranty. State-of-the-art methods of customization make it possible for you to create entry doors that are made to order for your home. Zephyr Thomas Home Improvement Company can help you custom create your entry door.
Replacement Doors
ProVia Storm Doors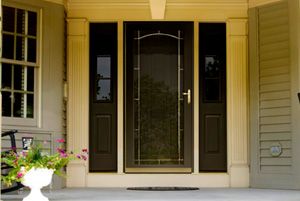 Storm doors by ProVia protect your entry doors by keeping the elements out and keeping comfort in while adding value and style to your home. Every storm door is individually customized to the highest standards in the residential market for homeowners who appreciate impeccable, uncompromising quality. These professional-class storm doors are produced using 20% thicker aluminum than consumer-grade storm doors. Customize your storm door to meet the unique configuration of your entryway by choosing from one of our five series, numerous styles, 16 paint finishes, hardware, glass, and accessories.
Replacement Doors
ProVia Patio Doors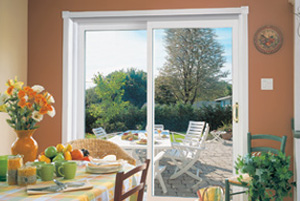 Zephyr Thomas offers the ProVia Patio Door. ProVia provides hinged patio doors as well as sliding patio doors that are built to the highest quality standards, making them superior to consumer-grade doors sold through home improvement retailers.
The swinging patio doors are available in fiberglass, smooth steel, and textured steel construction to match your room and style. When space is limited try our Prestige™ vinyl sliding patio door which is available in white or beige with optional woodgrain interior. Prestige vinyl patio doors offer the low maintenance, energy efficiency, and dependability you need. With our professional-class vinyl sliding patio door, or swinging patio door you are sure to find the perfect complement for your home.
Click the right and left arrows to scroll through before & after sets. Click on the images to see the full-size version.
Replacement Doors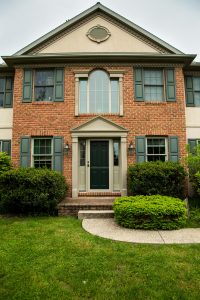 Entry Doors
Paints & Stains

---
Storm Doors
Testimonials About Replacement Doors
Sunroom, Siding, Roof, & Garage Doors
We love our new front door! Thomas did and excellent Job with everything. He even stayed late to make sure it was done and everything was perfect. Service was impeccable and Thomas is our go to guy! We wouldn't want anybody else working on our home! Thank you to our sales guy Daryel and Thomas.
- Sherry Maurer
Dear Zephyr, It was a pleasure doing business with your salesman, Daryel, and the two installers. We love the touch of elegance the windows and sliding door give to our home. We appreciate the attention to detail and quality of the work that was done. We will be glad to give referrals to any friends or neighbors who are looking to beautify their homes. Thanks so much.
- The Rehms
Dear sir, So often we hear the bad experiences people have when they have work done at their home. We wanted to convey the positive experience we had with you company. We were interested in replacement windows and patio door. Daryel Sensenig came to our home, answered our questions and recommended Seaway windows and patio door. We were in the middle of refinance on our home and needed time to get the loan required to do the work, and Daryel was very understanding of our situation. Now we come to early April and the install. Patrick and Thomas come to do the work. They were on time and did a remarkable job! The window installation is so seamless, you can not tell the windows were not put in when the house was built. The patio door installed by Thomas is outstanding! With the new door, there was going to be a large gap between the chair rail and the standard case molding. Thomas said he could caulk it, but he didn't think it would look right. He took the time to find larger casing to meet with the chair rail. Let me tell you, that decision made the door! We can not tell you how happy we are with your products, and most of all, the craftsman that installed the products. Your entire staff is to be congratulated, for a job well done! Your company was recommended to us thru friends. We will surely recommend your company to our friends and family. As other home improvements arise, Zephyr Thomas will be our first call. Thank you so much.
- Bill and Carol Fry