Imagine a bucket with a hole in it. What happens when you put water in the bucket? The water runs out. How do you stop the water? Plug the hole. Your old, inefficient entry door is doing the same thing with your heat and air conditioning. It is allowing your hard earned money right out of your home. At Zephyr Thomas, we can help you stop the loss through your old drafty, inefficient door by replacing it with one of our energy efficient ProVia entry doors. ProVia entry doors are manufactured to the highest quality standards, which is why we here at Zephyr Thomas, choose them for our valued customers. Most entry door options are Energy Star qualified, which will save you money on heating and cooling bills and improve the quality and comfort of your home.
Get A
Free Estimate

Today!

Get one step closer to sturdy, high-quality, and beautiful doors! Fill out our form to get started and one of our service professionals will be in touch!

ProVia Entry Doors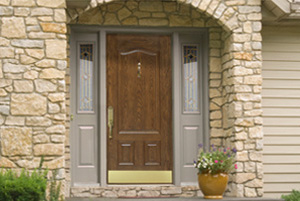 ProVia Door is committed to making entry doors the professional way. Our entry doors are energy efficient, built to the highest quality standards. All ProVia front entry doors qualify for the ENERGY STAR® program. ENERGY STAR was created by the U.S. EPA and Department of Energy to help consumers identify products that save energy and money and protect the environment. Installing these energy efficient doors will save you money on heating and cooling costs, improve interior comfort, and increase the value of your home.
ProVia's professional class doors are made from the highest quality materials, starting with 20-gauge galvanized steel that gives you 49% more steel than a consumer-grade door. This exceptional durability is endorsed as "the door preferred by America's top remodelers" and is backed by a lifetime limited transferable warranty. State-of-the-art methods of customization make it possible for you to create entry doors that are made to order for your home. Zephyr Thomas Home Improvement Company can help you custom create your entry door.
ProVia Storm Doors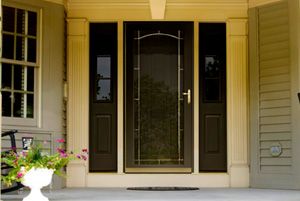 Storm doors by ProVia protect your entry doors by keeping the elements out and keeping comfort in while adding value and style to your home. Every storm door is individually customized to the highest standards in the residential market for homeowners who appreciate impeccable, uncompromising quality. These professional-class storm doors are produced using 20% thicker aluminum than consumer-grade storm doors. Customize your storm door to meet the unique configuration of your entryway by choosing from one of our five series, numerous styles, 16 paint finishes, hardware, glass, and accessories.
ProVia Patio Doors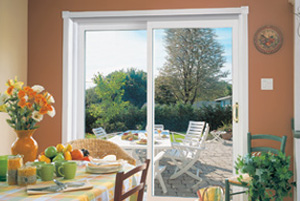 Zephyr Thomas offers the ProVia Patio Door. ProVia provides hinged patio doors as well as sliding patio doors that are built to the highest quality standards, making them superior to consumer-grade doors sold through home improvement retailers.
The swinging patio doors are available in fiberglass, smooth steel, and textured steel construction to match your room and style. When space is limited try our Prestige™ vinyl sliding patio door which is available in white or beige with optional woodgrain interior. Prestige vinyl patio doors offer the low maintenance, energy efficiency, and dependability you need. With our professional-class vinyl sliding patio door, or swinging patio door you are sure to find the perfect complement for your home.
Click the right and left arrows to scroll through before & after sets. Click on the images to see the full-size version.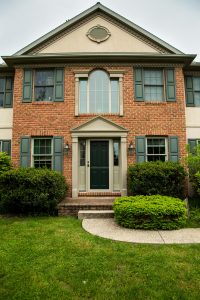 Entry Doors
Paints & Stains

---
Storm Doors
Testimonials About Replacement Doors
Sunroom, Siding, Roof, & Garage Doors
Thank You! Just a little note to let you know how much we appreciate the wonderful job you's did. People have commented on the door and they even think we had all the windows replaced. Thanks Matt for working with us on the designs and not charging us extra over your quote. Renee was so sweet over the phone. I felt like she was my friend. Thomas and Patrick went out of their way in installing & tearing out. They answered all my questions and showed me what they were going to do and left me make decisions also. I wish we had known before you did this kind of work as we had lots done over the years to our house. We felt like you's really appreciate us as your customer and did your best to satisfy us. May god bless each of you and may it be a good year!!
- Doris & Gary Stark
Thank you to the whole team @ Zephyr Thomas. We had replacement windows & new storm door put in. We are very satisfied with them. From our salesman Brad, too the workers (Don & Steve), and also the pleasant office staff. Everyone was a pleasure to deal with. That is a testament to the type of people you hire & the family like work environment. Please let everyone know how thankful we are!
- Jessica & Brent Palsgrove
Siding, Replacement Windows, & Doors