Crest Aluminum Patio Covers
Zephyr Thomas is proud to offer you a wide range of options when it comes to choosing the right Patio or Deck Cover for your home or business.
An Aluminum Patio Cover will preserve its beauty. It has an unsurpassed ability and durability to retain its color and gloss for years to come.
Get A
Free Estimate

Today!

Patio covers & awnings shield your patio from sun, rain, and show. Get one step closer to a more comfortable patio by filling out our form. Zephyr Thomas is a Pennsylvania licensed contractor (PA HIC#5465). Our service areas include Lancaster, Lebanon, York, and Berks Counties as well as surrounding areas.

Patio Covers & Awnings
Aluminum Awnings for Patios, Windows, and Doors
Fairlite Aluminum Awnings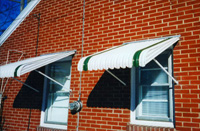 Fairlite aluminum awnings can reduce heat from the sun's rays by up to 70% and interior temperature as much as 15 degrees. Custom-made awnings shade windows from high sun in summer and allow light of the low-lying sun to warm the house in winter. Awnings also shield your porch or doorway from sun, rain, and snow. Long-lasting finished aluminum maintains color and integrity in even the harshest conditions.

Download the Fairlite Awnings brochure
Aurora® Stationary Aluminum Awnings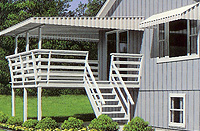 Custom-made and installed Awnings and Door Hoods represent form and function at their best.
Awnings have a natural venting action to prevent the build-up of hot air against windows. The unique "pan and cover" construction helps keep rain, snow, and debris from penetrating, without trapping heated air underneath. It also allows a soft "halo light" to filter into your home instead of dark shadows associated with other awnings. And, unlike fabric awnings, Hess Awnings will not stretch or tear, and do not need to be taken down in winter.
While the top surface is available in a wide variety of styles and colors, the underside is always a crisp, clear white. No mechanical fasteners are exposed; the overall appearance is trim and neat.

Download the Aurora® Awning Brochure

Download the Aurora® Awning Color Chart