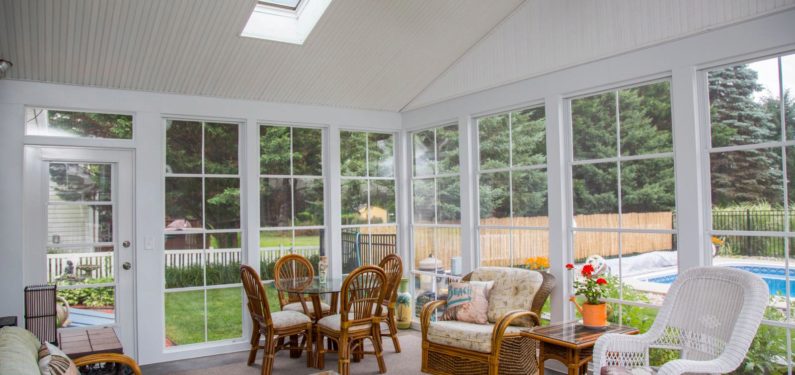 5 Things Every Sunroom Needs
Posted on March 26, 2020
A sunroom can be a great addition to a home that not only provides additional living space, but also adds a space that functions uniquely and offers homeowners benefits that no other area in the home can. There are many options when it comes to planning a sunroom addition to your home. The layout, materials, and design of the room will impact how effective the area is at delivering you the desired benefits. There are a few things that are universal needs for every sunroom and they should be taken into account when you are planning your addition. Here are a few things every sunroom needs:
1. Fresh Air
It is important that your sunroom has convenient and efficient ways to allow fresh air to circulate through the room. Vertical 4-track windows are one of the very best and most convenient ways to achieve a high degree of fresh air flow while also keeping the space weather-proof and functional during periods of inclement weather.
There are also plenty of window options available for four-season sunrooms to make sure you can still have fresh air when the temperature outside permits it. Sunrooms offer a relaxing environment that, in many ways, offers a space in the home that is one step closer to the outdoors and natural world. Because of this, the ability to have fresh air, and plenty of it, when you want it and protection from the weather when you don't is a necessity for every sunroom.
2. Natural Light
Natural light is every bit as important for a sunroom as fresh air. Ample amounts of natural light in a home leads to healthier living, but it also provides a greater degree of energy efficiency in the home during daylight hours.
A good way to achieve adequate natural lighting in a sunroom is to choose large windows and glass doors. Oftentimes, these window and door options for sunroom additions offer a floor-to-ceiling look that is sure to allow plenty of natural light to fill the room and make it a warm and inviting part of the home.
3. Ceiling Fan
A ceiling fan is another one of the things every sunroom needs. Sometimes these rooms are intended to be used seasonally. Due to their design, some sunrooms don't have climate control. In these cases, large windows do a lot to aid in air flow and regulate comfortable temperatures in the room.
The combination of these types of windows and a ceiling fan is an energy-efficient way to keep the sunroom at a cool and comfortable temperature. Even if your sunroom does have climate control, a ceiling fan can still be a good idea to help circulate air throughout the room.
4. Comfortable Furniture
Whatever you're planning to use your sunroom for, it should have comfortable furniture. Sunrooms are often an area of the house where people kick back and relax. The right type of furniture for what you need should be comfortable to help complete the relaxing experience you're trying to create. After all, your sunroom should be a room you enjoy spending time in.
5. A Touch of Nature
Every sunroom should be designed and decorated to be an inviting room in the home. By adding a bit of a natural feel to the room, you can connect the room better with the outdoors while adding a sense of relaxation. Wooden décor, indoor plants, or even an indoor water feature that provides some natural sound are great ways to spruce up a sunroom and turn it into one of the favorite gathering places in your house.
While you are planning your sunroom addition, be sure to consider some of the things every sunroom needs in order to end up with the most functional and efficient addition possible. There are plenty of other things to consider and sunroom ideas to help to enhance the room, but these items are a good place to start.
Partnering with a licensed and experienced home improvement contractor is one of the best ways to make sure your project stays on track and successful. If you would like to discuss your sunroom addition, give us a call at (717) 399-4708 or stop by our showroom for a little inspiration!