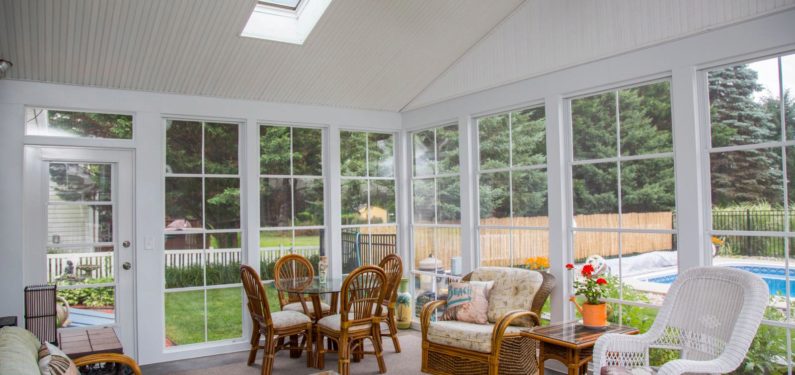 How to Keep a Sunroom Cool in Summer
Posted on June 11, 2020
A sunroom is a great addition to just about every home. In addition to choosing the right furnishings in order to make a sunroom inviting and an enjoyable place to spend time, you also want to make sure it is comfortable when you want to use it. Here's how to keep a sunroom cool in summer:
1. Use Air Flow to Your Advantage
Stale and stagnant air can make any room feel stuffy. A sunroom needs air circulation to keep the living area comfortable. By using air flow to your advantage, you can help your sunroom feel cooler.
Large windows can be an advantage when they have the ability to open and allow an abundance of air to move throughout the room. Using fans can help move air on days that lack a natural breeze.
Because cooler air is heavier than warm air, consider using fans lower to the floor in conjunction with a ceiling fan to better circulate air throughout the room. Having the ability to open windows from the top down will create a vent where warmer air can escape the room as cool air is drawn from below to replace it.
2. Choose Insulated Windows or Upgrade to Them
Insulated windows are better at keeping heat out during the hotter months and at keeping warmth in during the colder months. If you are planning a new sunroom addition, make sure that you choose high-quality insulated windows to help keep your sunroom cool in the summer.
If you have an existing sunroom with outdated windows, you can replace them with more energy-efficient, insulated windows. This will help regulate the temperature in your sunroom. If your entire sunroom or porch enclosure is outdated, it may be time to consider a renovation or a completely new sunroom addition to replace it.
3. Use Blinds to Block Light and Heat When You're Not Using It
When you're not using your sunroom, blinds, especially insulated blinds, can help block light and heat to keep your sunroom cool. Blinds can keep the sun's rays from entering a sunroom during the warmest portions of the day and will help to reduce the resulting heat.
This will help to keep the room cool and comfortable for the next time it is in use. Plus, from manual to motorized and more, there are many styles of blinds available to help you get the perfect fit for you.
4. Run a Dehumidifier on High-Humidity Days
Stuffy, humid air makes it difficult to enjoy the dog days of summer. If your sunroom seems to feel humid, a dehumidifier can help. A dehumidifier will help to reduce the moisture in the air, which serves to reduce the cooling effects of evaporation. Running a dehumidifier in conjunction with a ceiling and/or floor fan can help keep your sunroom feeler cooler.
5. Figure Out a Solution for A/C
If other methods aren't helping during the hottest days of summer, there are options available to incorporate air conditioning in sunrooms that weren't originally built with it. A window unit or a portable A/C unit may be just what you need to get through the hottest days. Although it is a bigger investment, you can also explore options to add a separate, smaller HVAC unit for the sunroom.
6. Opt for Quality Construction From the Beginning
Quality construction and materials make a huge difference in how well your sunroom can handle the heat and the cold. If you're still in the process of planning your sunroom addition, make sure you're choosing the right home improvement contractor. This allows you to get a sunroom that is built well, insulated properly, and more. All of these elements work together to help your sunroom be energy-efficient and beat the high heat of summer.
These are just a few tips on how to keep your sunroom cool in summer. If you're interested in a sunroom addition or you're having trouble deciding on your next home improvement project, help is just a phone call away. Give Zephyr Thomas a call at (717) 399-4708 and one of our experienced home improvement reps will be able to assist you will each aspect of your project, starting with a free quote.