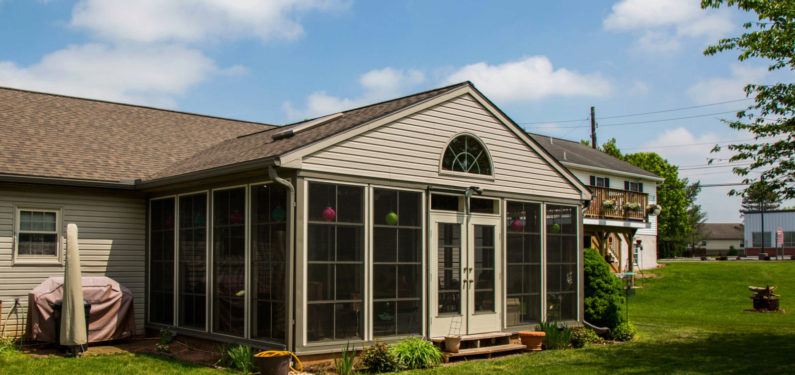 5 Fun Ways to Use Your Patio Enclosure
Posted on January 16, 2020
If your home has a patio enclosure, consider yourself lucky! These areas are versatile spaces in the home that can provide you with a wide array of opportunities when it comes to how you use them. Older patio enclosures can be quickly converted into useful spaces for new applications. If your home doesn't have a patio enclosure, don't be discouraged – this could be the perfect home improvement project for you! Whether you already have a patio enclosure or you're considering adding one to your home, here are a few fun ways to use your patio enclosure:
1. Make it a Workout Space
Exercise equipment and supplies can take up a lot of room in a home. Unless they already have a dedicated space, it can be difficult to figure out where to put these items. Oftentimes, it can be difficult to strike the balance between convenience and the look of your home. They need to be in a convenient place for use, but also be out of the way enough that they don't take away from the décor of the home.
A patio enclosure is a natural fit for an exercise or workout space! Most of these spaces will provide ample room for weight lifting or cardio equipment. Or, if your workout style leans more towards yoga or meditations, they can provide plenty of space for this as well! Plus, you'll be able to enjoy the gorgeous view from the windows!
2. Create an Outdoor Dining Space
During the fairer-weather months, outdoor dining is a great way to connect with family and friends and enjoy each other's company. The only problem with outdoor dining is that it often feels like you have to battle bugs and insects while you enjoy your food. On top of that, you're often at the mercy of sudden spring or summer showers or winds!
Patio enclosures solve this problem while still offering homeowners a space to enjoy that feels a part of the outdoors. Patio enclosures can be designed with windows and doors that can be opened wide to allow for natural airflow. This helps provide many of the benefits of outdoor dining while also avoiding the negatives. Additionally, you can use the table and chairs for socializing or playing card or board games when they're not being used for dining!
3. Use Part of it for an Indoor Garden
Patio enclosures typically have significant amounts of natural light. As such, they tend to be great spaces for indoor gardening or growing various types of indoor plants. Patio enclosures often have hard surface floors, which make cleaning up any water, soil, or other debris from these activities a breeze.
Plus, adding plants to a patio enclosure can help create a beautiful, calm, and relaxed atmosphere in the room. So, whether you turn your patio enclosure into a greenhouse or just add some plant or water features, your patio enclosure can be the perfect fit!
4. Turn it into an Entertainment Space
If you are looking for a designated space for gaming activities, you can consider using your patio enclosure as this type of recreation room. Patio enclosures are great spaces for groups of people to congregate. They are also great places for other common elements found in rec rooms, such as air hockey tables, pool tables, stacks of board games, decks of cards, etc.
Whether your style of gaming leans more towards video games or board games or is a mix of both, your patio enclosure can easily become the ultimate entertainment space. Plus, moving these items to a patio enclosure can free up other space in the home for additional decor, furniture, or even storage.
5. Set Aside Some Space for a Hobby
Many homeowners end up designating a bedroom or other area of the home as a craft or hobby space. There is nothing wrong with this approach, but it does occupy a space that may be initially planned for another type of use.
Often, patio enclosures are free and available spaces that are just begging to be used, which means they can become the perfect place for crafting or your latest hobby! Patio enclosures are a blank slate that are easily customizable and you can really let your imagination run wild in how you will use this area as a craft room. Just don't be surprised if it becomes one of your favorite areas in your home!
Patio enclosures create awesome opportunities for homeowners to enhance their home and create a unique and functional space that can be enjoyed and utilized for years to come! The versatility of this space is just one of the many benefits of three- and four-season patio enclosures.
If you are looking to add a patio enclosure to your home and turn it into the room you've always dreamed of, call Zephyr Thomas at (717) 399-4708 and we can help you through the entire process!