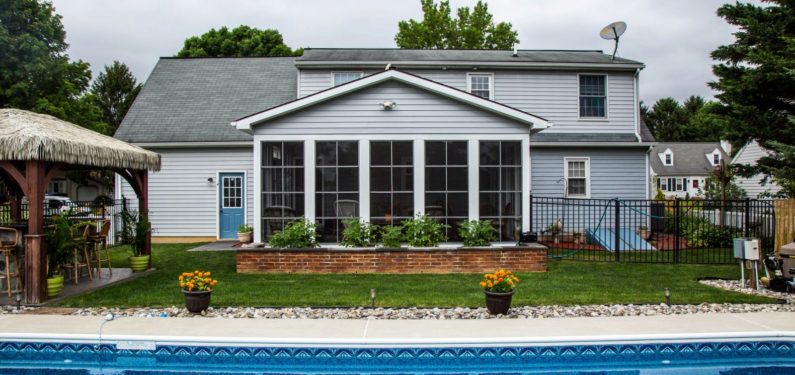 3 Types of Patio Room Additions
Posted on August 16, 2018
A patio enclosure or home addition can increase the overall comfort of your home and also increase the value of it as well. There are plenty of additions to choose from. When it comes to your patio, these are a few of the most common types of patio room additions:
1. Sunroom
Sunrooms are a popular patio room addition. Not only do they provide a comfortable space you can enjoy by yourself or with guests, but they also can be built to be a three-season or four-season room. Three-season sunrooms are built for use during the spring, summer, and fall, while four-season sunrooms are built to be comfortable for use all year round.
When it comes to building your sunroom, you can choose a stick-built sunroom or a Grandview sunroom. Stick-built sunrooms are constructed using traditional construction materials and can be built to be three-season or four-season.
Grandview sunrooms are built to four-season rooms. Both types of sunrooms usually use vinyl sliding windows and patio doors. They can also be customized, which means you get exactly what you want while also ensuring your new sunroom matches the rest of your home.
2. Vertical 4-Track Room
A vertical 4-track room is a type of patio enclosure that is somewhere between a screened-in porch and a four-season sunroom. A vertical 4-track room is a three-season patio room addition built specifically with vertical 4-track windows. Because these windows can open from the top or bottom of the window track, you can get a floor-to-ceiling view, if you would like to have one. With this option, you get the airy feeling of a screened-in porch with the added protection from weather and other elements, including rain and wind. Plus, every aspect can be customized to your needs.
3. Screened-in Porch
A screened-in porch is a simple type of patio enclosure that adds a little more protection than a patio awning does. This is a way to enclose your patio for protection from pests while also still being able to enjoy the breeze in an outdoor living space. They do not tend to offer as much protection from the weather as a vertical 4-track room or a sunroom does, but they are certainly another viable option for a seasonal outdoor living space.
Whether enclosing your patio or creating an entirely new patio room addition, you have plenty of types of patio room additions to choose from. For more information about patio options, home additions, or another home improvement project, call Zephyr Thomas at 717-399-4708 or stop by to see our showroom!