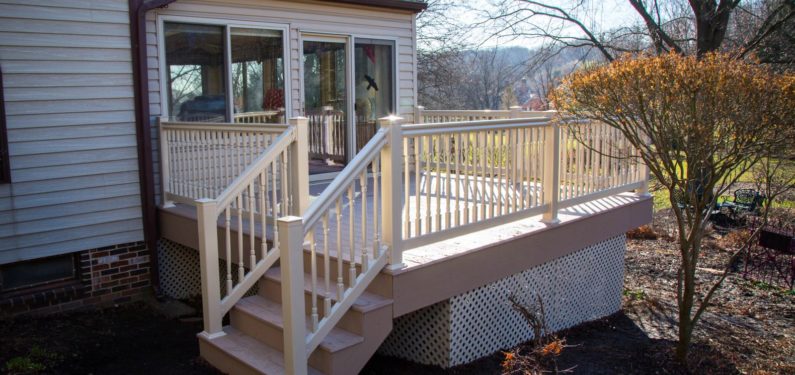 Remodeling, Replacing, or Building a New Deck
Posted on March 21, 2017
When it comes to building a new deck, whether you're adding one for the first time or replacing an existing one, there are many factors to consider. It's important to think about the materials, the work ahead, and the people you plan to work alongside. Here are some details about our decking options and vinyl railings to consider when building a new deck:
Where to Start: Materials
You should consider the space holistically, as a big picture rather than an isolated deck and a yard.
First, think about the uses you want to get out of your deck and backyard. Will you need materials that can beat the heat and withstand the cold? Will the deck need to hold everything from a grill to a Jacuzzi? If so you should consider the various options we offer with Azek decking.
Zephyr Thomas offers vinyl decking, which is environmentally friendly and will last for years to come without cracking or splintering. This is partially because, unlike wood, our vinyl decking will not rot or mold over time. If there is no decay from the weather or changes in seasons the deck will not warp, splinter, or stain.
Azek vinyl decking will not need to be treated or stained over time as well. Periodic cleanings will keep the deck looking beautiful and vibrant for years to come. This way you won't have to worry about scratching the deck while rearranging the furniture, or repairing discoloration during after summer months. Just sit back, relax, and enjoy your deck.
Vinyl Railings
After you have decided how you would like to design your deck and the materials you want to use it is time choose the railings for your new outdoor space. Vinyl railings are a wonderful solution because they will never need to be painted, will not rot or rust, can match many home decors, and are quick and easy to install.
We offer several different vinyl railings to balance your deck and home. If you prefer a more rustic or farmhouse look we offer a beautiful traditional railing that is 100 percent vinyl and can be fitted with gates to fit many sizes and needs. If you would rather something larger we also offer pergolas that will add beauty and elegance to your home and deck.
Designing and building a new deck can be a complex task, requiring creativity and practical know-how. If you're thinking about remodeling your deck with your landscaping in mind, contact Zephyr Thomas Home Improvement or stop by our office. Our expert, experienced staff will assist you with every step of the process, from the brainstorming and design phase through the project's completion.