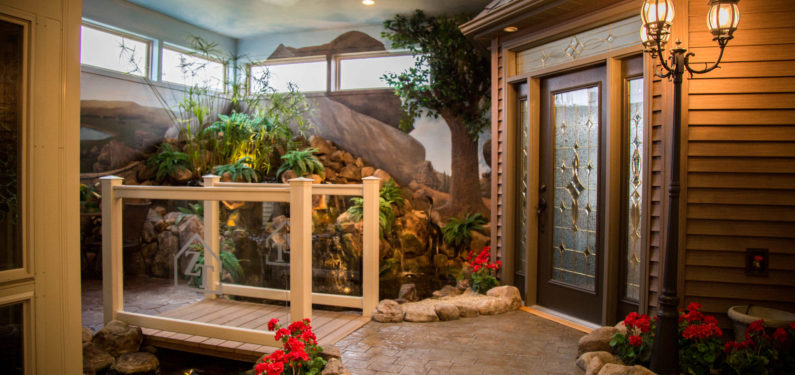 Interview with Coy Thomas
Posted on May 30, 2017
When Zephyr Thomas started in 1993 how did the owner, Coy, create such a stunning and unique showroom and working space? What made him decide to make the showroom? How did he decide what elements he would use (i.e. the pond, bridge, concrete, etc.) for the showroom?
The showroom was a years-long endeavor. It was quite a process to find the right building with the space Coy wanted in the right location before the showroom could even begin to come to life. Coy always had an idea of what he wanted the showroom to look like but during his travels came upon different places that he saw that ended up melding into what our showroom is today. Coy wanted a place where customers could come and essentially "kick the tires" on the products they were looking at. It is difficult to envision a lot of the elements of the products (colors, textures, styles) from small swatches so having the showroom allows us to help the customer see what the products actually look like in life-size examples. Coy wanted to create an aesthetically pleasing area that wasn't intimidating for customers to walk into and showcased the products and services we offer.
What made Zephyr Thomas a necessity along with Zephyr Aluminum? Why did people choose Zephyr Thomas over other remodeling companies that were already established?
Zephyr Aluminum originally contained both a commercial and a residential division. Coy went to work for the residential side of Zephyr Aluminum and as it grew and he grew into the company, it became a natural and logical option for Coy to buy the residential division from Bill and Irene Good (the owners of Zephyr Aluminum). People choose Zephyr Thomas not only because of the quality and value of the products we offer but also because everyone who works at Zephyr Thomas truly cares about the customer and their home. It is important to all of us here at Zephyr Thomas that our customers get outstanding customer service. We like to call it our Zephyr Thomas family. We feel people value that and it makes a difference to people when dealing with a company like us.
What was Zephyr Thomas' first project?
The first project was a second-floor room addition overlooking a valley down in New Providence. It was a beautiful project and a great way to begin such an amazing journey. We continued to do work for this particular customer until he sold this property and moved out of the area.
Why did Zephyr Thomas want to focus on residential projects?
There was a tremendous need for good quality residential remodelers in Lancaster County at that time. There weren't really any solid companies that a homeowner could go to get the work done they needed. Coy wanted to create that for his customers.
How did founder Coy Thomas get started in home improvement?
From a young age, Coy enjoyed working on projects around the house so the interest was always there. Coy went to work for a local window company out of York at first and discovered how much he loved working with people and helping them with the projects they wanted to have done on their homes. When the opportunity to work in the residential division of Zephyr Aluminum came along, Coy jumped at the chance and the rest is history.
What is his favorite part of the fieldwork he does?
Seeing the transformation from old and in need of repair to the newly finished project is so rewarding. Seeing how happy the customer are at the end of a project makes this business worth it to Coy.
Could he talk about the relationship with Seaway? How it began, what it means to Zephyr Thomas, what opportunities it has created for both businesses, etc.?
A sales rep from Seaway came into Zephyr Aluminum and asked to see Coy about possibly selling Seaway storm doors through Zephyr Aluminum. Coy saw the quality and value of the Seaway line of products, liked that it was a local PA company (based in Erie) and that it is family owned and operated so it was a natural fit for both companies. The relationship with Seaway is so important to everyone at Zephyr Thomas. Knowing that when we call up there, we always get the same people, knowing that the owners of Seaway share similar values to Coy and knowing that the products we are installing for our customers are second to none in quality and value.
What are three to five of the most difficult problems Coy has had to solve on projects out in the field?
Coming into a customer's home and finding solutions to existing issues caused by other circumstances, such as another contractor who didn't do things the right way (specifically identifying and fixing water leaks). Dealing with the ever-changing local, state and federal government requirement. Finding qualified employees that meet the standards at Zephyr Thomas, where it is installers, sales reps or office staff.
When Coy first started in his line of work, what did he like the most? How has that changed over time?
This hasn't really changed over the years. Coy got into this business because he loves helping people achieve their home improvement goals and dreams. That is still the case. Knowing that our customers are getting exceptional products and craftsmanship at fair prices makes everyone here at Zephyr Thomas proud to be part of this family.
After all these years in business, what are three to five things that keep him excited about the work that he does?
The everyday interaction with the people that Coy works with is something that is very rewarding. Being able to spend the working days alongside people that you truly care about and share similar goals with makes every day exciting. Building relationships with our customers and seeing some really wonderful friendships blossom out of those relationships. Knowing that we are providing Lancaster County homeowners with a worry-free home improvement experience. Taking a small company and building it into something solid and respectable.