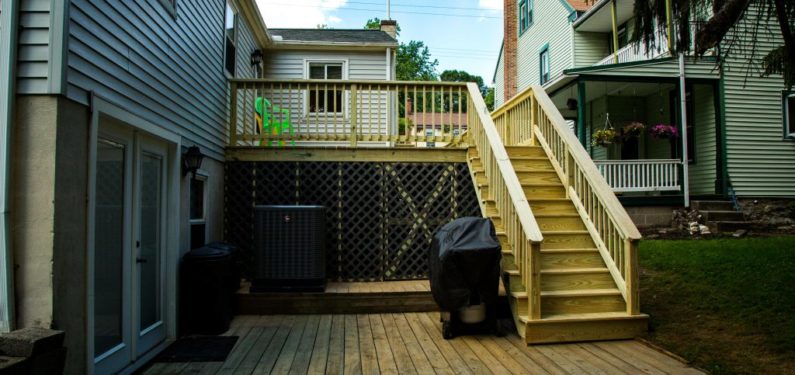 3 Home Updates to do in June
Posted on June 27, 2017
June is the perfect time to take advantage of beautiful weather – and get some work done on your house! Particularly those outdoor hangout spaces that are so important in the summertime. Here are a few little home updates to consider doing in June.
1. Maintain Your Deck
Even if your deck is relatively new, winter may have damaged it. Here are some tips on deck maintenance:
Wash Your Deck
First, remove debris from the boards. Then make sure to protect any plantings you have around the deck, and sweep it thoroughly. Choose an appropriate cleanser for the material your deck is made of. Then clean the deck thoroughly following the directions laid out by the manufacturer of the cleaning substance.
Seal Your Deck
June is a great time to seal the deck if it is wooden. You can choose from a variety of different sealers, from completely transparent to opaque. When you apply sealer, you should first replace any popped nails or screws and lightly sand the deck. Sealer should be applied over a two-day period when skies are clear and temperatures are moderate.
Inspect Your Deck
Finally, give your deck an inspection for repair needs. This is a good time to catch rot, or structural issues before they become bigger problems. You may even want to ask for your contractor's services – if you nip a problem in the bud, it's well worth it.
2. Replace the Vinyl Railings on Your Porch
Late spring and early summer are the perfect time to be thinking about your railings. Has your railing turned wobbly on you? You may need to replace it.
If you choose to hire Zephyr Thomas to install new vinyl railings, you will be getting an attractive and durable product. We offer a variety of styles to fit many tastes and architectural styles.
Vinyl is a smart choice because it requires barely any maintenance and will stand up to the elements. It will never need painting, and will not rot, crack, splinter or peel, unlike wood.
Call or stop by our office to learn more about our vinyl railings, and to see samples of our previous work.
3. Replace Patio Covers and Awnings if Needed
Patio covers and awnings are wonderful, because they preserve your home and patio, protecting furniture from the sun and your home from the elements.
Zephyr Thomas Home Improvement also offers patio cover and awning installation. Call us or stop by our office to learn about the high-quality brands we work with and their features.