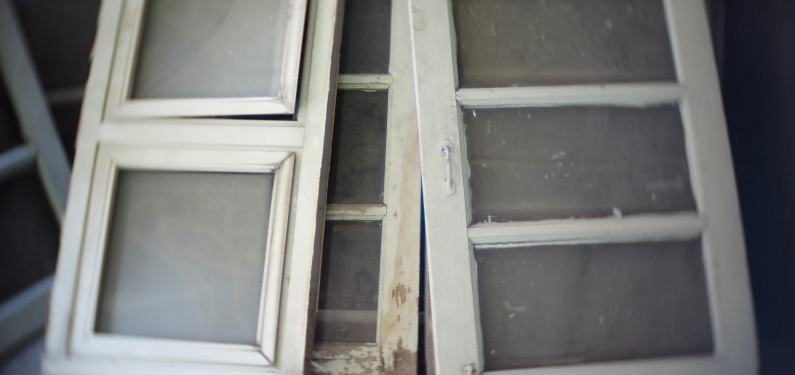 5 Home Decor Ideas to Reuse Old Windows
Posted on July 8, 2021
When you need to replace your windows, the company you partner with to do it will often help you dispose of your old windows if you want them to. But, there are also a lot of ways to repurpose old windows into unique decor for your home. If you enjoy crafts, here are some home decor ideas to reuse old windows:
1. Create a Display for the Wall
Old windows, especially if they have gridwork or decorative elements, make a great foundation for a display you can hang on the wall. You can display a wreath or other items on the window itself to create something artsy and decorative. Using an old window as a backdrop for a piece of artwork can be a great way to frame it in a unique way and help it stand out.
Another option is to attach a small shelf to the window. In doing so, you take advantage of the reflective nature of the glass, create a wall display with a unique look, and also provide a little bit of space to display smaller decor items.
2. Turn a Window Into a Message Board
One of the common home decor ideas to reuse old windows is to turn them into message boards. An old window can make a great base for a chalkboard or another type of writing surface. You can remove the glass and attach a chalkboard to the frame.
You could also attach a piece of wood or another material and apply chalkboard paint. If the window glass is not damaged, you can leave the window as-is with the glass intact and use dry erase markers to draw, leave notes, make lists, etc.
If your window has grids, you can even apply squares of cork board so that you have areas for writing and areas where you can pin things. You can also get creative with magnetic strips or surfaces to create a unique and multifunctional message board.
3. Build a Mini-Greenhouse
If you love gardening and the idea of a greenhouse, but don't have a lot of space or want to build a big one in your backyard yet, you can use old windows to build a miniature one for your porch or patio. The windows will let in light while also helping you maintain a good temperature inside your mini-greenhouse for your plants.
4. Make Windows Into Mirrors
In addition to your reflection when you use them, mirrors also reflect light, which makes them popular for home decor as well. You can easily take your old windows and replace the glass with mirrors. Depending on the look you're going for, you can create a unique piece of decor or actually put your new mirrors to use in a hallway, bedroom, bathroom, or somewhere else.
5. Construct a Window Wall
A moveable window wall can be a great way to create separation in a great room or another large room without blocking lines of sight or light. You can attach old windows together and mount them on a foundation to create a movable piece of furniture.
Depending on the look, function, and placement you want, you could even hang the window wall on a slider. This allows you to pull it out from a wall when you want to use it. Plus, when not in use it's displayed on the wall like a piece of decor that is meant to be there.
These are just a few ideas and home decor ideas reuse old windows to inspire you. Whether they are damaged, outdated, or you just need to upgrade, there are many reasons to replace your windows.
If you need replacement windows for your home, contact Zephyr Thomas at 717-399-4708 to start your free quote. You can also stop by our showroom to see some window options in person!