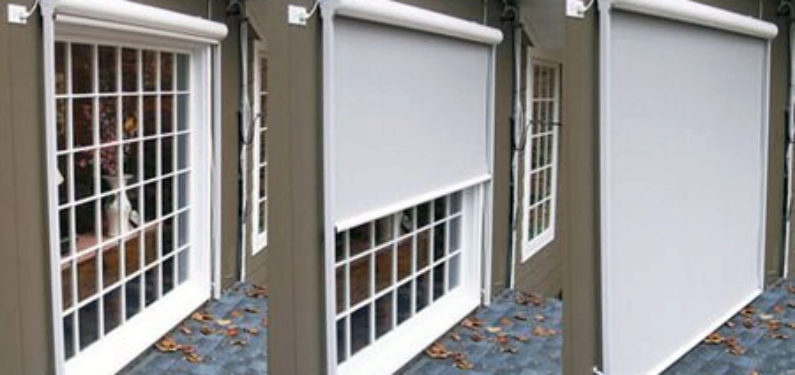 Types of Exterior Solar Shades
Posted on August 24, 2015
Concerned about home energy costs during the warmer months of the year? You're not alone. Cooling costs can account for a large portion of your home's energy bills. One option for keeping those energy bills lower during the warmer months is to simply adjust the thermostat upward. Of course, this can have an impact on your comfort level inside the home. A second option is replacing your windows with energy-efficient ones.
However, if you are looking for a great way to reduce cooling expenses without sacrificing your comfort indoors, solar shades are a great solution. Unlike blinds and curtains, solar shades are installed on the outside of your windows. Zephyr Thomas offers several styles of exterior solar shades to choose from, and each provides amazing benefits.


Solar Shades
If you haven't taken a closer look at the different types of solar shades available on the market today, you'll be amazed at all of the latest options. Compared to typical solar screens, the new models offer numerous superior benefits.
Besides the fact that they can now block the majority of UV rays, as well as the heat that is targeted at your windows, thus creating energy efficiency, solar shades come in a variety of colors, styles, fabrics, and accessories to choose from.
In addition, there are motorized and non-motorized solar shades. Some are even designed to enclose a sunroom, yet they can be removed to give you an open-air patio experience.

Horizontal Shades
Horizontal shades are a unique style of solar shades that provide you with added opportunities regarding deflecting the sun, as well as providing privacy. Most solar shades are designed to be placed over windows or to enclose a patio space. Horizontal shades, however, can be affixed to the side of your home's exterior or to another permanent surface.
The sun shade material can then be pulled horizontally outward to block the sun as well as provide extra privacy. These are ideal for providing you with extra protection from the sun on a patio or deck area when an overhead cover doesn't complete the shade or privacy needed.

Retractable Shades
Retractable shades provide you with the opportunity to enclose your patio when you want to without committing to a permanent enclosure. These are motorized shades that can be raised and lowered with the push of a button, and they give you the ability to raise or lower the shades on one area of the patio at a time for maximum flexibility and benefits.
These can block the sun, keep you cool and even provide you with privacy from the neighbors. In addition, they give you the ability to use your patio space as either a patio or a sunroom. You choose when you want sun, you choose when you want shade, just some of the added benefits.
While you could invest in solar screens over your windows, you can see that the modern solar shades provide you with many other benefits that screens do not provide you with. Each of these types of solar shades has unique benefits and uses, and you may decide to invest in more than one type to take advantage of all that they offer. Call Zephyr Thomas at 717-399-4708 today and let one of our representatives show you all the varieties available.